Retirement living with a sustainable heart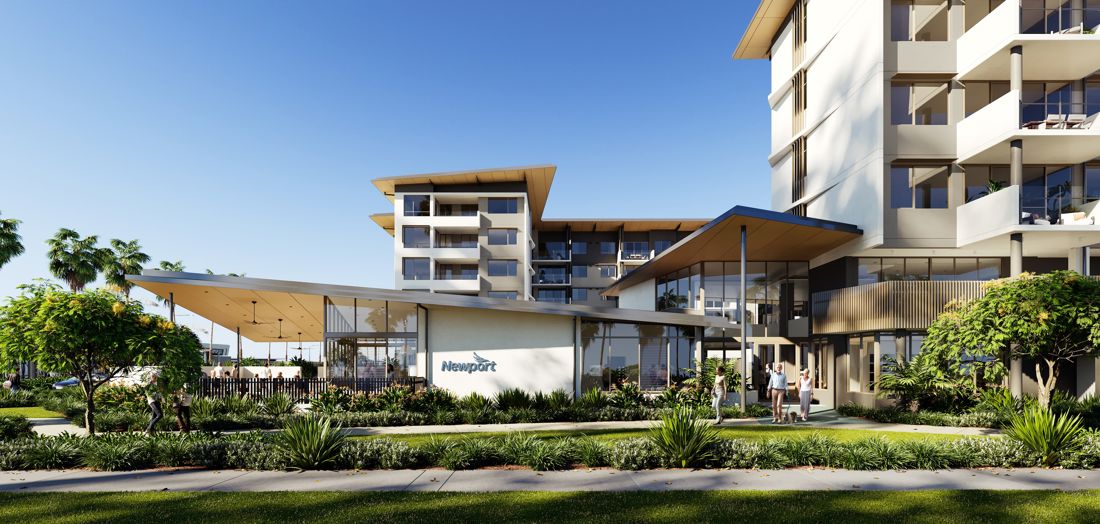 Location

Queensland
Investment

Property
Category

Energy efficiency
CEFC finance is helping raise the bar for sustainability in retirement living, working together with Stockland on a 4 Star Green Star certified retirement village in Queensland.
Newport Retirement Living, on the Redcliffe Peninsula north of Brisbane, is a 125-apartment development.
All apartments have been built to the Liveable Housing Australia Silver standard and integrate passive design principles to reduce energy consumption while improving levels of comfort and wellbeing.
The CEFC committed a $75 million senior debt facility to Stockland for initiatives designed to help it achieve its 2028 target for net zero carbon emissions across all of its business. Newport Retirement Living is one of those initiatives.
Stockland's initiatives will ensure that the benefits of renewable energy, including more comfortable homes and lower energy bills, are extended to these residents. Its use of market leading tools, such as Green Star, can help verify the sustainability credentials of these properties, ensuring that residents make informed choices, as well as setting a new benchmark in the reduction in emissions across the sector.
Savings through solar and design
The Newport Retirement Living village targeted a minimum 25 per cent improvement in emissions reductions levels compared with current building code requirements. This improvement included 10 per cent savings through energy efficient design and at least 15 per cent savings from the use of onsite solar.
Sustainability initiatives:
Optimising indoor environment quality through a combination of reducing indoor pollutants and improving acoustic, thermal and visual comfort
Passive design principles to promote natural daylight and ventilation
Water saving fixtures and fittings and rainwater tanks for irrigation
Responsible materials selection, with Life Cycle Analysis, sourcing and waste control considered
Newport Retirement Living energy efficiency features:
LED lighting
Low power ceiling fans
Energy efficient zoned air conditioning
High performance facades
External shading and insulation
WELL star rated fixtures and fittings
Rainwater tanks used for garden irrigation
Windows sized to maximise natural daylight, allow natural ventilation and reduce reliance on artificial light.
Our vision for Newport Retirement Living has been to provide state-of-the-art, affordable, low-maintenance living to those seeking more than just an apartment, but a place to call home
What does the Green Star rating mean?
A Green Star program, developed by the Green Building Council of Australia, provides independent verification that a building or project is sustainable. Green Star certified buildings use significantly less electricity and produce fewer greenhouse gas emissions than average Australian city buildings.  A rating of four stars means the initiatives incorporated are considered best practice.
Why focus on sustainability in the retirement sector?
Residential and commercial buildings, including their electricity emissions comprise around 20 per cent of Australia's emissions, according to ClimateWorks Australia.
The CEFC is extending its reach across the property sector with finance towards projects that demonstrate the potential for energy efficiency and clean energy technologies to achieve long-term emissions reduction.
The occupants of retirement living properties are often on fixed incomes and can potentially spend more time in their homes than those still in the workforce. Providing homes that effectively need less energy for comfortable living is helping keep costs down at the same time as helping manage our property sector's carbon footprint.
Retirement living is a growing sector of the property market, as Australia's population ages. Australian Bureau of Statistics data shows that over the 20 years between 1999 and 2019, the population aged 65 years and above had increased from 12.3 per cent to 15.9 per cent. This proportion is expected to increase more rapidly over the next decade, as the baby boomer generation (those born between 1946 and 1964) retires.
Queensland, Property, Energy efficiency