Insights
Setting up industrial
regions for net zero
A guide to decarbonisation opportunities in regional Australia
New research backed by 18 of Australia's largest companies finds we can achieve an 88 per cent reduction in heavy industry emissions in five major industrial regions.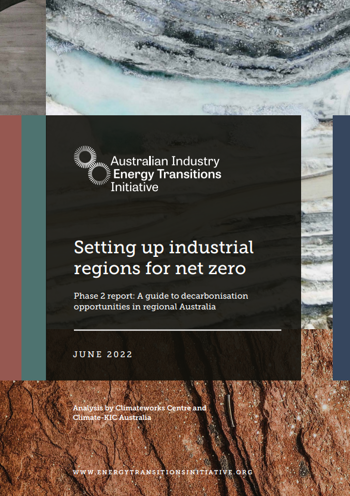 About this report
Setting up industrial regions for net zero
June 2022
Setting up industrial regions for net zero: a guide to decarbonisation opportunities in regional Australia was prepared by the Australian Industry Energy Transition Initiative, representing industry and finance participants, including to the CEFC, to accelerate action towards net zero emissions.
Read more
Australia's regions have long been recognised as significant sources of energy production for the nation, and we're pleased to support this report in providing a pathway to how regions can undertake large-scale transformation and continue to be energy and decarbonisation powerhouses for the 21st century.

Ian Learmonth

CEO, CEFC
about the industry
Industrial region emissions
Australia's industrial regions contribute significantly to Australia's economy but are also significant producers of hard-to-abate emissions.
The Pilbara, Kwinana, Hunter, Illawarra and Gladstone make a combined contribution of $166 billion to Australia's gross domestic product across the heavy industry supply chains of iron and steel, aluminium, liquefied natural gas, other metals and chemicals.
The supply chains in focus for these five regions account for about 79 MtCO2-e annually, or 16 per cent of Australia's total emissions.
Of the five regions studied, the Pilbara is the most significant emitter with 37.4 MtCO2-e, followed by Gladstone contributing 22.9 MtCO2-e annually.
report findings
Industrial region decarbonisation
The Pilbara, Kwinana, Hunter, Illawarra and Gladstone have the potential to support Australia's transition to net zero emissions.
The 70 MtCO2-e of potential abatement identified in these five regions represents an 88 per cent reduction in current emissions – equivalent to removing all cars and light commercial vehicles from Australian roads.
To achieve this level of abatement, investment in these regions and enabling infrastructure required would be in the order of $50 to $100 billion.
An additional 68 to 126 TWh of renewable energy is also required – the equivalent of 26 to 47 per cent of Australia's total energy generation.
The required renewable energy infrastructure, green hydrogen and energy storage has the potential to create job opportunities for 178,000 to 372,000 Australians.