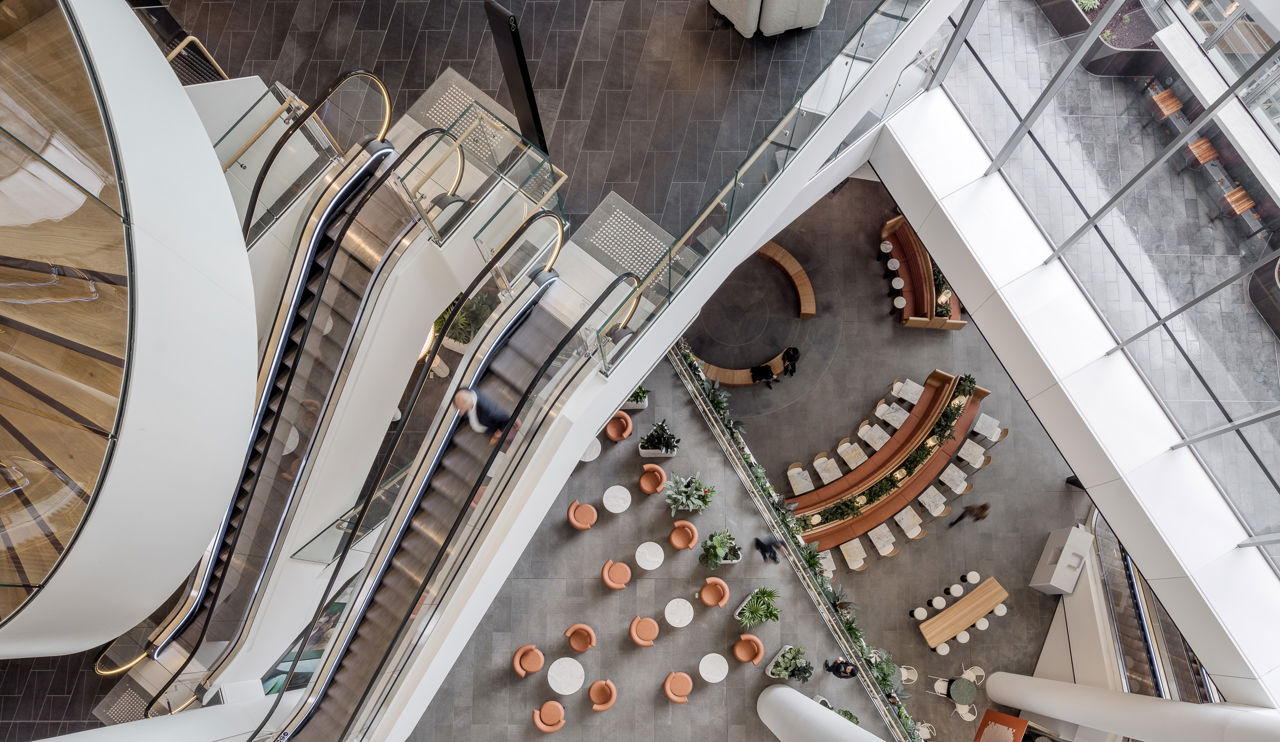 Case study
Office fund delivers
net zero portfolio
Landmarks become award-winning sustainability benchmarks
The AMP Capital Wholesale Office Fund achieved net zero carbon for Scope 1 and 2 emissions eight years ahead of target through ongoing energy efficiency improvements, sourcing renewable electricity and purchasing certified carbon offsets.
Sustainability initiatives help deliver value for our investors, improve customer experiences, motivate our employees and support positive outcomes in the broader community. We will continue to ensure sustainability outcomes underpin our development, investment and management approach.

Kylie O'Connor

Global Head of Real Estate, AMP Capital
Our investment
The CEFC invested $100 million in the AMP Capital Wholesale Office Fund (AWOF) to help set a new benchmark for the commercial property sector in Australia.
The Fund provides investors with exposure to 11 Premium and A Grade office assets, including some of Australia's most iconic buildings – from the commercial and entertainment precincts of Quay Quarter and Darling Park in Sydney to the unique design of 700 Bourke Street at Docklands in Melbourne.
One of Australia's largest listed property owners, Mirvac Group, became the manager of the Fund in 2022, renaming it Mirvac Wholesale Office Fund.
Quay Quarter Tower achieves world best accolades 
Fund asset Quay Quarter Tower underwent an extensive retrofit and expansion that was a world-first in terms of adaptive reuse, sustainability outcomes and design features. The landmark building has received international recognition including: 
our impact
The entire wholesale office fund portfolio achieved net zero carbon for Scope 1 and 2 Emissions in January 2022, eight years ahead of its 2030 target. This was accomplished through a combination of ongoing energy efficiency improvements, procuring renewable electricity and offsetting residual emissions with certified carbon credits.
Individual office assets have capitalised on technology and design to reduce energy requirements and improve their sustainability.
The CEFC agreement with AMP Capital included a range of initiatives consistent with encouraging lower emissions and greater energy efficiency, including greater knowledge sharing by AWOF across the property sector and wider access to property energy consumption data. In addition, the investment supports the publication of practical information on the implementation of science-based targets and the sharing of information on regulatory and planning barriers to energy efficiency.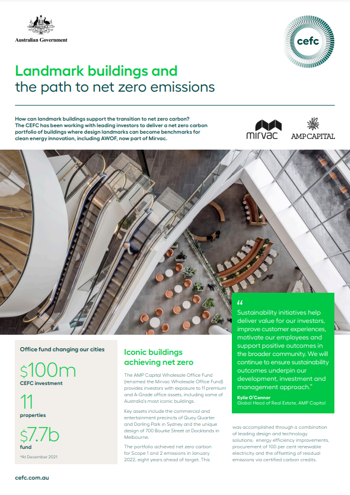 Read our insight
Landmark buildings and the path to net zero emissions
How can landmark buildings support the transition to net zero carbon? The CEFC has been working with AMP Capital Wholesale Office Fund to deliver a net zero carbon portfolio of buildings where design landmarks are becoming benchmarks for clean energy innovation.
Read more