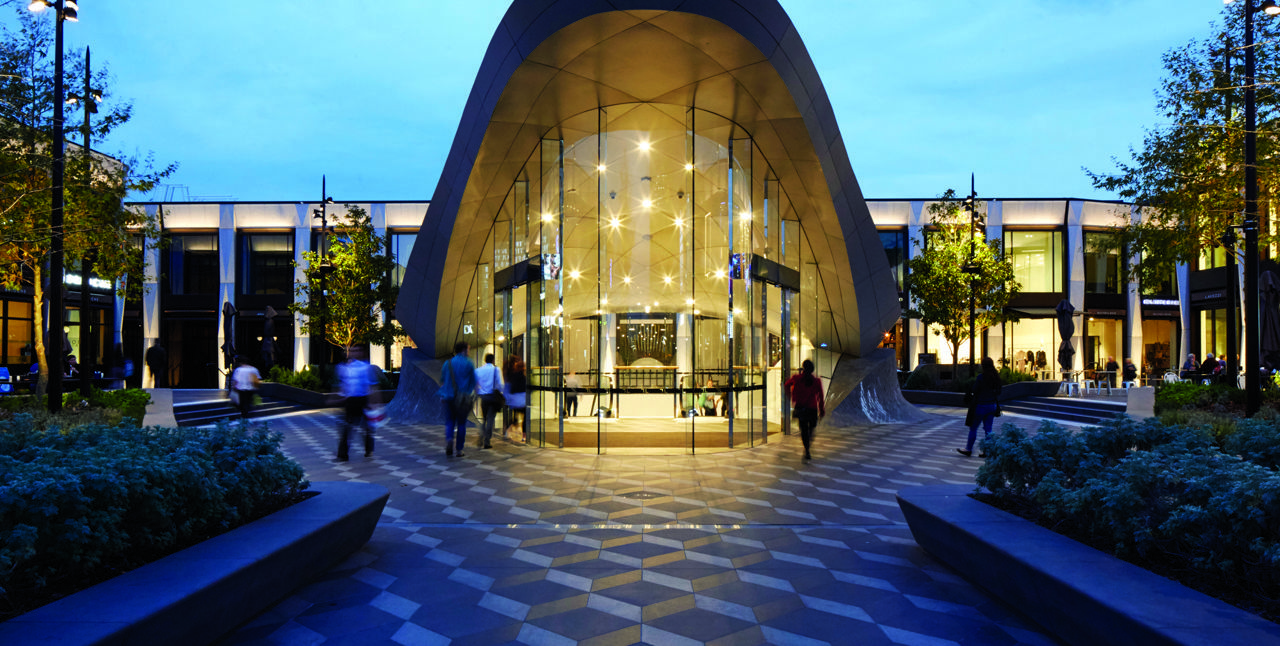 Case study
Shopping centres target
net zero emissions
Maximising sustainability savings
QIC Global Real Estate is committed to achieving net zero carbon emissions by 2028 for the core assets of its QIC Town Centre Fund portfolio. QIC is focusing on maximising efficiencies and smart investments to lower its carbon footprint, leveraging some of Australia's leading sustainability expertise and significantly changing the way it manages and powers its retail assets.
Our strong relationship with the CEFC, and our ongoing focus on continuous improvement in ESG performance, assists us in our active pursuit of becoming a market leader in achieving net zero emissions across our Australian retail portfolio.

Michael O'Brien

Managing Director, QIC Global Real Estate
Our investment
The CEFC and QIC Global Real Estate have been working together since 2017, demonstrating the positive benefits clean energy technologies can bring to major shopping centre assets.
An initial $200 million in CEFC debt finance was repaid in 2020, with the CEFC subsequently making an $80 million equity investment in the QIC Town Centre Fund. The CEFC also invested $30 million in the world-first QIC green bond.
our impact
Australian shopping centres account for 36 per cent of commercial building energy consumption and are a relatively untapped opportunity to transform energy use and reduce carbon emissions. They have substantial energy needs, with their large floor spaces requiring considerable energy-intensive lighting and air conditioning
QIC is aiming to achieve net zero emissions for the core assets in the QIC Town Centre Fund portfolio by 2028. Its proactive and data-driven approach to reducing carbon emissions and improving the environmental performance of its assets includes current and emerging technologies. Initiatives to be implemented in the Town Centre Fund portfolio include:
One of Australia's largest rooftop and carpark solar projects, the first phase of which will deliver approximately 15 MW of solar capacity on completion
Installation of LED lighting in car parks and centres
Smart metering, live fault monitoring and energy analytics for assets and tenants
Upgrades to key equipment and building management systems
Battery storage technology to manage peak demand response
Expanding power agreements to leverage solar generation capacity.
QIC was the first Australian signatory to the World Green Building Council Net Zero Carbon Buildings Commitment for a retail portfolio.
The QIC Town Centre Fund was previously known as the QIC Shopping Centre Fund. Core assets in the fund are 100 per cent owned and operated by QIC.
Learn more about the CEFC has invested in the QIC green bond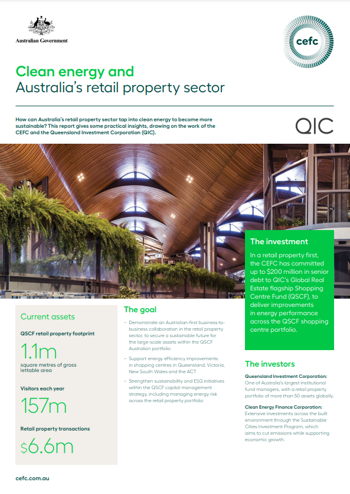 Read our insight
Clean energy and Australia's retail property sector
How can Australia's retail property sector tap into clean energy to become more sustainable? This report gives some practical insights, drawing on the work of the CEFC and the Queensland Investment Corporation (QIC).
Read more