The Reef Funding Program is financing clean energy projects in the Great Barrier Reef Catchment Area
– supporting delivery of the Reef 2050 plan and the long term health of the Great Barrier Reef.
CEFC finance is supporting a number of diverse smaller-scale projects, including energy and water‑efficient irrigation systems, rooftop solar, precision guided on-farm machinery, process and manufacturing equipment upgrades, and the retrofitting of heating, cooling and lighting in buildings. 
CEFC investment within the Reef Catchment Area primarily aims to deliver indirect benefits to the Reef in lowering emissions to address climate change, the single greatest long term threat to the Reef. Our investment also supports the objectives of the Australian Government Reef 2050 plan, in contributing to local economic growth by providing a local source of renewable energy, supporting the efficient use of energy, and demonstrating the positive benefits of clean energy to Reef communities.
Where to act
Change your energy use
Invest in renewables or hybrids of renewables with other technologies
Cut your energy use
Invest in energy efficiency, including energy conservation and demand management
Lower your emissions
Invest in technologies and supply of goods or services that reduce emissions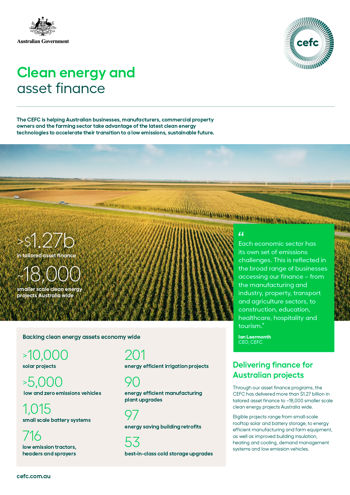 Read our insight
Clean energy and asset finance
The CEFC is helping Australian businesses, manufacturers, commercial property owners and the farming sector take advantage of the latest clean energy technologies to accelerate their transition to a low emissions, sustainable future.
Read our insight