Innovative peer-to-peer green lending platform brings investors and borrowers together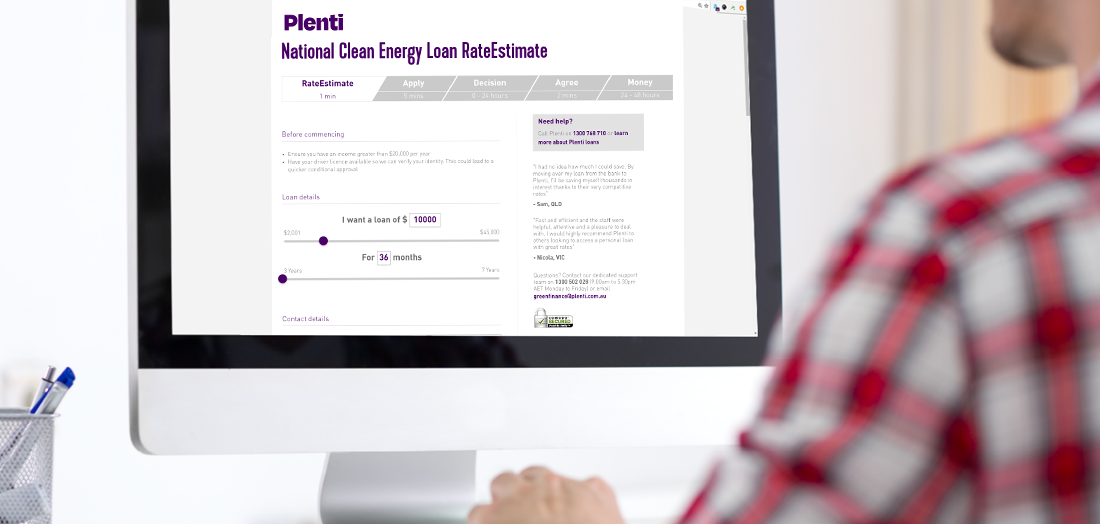 Location

New South Wales
Investment

Housing
Property
Solar
Storage
Category

Low emissions
Energy efficiency
Making clean energy more accessible
Australia's first peer-to-peer green lending platform - the Plenti Green Loan marketplace - is an innovative online platform that brings together investors, borrowers and clean energy product providers.
It allows investors to lend directly to creditworthy borrowers looking to buy or install approved energy efficient and solar products.
Through the online platform, investors can nominate the amount they wish to invest, the interest rate they are prepared to accept, and their request can then be matched to approved borrowers. Borrowers can access this finance to invest in eligible clean energy assets.
Plenti wants to make clean energy products more accessible and cost-effective for Australians. The Government of South Australia's subsidy, The CEFC's cost-competitive finance and Plenti's streamlined customer offering will together provide a simple and fast way for homeowners to reduce their power bills and contribute to a reduced carbon footprint,
Kicking goals in its first year
The project was seeded with $20 million from the CEFC in 2017 and in its first year of operation approved finance for more than 1,000 households and small businesses to install energy efficient and renewable energy products through the Plenti Green Loan marketplace.
These loans have helped finance a wide range of green product purchases, including solar panels and battery systems, energy efficient lighting and energy efficient heating and cooling systems. Solar systems financed over the first 12 months of the program have resulted in a reduction of over 2,250 tonnes of carbon emissions annually.
Plenti was previously known as RateSetter
New South Wales, Housing, Property, Solar, Storage, Low emissions, Energy efficiency