Hydrogen has the potential to make a substantial contribution to our clean energy transition, creating an important new domestic and export industry.
Through the $300 million Advancing Hydrogen Fund the CEFC is working to support the growth of a clean, innovative, safe and competitive Australian hydrogen industry.
Renewable hydrogen can enable the deep decarbonisation of difficult-to-abate sectors of our economy, particularly in transport and industry, while accelerating the contribution of renewable energy and contributing to energy efficiency. Australia is seeing growing market interest in the decarbonisation potential of hydrogen, particularly with respect to the industrial sector, as well as the potential role of green hydrogen in grid-firming, chemicals, steel and beyond. The CEFC also invests in hydrogen related opportunities via the Clean Energy Innovation Fund.  
Hydrogen Headstart 
The Australian Government $2 billion Hydrogen Headstart program is being co-developed by ARENA. Hydrogen Headstart aims to deliver a step change in Australia's renewable hydrogen production by underwriting some of the largest electrolyser deployments in the world. The program is intended to bridge the commercial gap for early projects and put Australia on course for up to one gigawatt of electrolyser capacity by 2030. The CEFC worked closely with relevant agencies and ARENA on the development of the Headstart program and will seek to provide complementary equity and debt financing for relevant projects.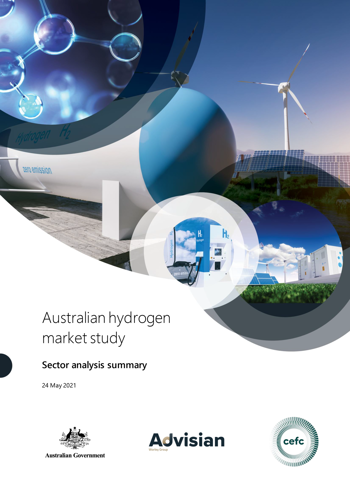 READ OUR REPORT
Australian hydrogen market study
Low carbon hydrogen is emerging as a potential key vector for the future of the Australian energy transition and the industrial economy. This study explores the costs of production and the competitiveness of low carbon hydrogen in 25 Australian end-use sectors, relative to the incumbent technology.
Read more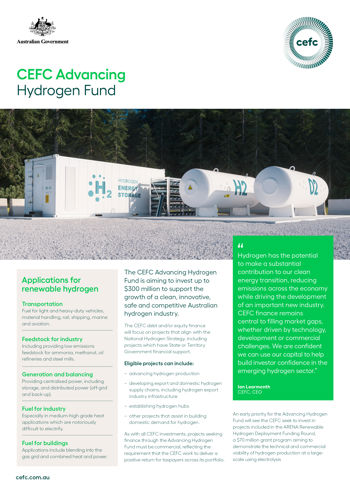 read our insight
CEFC Advancing Hydrogen Fund
The CEFC Advancing Hydrogen Fund is aiming to invest up to $300 million to support the growth of a clean, innovative, safe and competitive Australian hydrogen industry.
Read more