Clean Energy Innovation Fund
The Clean Energy Innovation Fund is the
largest dedicated cleantech investor in Australia
The Innovation Fund draws on CEFC finance and expertise to invest in innovative businesses whose activities can lower Australia's emissions. Innovation Fund portfolio companies are pursuing diverse opportunities ranging from mobility and smart cities to agriculture, the circular economy and innovative energy demand management solutions.
The Innovation Fund invests in companies with experienced and capable management teams, a competitive edge in technology and innovation, and the potential for both domestic and global market application of their technologies. It works to match these companies with cleantech investors, who are motivated by the positive environmental impact of cleantech innovation, as well as commercial potential and robust business fundamentals.
Virescent Ventures manages the Innovation Fund on behalf of the CEFC. Learn more about Virescent Ventures.
Cleantech innovators
Clean energy
transition
Low cost renewables, decentralised generation, widespread electrification
Mobility and
smart cities
Multiple modes of transportation, optimised built environment, focus on embodied carbon
Food and
agriculture
Supply chain redefined to feed more with less, enrich and build resilient soils
Circular economy
and industry
Efficient production, industrial improvements, reuse and recycle to address the waste crisis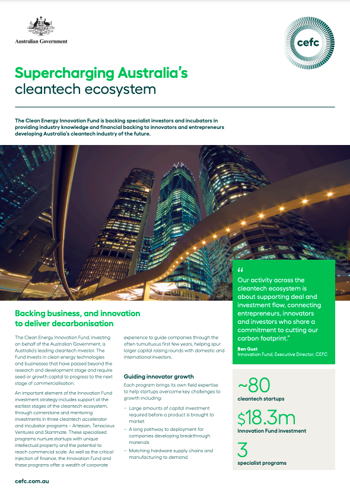 read our insight
Supercharging Australia's cleantech ecosystem
The Clean Energy Innovation Fund is backing specialist investors and incubators in providing industry knowledge and financial backing to innovators and entrepreneurs developing Australia's cleantech industry of the future.
Read our insight
The CEFC investment into Omni Tanker has provided a number of benefits beyond the financial aspect, for example in discussions with major international clients, their involvement is a tremendous enabler by providing credibility to the business.
Since the CEFC has come on board as an investor, we have had the confidence and discipline to grow JET Charge into a globally recognised EV charging infrastructure company. The CEFC has helped me grow and mature as a leader.  With their support, I feel ready to lead JET Charge into the next phase of our rapid expansion.
We're thrilled to have the CEFC as a cornerstone investor in Tenacious Ventures. Our mission is to help agriculture transition to a carbon neutral and climate change resilient future and having an aligned investor in the CEFC adds power and credibility to our cause. 
Having the CEFC join our ongoing journey at Relectrify has been superb. For high-growth clean technology companies, the Innovation Fund provides not only top-tier venture investment, but also brings significant further value through deep energy sector insight and access to a global network of clean technology operators and financiers.
The CEFC has brought a wealth of board experience, strong EV and financing networks and a sustainable growth mindset to Zoomo. It's also great to have a partner with whom our values are super aligned.
The CEFC has been an early, passionate and committed supporter of Tenacious Ventures. They have backed their desire to see real impact with hands-on collaboration and enthusiasm to learn and educate to help achieve powerful clean energy outcomes in early stage investing.