Spotlight on a Green Banker
The following article was featured in the Green Bank Network Bulletin, June 2018
Ben Gust, Executive Director of the Clean Energy Innovation Fund, CEFC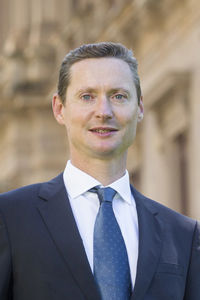 What is your role at the Clean Energy Innovation Fund in a nutshell?
I am the Executive Director of the Clean Energy Innovation Fund at the CEFC, where I lead the team making investments in innovative early-stage clean energy technologies and businesses with exceptional commercial potential.
What is the Clean Energy Innovation Fund?
The Clean Energy Innovation Fund is a $200 million program within the CEFC, supporting the growth of innovative clean energy technologies and businesses which are critical to Australia's clean energy transformation.  We've made nine investments in a little over 18 months, which is clear evidence of the potential of this area of the clean energy economy.
The Innovation Fund targets technologies and businesses that have passed beyond the research and development stage, and which can benefit from early stage seed or growth capital to help them progress to the next stage of their development. The Innovation Fund invests using CEFC finance and draws on the technical expertise of the Australian Renewable Energy Agency (ARENA).
What are some recent investments the Innovation Fund has made?
There are lots of exciting things happening via the Innovation Fund, and CEFC more broadly.
In April we announced a new A$5 million equity investment in Zen Ecosystems' series B capital raising for the further development and deployment of its Zen HQ and Zen Thermostat products. Zen Ecosystems has developed intelligent energy management solutions that can save Australian businesses up to 25 per cent on their energy consumption.
Thinxtra, who we supported with a A$10 million investment last year, announced in February it is expanding is Smart Council Program to 100 councils across Australia. With support from the CEFC via the Innovation Fund, Thinxtra will bring high-impact Internet of Things solutions to Councils, including energy and water saving services such as HVAC monitoring, water meter and leak detection, and more. 
You can learn about all of the Innovation Fund investments and companies, as well as how to apply for financing, on the CEFC website.
Can you tell us more about the collaboration with EnergyLab?
EnergyLab is Australia's first dedicated clean energy accelerator program. The Innovation Fund made a A$10 million cornerstone investment into the Clean Energy Seed Fund last year, which provides seed capital to EnergyLab's participants. It was just announced in May that EnergyLab has doubled its intake of startups which is an exciting milestone. EnergyLab also recently announced the opening of its first Brisbane base, offering office space, financial and mentoring support to start-up companies in the Brisbane area. The new office is co-located with the CEFC, as part of our goal to accelerate investment in Australian clean energy innovators.
Start-ups joining EnergyLab's 2018 program include Sydney's PowerPal which is tapping into the Internet of Things using big data and AI to build Australia's largest energy engagement platform. Its goal is to eliminate energy waste for all Australians, reducing grid demand by 5 per cent. Ohm Power, based in Melbourne, has launched an online platform that helps homeowners find their best performing solar and/or battery storage system from a range of trusted Australian solar retailers, and many others.
What do you enjoy most about your job?
Being involved in supporting and helping to build a thriving cohort of innovative businesses and startups in the clean energy sector is exciting and inspiring. These businesses and entrepreneurs have great potential to make crucial impacts on future consumption energy in Australia, which will have a positive impact on lowering greenhouse gas emissions. It is hugely rewarding to be a part of that. Another exciting part of my job is the people: it is a privilege to collaborate with inspiring entrepreneurs working to change the world.  We also have an amazing team here at CEFC that come to work every day thinking of innovative ways to support and finance the transition to a cleaner, greener economy for everyone.
In the news, 2018