Ark Energy breaks ground on SunHQ Hydrogen Hub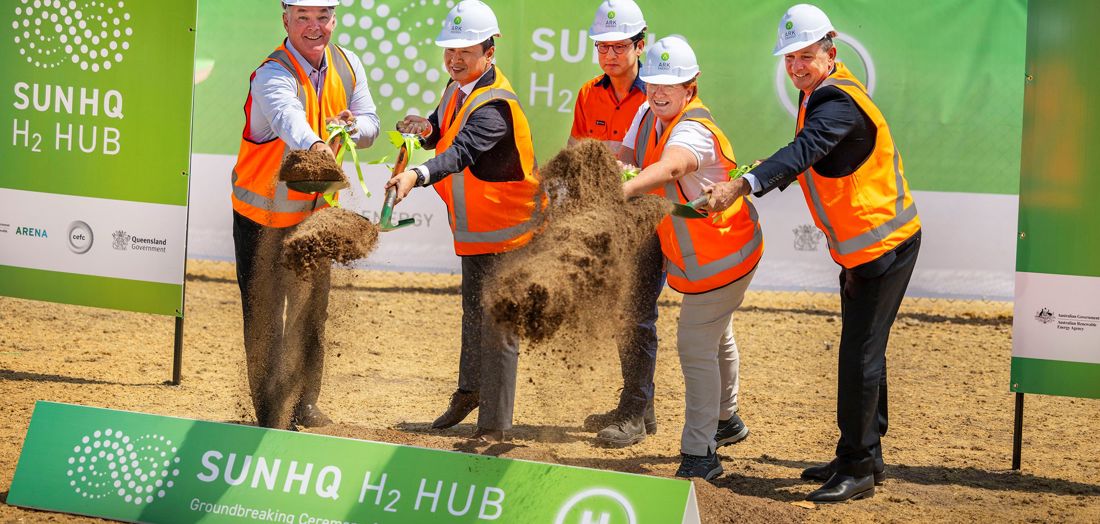 The CEFC congratulates Ark Energy on breaking ground on the landmark SunHQ Hydrogen Hub in Townsville. The official ceremony was attended by CEFC Chief Investment Officer - RTN Paul McCartney and Korea Zinc President Ki-Deok (KD) Park; Queensland Minister for Resources the Hon Scott Stewart MP; Mayor of Townsville City Council Cr Jenny Hill. In 2021, the CEFC committed $12.5 million to help finance the production of green hydrogen at the SunHQ H2 hydrogen hub.
CEFC CEO, Ian Learmonth said: "Decarbonising heavy transport is a key part of reducing our emissions, and green hydrogen provides an important option where electrification can't be utilised. Ark Energy is to be congratulated on its leadership in the hydrogen sector with SunHQ contributing to reducing emissions and supporting the reduction of carbon in the zinc supply chain."
Ark Energy media release
1 November 2023
Ark Energy breaks ground on landmark SunHQ Hydrogen Hub
Leading renewable energy company Ark Energy Corporation Pty Ltd (Ark Energy) has officially broken ground for construction of its first green hydrogen project, Stage 1 of the SunHQ Hydrogen Hub (SunHQ).
Located within the Sun Metals Green Industrial Precinct in Townsville, Australia, SunHQ will involve a 1 MW polymer electrolyte membrane (PEM) electrolyser that will produce green hydrogen from a behind-the-meter connection to the co-located 124 MW Sun Metals Solar Farm.
SunHQ will be one of the largest fully integrated, green hydrogen production and refuelling facilities in Australia. The facility will have a production capacity of 155 tonnes of green hydrogen per annum, ~90 tonnes of which will be used to power five 140 tonne-rated Hyzon Motors fuel cell electric trucks (FCET). These FCETs are expected to be the largest of their kind in the world.
Ark Energy will own the FCETs and lease them to its sister company, Townsville Logistics, which will incorporate them into its short haul fleet operating as road trains to transport zinc concentrate from the Port of Townsville to the Sun Metals Zinc Refinery and the finished zinc ingots from the refinery to the port. The zero-emission trucks will replace their diesel equivalents and avoid 1,300 tonnes of CO2 emissions each year.
"We are thrilled to celebrate the start of construction for SunHQ. We're excited about the catalytic potential of SunHQ to build the domestic hydrogen economy of North Queensland and bring forward the decarbonisation of Australia's ultra-heavy transport sector by several years," said Ark Energy CEO Daniel Kim.
"We have deliberately oversized the capacity of SunHQ to ensure there is surplus green hydrogen to support other major industrial customers achieve their emissions reductions targets," said Mr Kim.
The SunHQ project has been supported with funding of up to A$8M from the Queensland Government's Hydrogen Industry Development Fund. The landmark project is also the first hydrogen project in Australia to be jointly supported by the Australian Renewable Energy Agency (ARENA) and the Clean Energy Finance Corporation (CEFC).
It has received a A$3.02M grant from ARENA and is being supported by a A$12.5M debt finance facility from the CEFC. It is anticipated that the production and testing of green hydrogen from SunHQ will commence by the end of Q1, 2024, with the first FCET expected to be delivered by the end of Q2, 2024.


Quotes attributable to Deputy Premier Steven Miles:
"Growing the Hydrogen industry in North Queensland will drive more opportunities and jobs for the entire region.
"The Palaszczuk Government's Hydrogen Industry Development Fund is backing projects like SunHQ in regional Queensland and setting the state up for prosperity for decades to come. "It's another step forward towards a future with more renewables and more decarbonisation.


Quotes attributable to Minister for Resources and Member for Townsville Scott Stewart:
"This Ark Energy project is great news for the Townsville community.
"Stage 1 of the SunHQ Hydrogen Hub is just another example of how the Palaszczuk Government is supporting new and emerging industries in North Queensland.


Quote attributable to Mayor for Townsville City Council, Cr Jenny Hill:
"Sun Metals has been an integral part of the Townsville Community since the late 1990s. Their continued innovation through Ark Energy and Sun HQ initiative is an important step on Townsville's journey to become the clean industry hub of Northern Australia."


Quotes attributable to ARENA CEO, Darren Miller:
"Decarbonisation of transport, particularly in harder-to-abate areas such heavy transport and mining vehicles, is a key priority for ARENA. To achieve net zero emissions we need to find solutions and alternatives to fossil fuels across all sectors of the Australian economy including industry and heavy transport.
"We're excited to see Ark Energy's project progress towards construction. The project will represent the first step in utilising renewable hydrogen to replace the current truck fleet and begin to decarbonise the North Queensland zinc mining supply chain.".
Media release, 2023