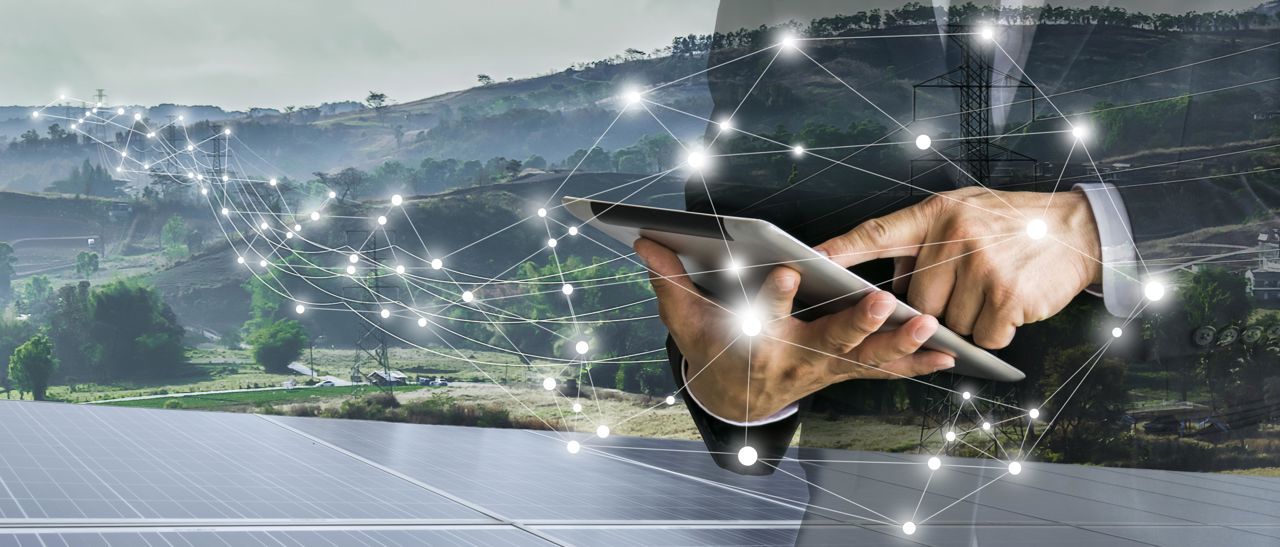 Case study
AllianceBernstein looks to new
standard in low carbon investing
Climate scenario analysis
The AB Managed Volatility Equities – Green strategy by global asset manager AllianceBernstein aims to set a new standard in low carbon investing, using detailed climate scenario analysis. The Green MVE portfolio of some 70 ASX-listed companies is aiming to be carbon neutral while generating attractive returns.
We think investors will appreciate not only the potential for positive environmental and investment outcomes, but also the transparent and quantifiable way in which those outcomes are achieved. These attributes, in our view, make Green MVE an attractive and ground-breaking addition to the universe of available low-carbon investment strategies.

Roy Maslen

Chief Investment Officer - Australian Equities, AllianceBernstein
Our investment
The CEFC made a cornerstone commitment of $50 million to Green MVE, its first investment in listed equities. The investment allows the CEFC to further extend its emissions focus across a diverse portfolio of businesses listed on the ASX.
Green MVE is investing in a portfolio of some 70 Australian-listed companies with low volatility and the potential for higher returns compared with the ASX300. The portfolio is constructed to achieve an emissions profile that is substantially lower than the relevant investment benchmark.
Green MVE is based on the successful AB Managed Volatility Equities Fund and brings a greater focus to exploiting the typically low carbon characteristics of many low volatility stocks. The strategy starts by anchoring the portfolio in low volatility equities, which are typically low carbon sectors such as healthcare, consumer staples and IT, and then applies a carbon price during the stock selection process.
The investment allows the CEFC to further extend its emissions focus across diverse businesses and through different financial structures.
Green MVE has also attracted investment support from the Myer Foundation, which co-founded ClimateWorks Australia, a leading researcher into decarbonisation at scale.
our impact
Climate scenario analysis recognises the complexity and uncertainty presented by climate change, from transition and physical risks to growth opportunities. It is a growing area of focus for active investors, companies and regulators.
Investing through managed investment products such as Green MVE enables the CEFC to support fund managers to "prove up" innovative investment strategies that actively manage climate change risk and opportunity.
With Green MVE, AllianceBernstein is pursuing an Australian equities strategy that involves generating attractive returns while pursuing carbon neutrality.
Investment decisions are made against a framework of three proprietary climate scenarios that draw on insights from a range of respected analysts. These include Australia's CSIRO and Bureau of Meteorology, as well the US Massachusetts Institute of Technology and Columbia University. Consideration is also given to the work of the International Energy Agency and the Intergovernmental Panel on Climate Change.
For each scenario AllianceBernstein has developed 30-year stock models to quantify risks, recognising that for individual companies within each of these scenarios there will be very different outcomes, constructing a portfolio with an emissions profile substantially lower than the relevant investment benchmark.
Watch our video
Why is climate scenario analysis an important consideration for investors?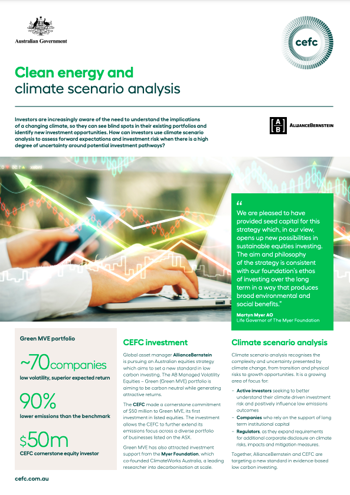 read our insight
Clean energy and climate scenario analysis
Investors are increasingly aware of the need to understand the implications of a changing climate, so they can see blind spots in their existing portfolios and identify new investment opportunities. How can investors use climate scenario analysis to assess forward expectations and investment risk when there is a high degree of uncertainly around potential investment pathways?
Read more