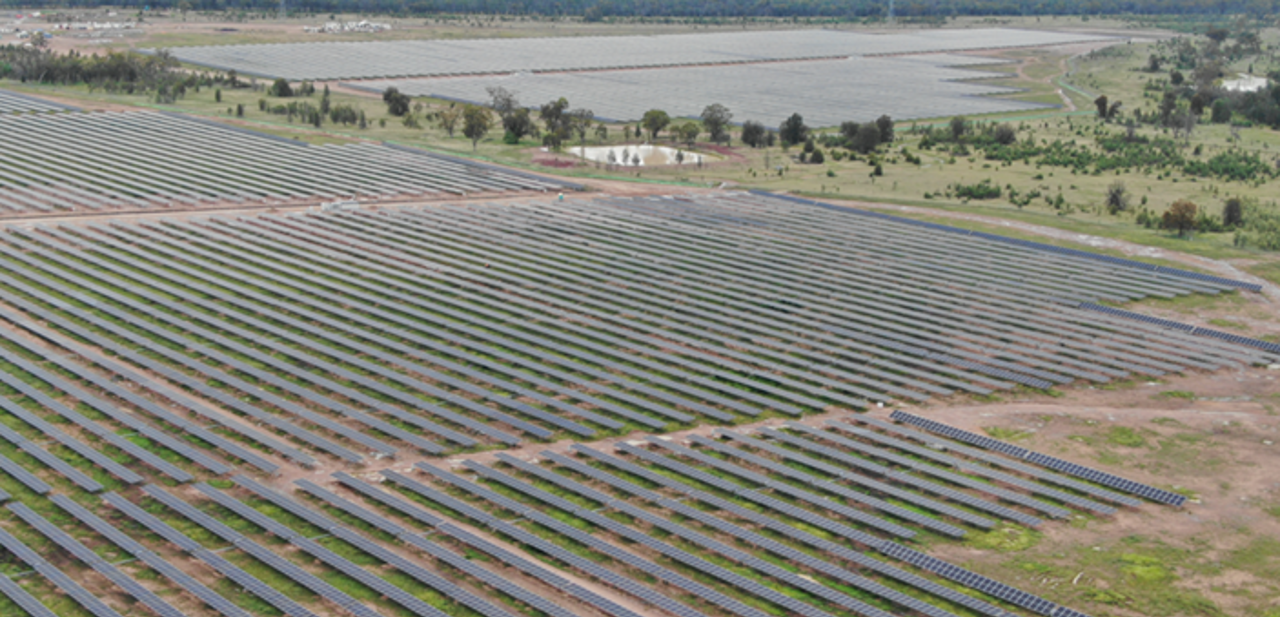 Case study
Blue Grass Solar Farm
targets ultra-low cost solar
High-tech innovative panels
The 200 MWp Blue Grass Solar Farm in Columboola, South East Queensland, is expected to deliver 420 GWh of renewable energy annually, offsetting more than 320,000 tCO2-e and powering 80,000 homes. The solar farm uses bifacial solar panels and half-cut cells technology, both of which increase performance and efficiency.
Australia is a key strategic market for X-ELIO and our Blue Grass Solar Farm will spearhead our continued expansion along Australia's East Coast, with additional projects planned for NSW and VIC.

Lluis Noguera

CEO, X-ELIO
Our investment
The CEFC has committed up to $37 million in debt finance to Blue Grass Solar Farm, as part of a syndicate of lenders which also includes ING and the Sumitomo Mitsui Banking Corporation.
Blue Grass Solar Farm is the first Australian project sponsored by the experienced renewables developer, X-ELIO. The project was delivered through a partnership between Brookfield and KKR, which has built more than 2 GW of solar PV plants across more than 10 countries. The project construction and grid connection was supported by first-tier renewable and transmission specialists including Gransolar Group, Ingeteam and Powerlink.
Blue Grass Solar Farm officially opened in November 2022.
our impact
Blue Grass Solar Farm is 14 kilometres west of Chinchilla, in the Southern Queensland Renewable Energy Zone (QREZ).
The Southern QREZ, which is centred around the Darling Downs region, is close to large load centres in South-East Queensland and the grid interconnector between New South Wales and Queensland. The region has a strong electricity network and capacity to connect new projects.
The solar farm will help support the Queensland Government's Renewable Energy Target (QRET) to generate 70 per cent of its energy needs from renewable sources by 2032, and 80 per cent by 2035.
About 400 regional jobs were created during the solar farm's two year construction period, with the project delivering more than $200 million investment into Queensland.
Technology innovation
Blue Grass Solar Farm is aiming to offset more than 320,000 tCO2-e a year, and generate enough renewable energy to power 80,000 homes.
The solar farm features 375,000 bifacial solar panels, which have an increased generation capacity compared with existing panels, as well as half-cut cells technology which reduces the cell to half the normal size. This latest innovation means the smaller cells produce half the current, reducing power loss and improving efficiency to produce more energy.
Helping meet clean energy demand
A corporate power purchase agreement with US tech giant Salesforce accounts for 25 per cent of the Blue Grass output, contributing to the US tech giant's commitment to reach 100 per cent renewable energy. The Queensland Government-owned generation company Stanwell has also committed to purchase a share of the Blue Grass energy generation, to help meet customer demand for green energy.
Supporting its local community
The Blue Grass Community Support and Benefit Sharing Fund allocates a percentage of the project's income to local community projects. It is supporting:
The Resourcing Country District Instrumental Music Program which provides musical instruments to the region's school students
The Friends of Illoura Village accessible bus service for the elderly and people with disability
The Western Downs Emergency Services Unit mobile emergency operations centre trailer which supports SES operations in remote locations

Fencing of a Warrego Highway roadside park.