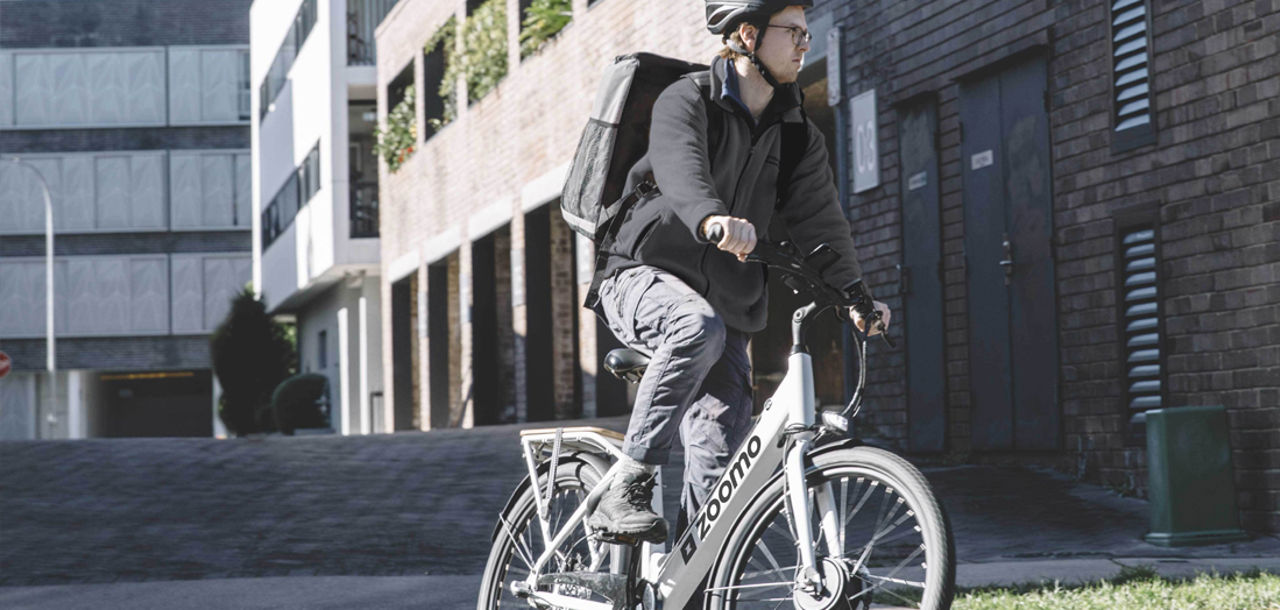 Case study
E-bike start-up
Zoomo shaping the future
of the delivery economy
Electrifying Australia's light vehicle fleet
Sydney-based start-up Zoomo is accelerating its expansion into new categories and locations, further electrifying Australia's light electric vehicle fleet and increasing its presence in international markets, to decarbonise the delivery economy. 
We believe that the bike world is ready for disruption and that in five to ten years, light electric vehicles will be the predominant form of transportation. Zoomo is taking the lead in this transformation.

Mina Nada

CEO and co-founder, Zoomo
Our investment
Through the Clean Energy Innovation Fund, the CEFC has invested $9.2 million in Zoomo, through two successful capital raisings which seen the company raised $34 million in two years. The Australian born e-bike innovator has attracted investment support from the CEFC alongside AirTree Ventures, Maniv Mobility and Contrarian Ventures, and secured international capital from US investors Winthrop Square and Wisdom VC.
Zoomo will use the funds to invest in the development and production of its next generation vehicle offerings as well as supporting global expansion to satisfy customer demand. Zoomo has had success supplying its vehicles to large fleet operators in the last mile delivery space and is seeing its fleet rapidly expand beyond 10,000 units globally. Initially named Bolt Bikes, Zoomo has dispatched more than one million food deliveries globally since it was established in 2017, and is now growing its reach into parcel, mail and grocery deliveries. 
our impact 
Rapid design improvements mean that light electric vehicles (LEV) will increasingly outpace cars and vans in the delivery of meals, post, parcels and groceries. LEVs are forecast to lead the charge in reducing emissions, with two and three-wheeled EVs predicted to abate more carbon emissions than standard and four-wheeled EVs until 2040. 
Further championing the uptake of e-bikes is the wave of new companies emerging in the on-demand grocery delivery sector, providing 10-15 minute order-to-door delivery. Zoomo estimates the value of this services segment alone grew by $14 billion through the pandemic, enabled by efficient transport modes such as e-bikes.
Zoomo is meeting this demand head-on with its unique "full stack" model which allows businesses to deploy and manage large fleets of carbon-friendly e-bikes at scale, supported by features like same-day servicing and anti-theft technology. While Zoomo initially built its products to service the demands of gig workers in the food delivery industry, businesses and fleet managers are increasingly attracted to its quality commercial vehicles, on demand service, flexible financing and tech-enabled security features.
Learn more about the Clean Energy Innovation Fund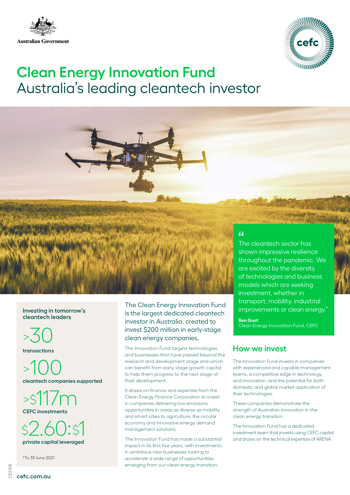 read our insight
Australia's leading cleantech investor
The Innovation Fund has made a substantial impact in a short period of time, investing in innovative companies which are capitalising on exciting new cleantech opportunities to help lower our emissions.
Read more