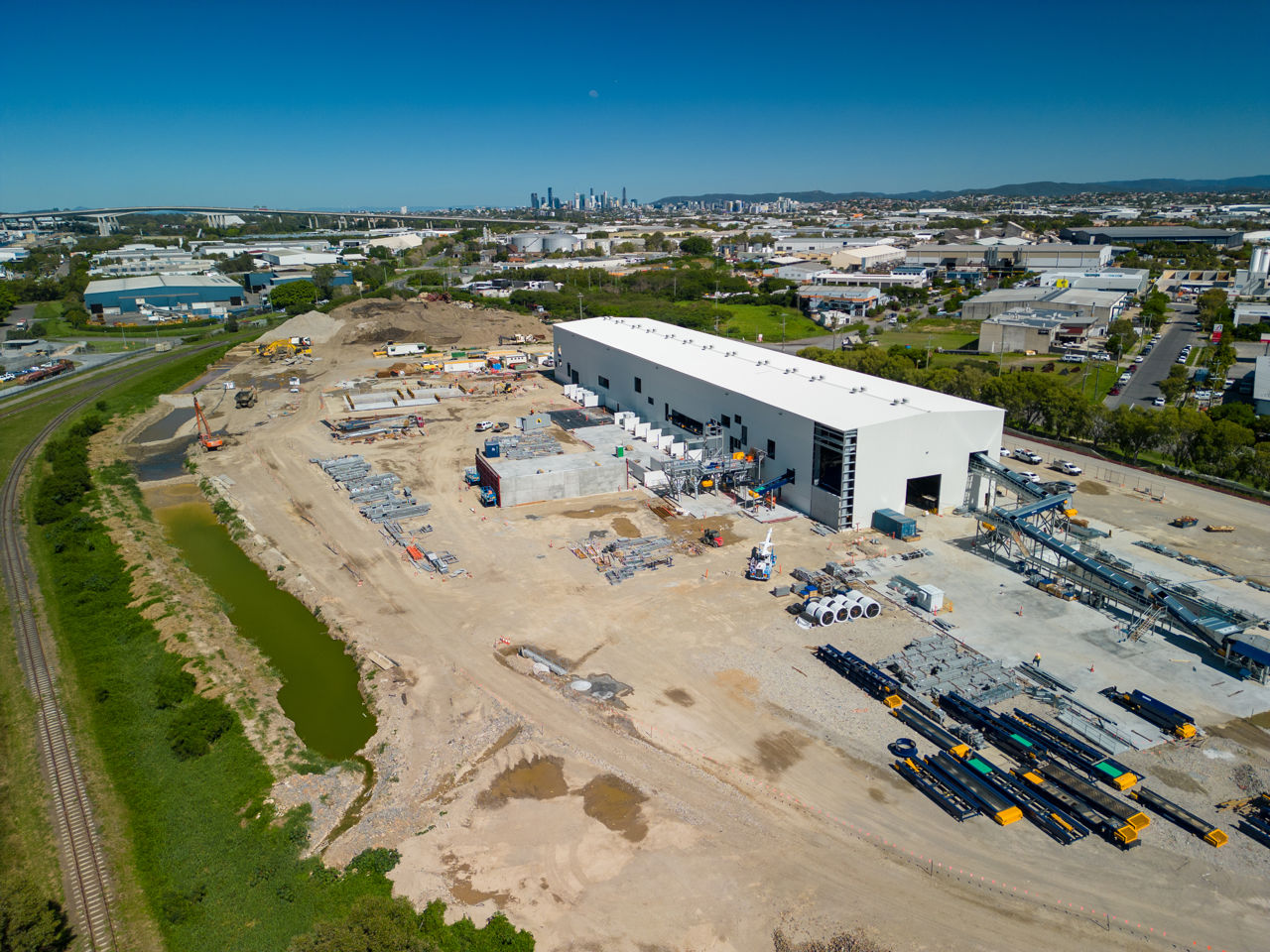 Case study
Green and gold. Rino Recycling
boosts resource recovery
ahead of Brisbane Olympics
Flagship facility focuses on construction and demolition waste
The Rino Recycling facility in Queensland can process more than one million tonnes of construction and demolition waste annually with a resource recovery rate of more than 90 per cent.
This facility will not only help SEQ achieve its Olympics commitments but preserve a number of its finite resources by recycling existing materials in the system first.

Todd Pepper

Director, Rino Recycling
Our investment
The CEFC has committed $75 million in debt finance to develop the $89 million Rino Recycling plant at Pinkenba, between the Brisbane CBD and the airport.
The plant is expected to avoid 55,363 tCO2-e each year through processing construction and demolition waste and producing higher quality recycled products for reuse.
The Queensland landfill levy, which was introduced in 2019 and is expected to increase to almost double by 2027, has supported the business case for the world-class facility.
The Rino Recycling plant investment is the single largest CEFC investment made through the Australian Recycling Investment Fund, with the investment bringing CEFC lifetime commitments across the waste and bioenergy sectors to more than $560 million.  
This investment helps provide a solution to Australia's growing waste stream and accelerates our transition to a circular economy by deploying best-in-class technology to further develop our recycling sector. It offers an opportunity to deliver important infrastructure to Queensland and comes at a critical time for Brisbane, with the city on the cusp of a construction boom in the count down to the 2032 Olympics.

Ian Learmonth

CEO, CEFC
our impact
Unlocking untapped value
Some 38 per cent of all waste generated in Australia in 2022 was from construction and demolition according to Australia's National Waste Report. A significant proportion of that waste was sent to landfill.
As Australia transitions to a net zero economy by 2050, we will need to cut emissions from the way we build and the way we recycle.
The Rino Recycling plant marks a significant development for Australia's circular economy and for recycling in Queensland, by demonstrating how to unlock the untapped value of waste to deliver a more sustainable low-emissions built environment. 
Circular economy benefits
Brisbane has a significant pipeline of infrastructure development, including expansion of the Brisbane Airport and the development of the Brisbane city region in the SEQ 'City deal'. The potential for recycling building material in these construction projects is very large.
The Rino Recycling plant will help address the under-developed construction and demolition recycling sector in Southeast Queensland, using leading global recycling technology by Turmec from Ireland and CDE from Northern Ireland.  
The fully automated plant is the first of its type and can handle many and various waste streams, separating the products effectively and creating valuable outputs without the need to rehandle or reprocess.
Output products such as recycled aggregates, road bases and sands/soils can be used in place of virgin products to create opportunities for lower embodied carbon content in construction projects.  
It is expected that the Rino Recycling plant activities will contribute to a more sustainable 2032 Brisbane Olympics.