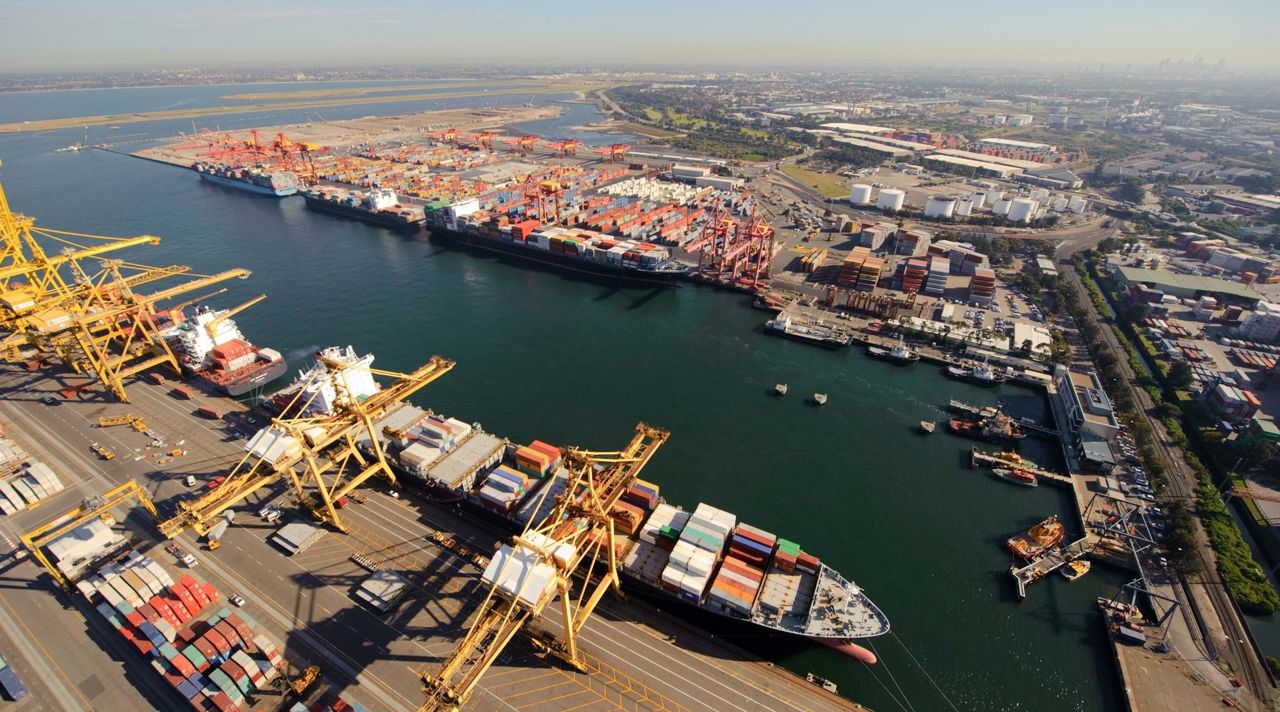 Case study
IFM Investors transforms
major Australian transport
and power assets
Reducing emissions through comprehensive and sustained improvements
The IFM Australian Infrastructure Portfolio, is changing the way some of Australia's biggest and best-known ports, airports and electricity providers operate as they transition towards net zero emissions.
infrastructure fund in Australia
IFM is a leader in sustainable investment. With the support of the CEFC, we will accelerate our program of measuring, reporting, and decreasing emissions from Australian infrastructure assets. The fact that this is the first commitment by the CEFC to an infrastructure fund reflects our alignment in a cleaner future. I invite other investors in infrastructure to follow our lead and make a difference.

Kyle Mangini

Global Head of Infrastructure, IFM Investors.
Our investment
The CEFC made its first equity commitment to Australia's diversified infrastructure sector in 2018 through a $150 million investment in the IFM Australian Infrastructure Fund.
The CEFC commitment is helping deliver an intensification of emissions reduction activities within the fund portfolio. This includes publication of carbon footprints, the creation of individual asset-level emissions reduction targets, and the adoption of a science-based approach to cutting carbon emissions. The work builds on a broad range of emissions reduction activities that were already underway at the individual asset level.
IFM has a 2050 net zero target for the Australian infrastructure portfolio with a 2030 interim emissions reduction target of more than 1million tCO2-e for the infrastructure asset class.
our impact
Infrastructure's role in the net zero transition
Australian infrastructure offers significant potential for emission abatement as Australia focuses on achieving net zero emissions by 2050.
An infrastructure portfolio typically includes equity stakes in a range of large assets. While funds may not own 100 per cent of a specific asset, they can influence how an asset is managed.
Influencing major assets
Through its Australian Infrastructure Portfolio, IFM Investors, a leader in sustainable investment in infrastructure, has worked with the CEFC to target comprehensive and sustained improvements to the carbon footprint of some of Australia's most important infrastructure assets including Brisbane and Melbourne Airports, NSW Ports, Southern Cross Station and Ausgrid.
Portfolio companies are implementing a range of strategies that aim to build resilience to climate change, harness opportunities in a decarbonising economy and create long-term value for investors. These strategies include renewable energy installations and energy efficiency improvements, as well as the deployment of low emissions fleet vehicles and infrastructure that supports the uptake of electric vehicles.
Collaborating to source renewable energy at scale
IFM Investors is also procuring renewable energy for its Australian infrastructure assets through a large-scale power purchase agreement program in a joint renewable energy program with QIC.
The staged program is the largest multi-asset multi-state program of its kind in Australia. When fully operational it is expected to save around 250,000 tCO2-e annually through the supply of more than 400 GWh of renewable energy each year.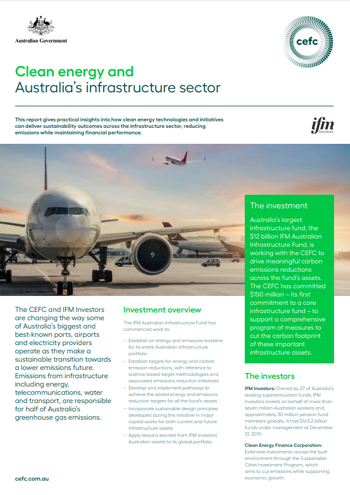 Read our insight
Clean energy and Australia's infrastructure sector
This report gives practical insights into how clean energy technologies and initiatives can deliver sustainability outcomes across the infrastructure sector, reducing emissions while maintaining financial performance.
Read more