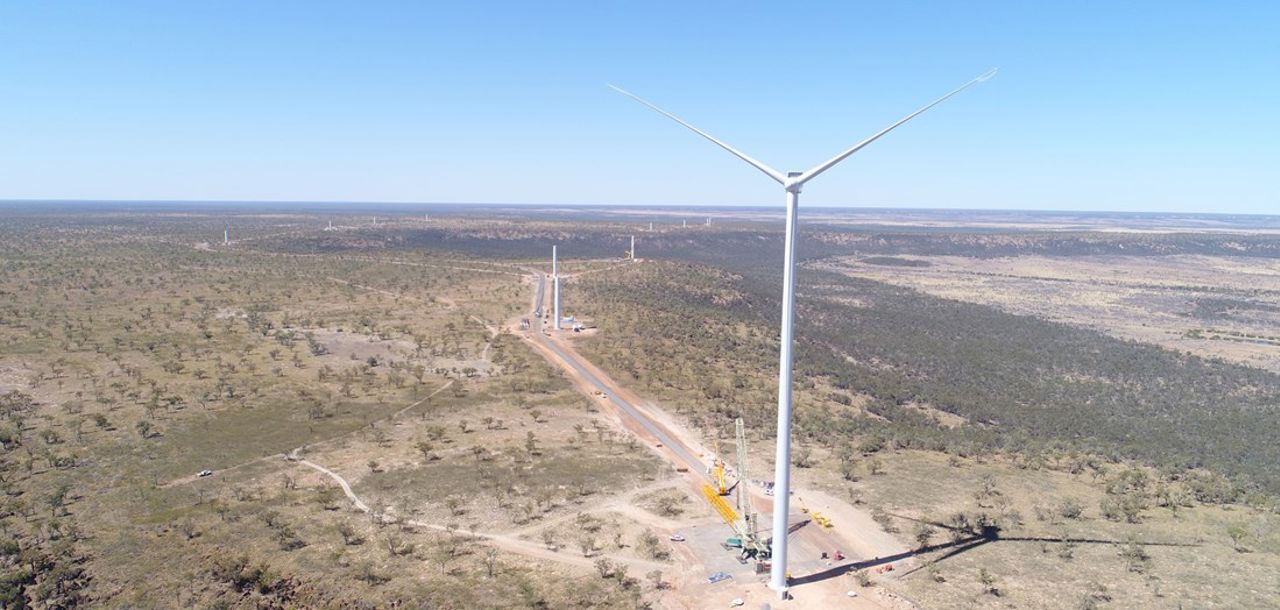 Case study
Kennedy Energy Park first to
combine solar, wind, storage
Hybrid model makes most of clean energy benefits
Australia's first fully integrated wind, solar and battery project, Queensland's Kennedy Energy Park, is supplying clean energy to the grid, taking advantage of complementary wind and solar resources identified with world-leading CSIRO technology. Windlab and Erus Energy developed Kennedy Energy Park.
This is a landmark project for Queensland and Australia, creating a new model for renewable energy that brings together the key ingredients of wind, solar and battery storage to capture the benefits of large-scale clean energy generation and improve grid reliability.

Ian Learmonth

CEO, CEFC
Our investment
The CEFC committed $94 million to the first stage of Kennedy Energy Park which features a 60 MW hybrid renewable energy project including 43 MW of wind and 15 MW of solar generation complemented by a 2 MW/4 MWh battery storage system. The landmark transaction represented a unique hybrid financing involving three critical technologies at a single site.
our impact
Kennedy Energy Park, near Hughenden in north Queensland, was the first utility scale project in Australia to combine renewable energy technologies with battery storage to optimise the amount of renewable energy generated and fed into the grid from the one location.
Financing three separate technologies on one site was a complex undertaking that had not previously been achieved in Australia. As the sole debt financier for the project, the CEFC demonstrated the bankability of large-scale, integrated hybrid renewable energy projects.
CSIRO-developed technology identified the Kennedy Energy Park site as having world-leading solar and wind resource, enhanced with the addition of onsite energy storage. The natural benefits of the site mean it can deliver high levels of solar energy throughout the day and strong wind generation in the evenings, creating a reliable around-the-clock generation profile. The addition of battery storage provides increases grid stability, delivering the benefits of cheaper, cleaner electricity closer to the point of generation.
The project is expected to deliver lifetime emissions abatement of almost 3 million tCO2-e and generate enough electricity to power more than 30,000 average homes each year.