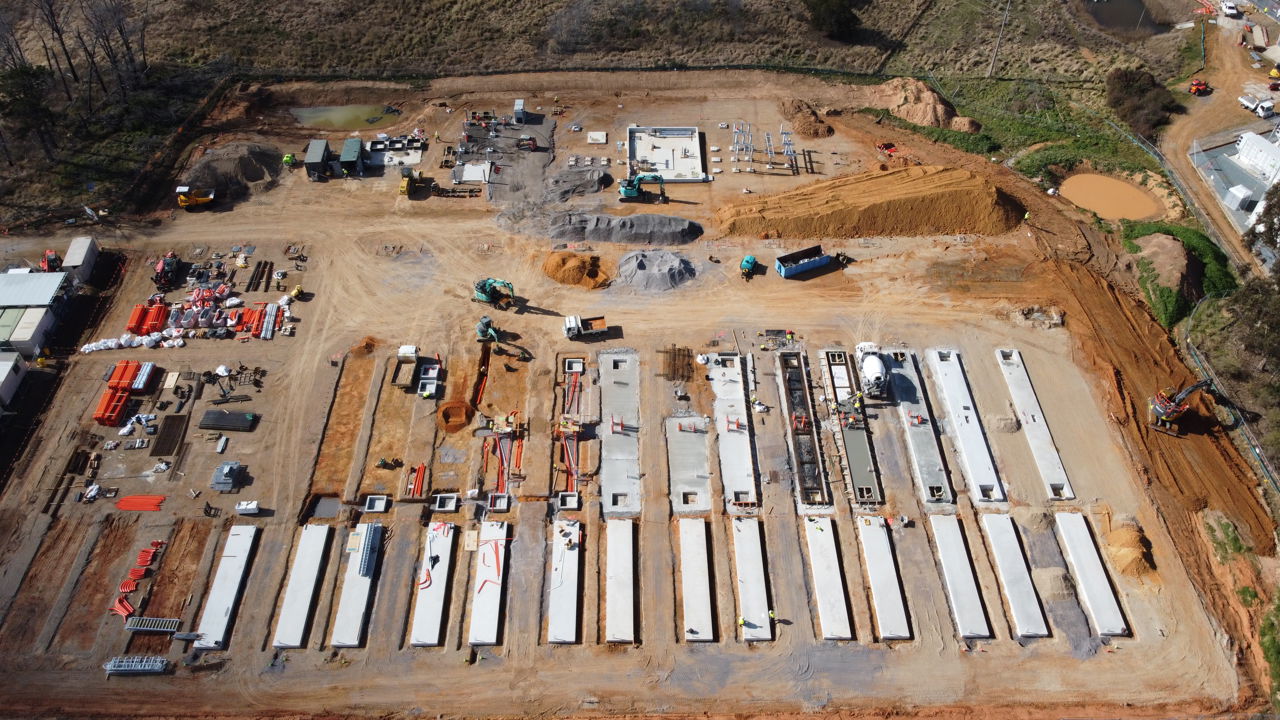 Case study
Neoen Capital Battery
supports ACT
net zero ambition
Modernising and stabilising the grid
The 100 MW Capital Battery will provide critical network support and help the ACT realise its 2045 net zero target.
We are extremely pleased to be providing an innovative debt financing package that will support Neoen in its market leading rollout of grid scale storage.

Alexander Austin

CEO, Infradebt
Our investment
The CEFC has committed $35.5 million alongside a $35.5 million investment by specialist infrastructure fund manager Infradebt, toward the Neoen owned and operated 100 MW Capital Battery in the ACT.
The Capital Battery is capable of storing up to 200 MWh of energy with up to two hours of power in reserve.
The CEFC commitment to the battery builds on previous experience in grid-scale battery investment. The CEFC has also committed $50 million to the 50 MW expansion of Hornsdale Power Reserve in South Australia and $160 million to the 300 MW Victorian Big Battery. Both projects are Neoen owned and operated.
our impact
Battery storage is expected to play a key role in decarbonising the energy sector as Australia raises its net zero ambitions.
Under the AEMO Integrated System Plan 2022, more than 80 per cent of electricity generation in the Australian National Electricity Market is expected to come from renewable energy by 2030. 
Grid-scale storage will be critical in supporting these higher levels of renewable energy, providing grid firming services and  frequency services to strengthen a lower emissions grid.
According to AEMO, Australia has just 2 GW of storage capacity, which must increase to 61 GW by 2050 through a combination of utility-scale batteries, hydro storage and virtual power plants.
Crowding in capital
Grid-scale storage projects require substantial tailored investment solutions which take into account:
high start-up capital costs
emerging and untested revenue models
the emerging market for risk mitigation services provided by batteries
Drawing on its experience from previous investments in Neoen utility-scale battery investments, the CEFC introduced co-lender Infradebt to the Capital Battery project, demonstrating an ability crowd in private capital and support the emerging large-scale battery industry.
Powering the ACT
The Capital Battery, which is located next to the TransGrid Queanbeyan substation, will provide a predictable supply of electricity to the grid through its ability to dispatch energy during peak demand times.
Neoen committed to building the battery as part of the ACT 2020 renewable energy auction in which it won a 100 MW power purchase agreement for Goyder South Stage 1 Wind Farm in South Australia.
Neoen has struck a seven-year 70 MW virtual battery contract with AGL Energy, which allows the electricity retailer to hedge its customer load by virtually charging or discharging the battery.
Community investment
Battery storage expert Doosan is constructing the battery which is expected to start operating in the first half of
Once operational, Neoen plans to launch a Community Co-investment Scheme which provides residents of the ACT and Capital region with an opportunity to become financial stakeholders in the battery project.