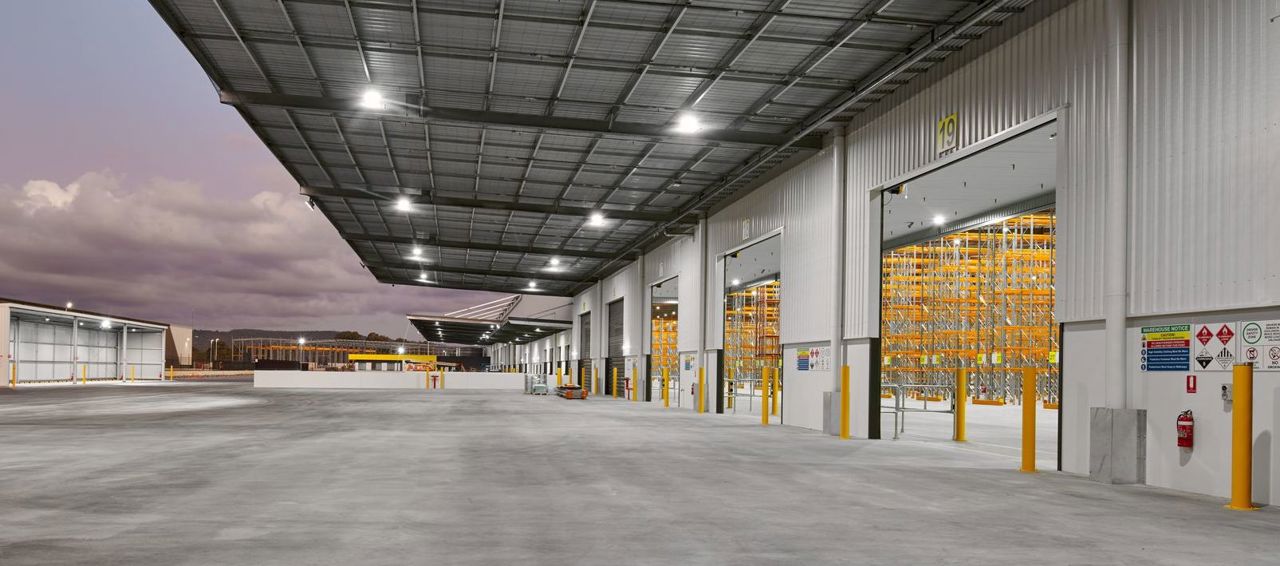 Case study
Perth's most sustainable
industrial estate
Reducing embodied carbon in construction
Hesperia is setting new sustainability standards in the property sector with the construction of the 70-hectare, carbon neutral Roe Highway Logistics Park, using low carbon concrete, solar PV and sector-leading sustainability measures to create Perth's greenest industrial estate.
embodied carbon reduction
"We believe that demonstrating leadership through new approaches to developing industrial estates is the best way to help increase the pace of change and a faster transition to carbon neutrality in this important part of the property sector."

Ben Lisle

Managing Director, Hesperia
Our investment
The CEFC, in its first direct investment to reduce embodied carbon in property construction, committed up to $95 million to help deliver Roe Highway Logistics Park.
The 70-hectare industrial estate in Kenwick, Western Australia was developed and managed by Hesperia, the largest private developer of industrial estates in WA.
Hesperia announced in July 2021 that its business was carbon neutral and was seeking to deliver carbon neutrality across all of its projects.
The CEFC finance was repaid in December 2022.
our impact
It is critical that the building and construction sector, which employs many Australians and adds significantly to the economy, makes the transition to lower emissions as smoothly as possible.
The building and construction sector accounts for 39 per cent of global emissions and represents a great opportunity to help Australia transition to a low emissions economy. Embodied carbon, responsible for 28 per cent of emissions from the building and construction sector globally, is the next frontier in the task to decarbonise the sector.
Using low carbon concrete
A key feature of the development of Roe Highway Logistics Park was the use of an estimated 21,000 cubic metres of low carbon concrete poured across the first warehouses. Using ENVISIA concrete from cement supplier Boral represented, on average, a 41 per cent reduction of upfront embodied carbon compared with traditional concrete. Combined with better design standards and the use of accredited offsets, the projects overall reduction in upfront embodied carbon emissions was estimated at 92,000 tCO2-e.
Innovative approach provides sustainability template
Hesperia plans to use key sustainability innovation implemented at Roe Highway Logistics Park across its other projects.
Key features include:
Up to 2 MW solar PV onsite and solar consumption metering
Smart inverters and smart metering, power factor correction and voltage control to enable ROW to work with the South West Interconnected System network
Onsite water recycling
More than 4,000 trees planted
Green power purchased to cover any onsite generation shortfall
Australian Carbon Credit Units purchased and retired to offset remaining emissions.
Award winning achievement
ROE has reaped considerable recognition for its sustainability initiatives including:
Environmental Excellence, 2022 Urban Development Institute of Australia National Awards
Environmental Excellence, 2021 Urban Development Institute of Australia WA Awards
Best Industrial Development, 2021 WA Property Awards
Best Sustainable Development, 2021 WA Property Awards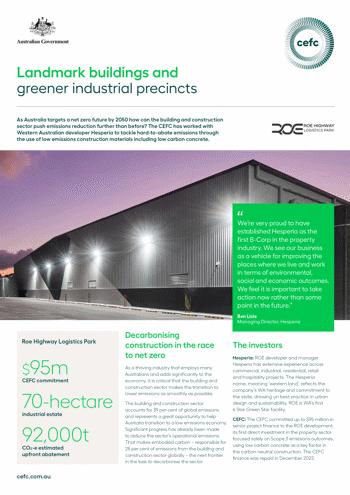 Read our insight
Landmark buildings and greener industrial precincts
As Australia targets net zero emissions by 2050, how can the building and construction sectors push emissions reduction further than before?
Read more