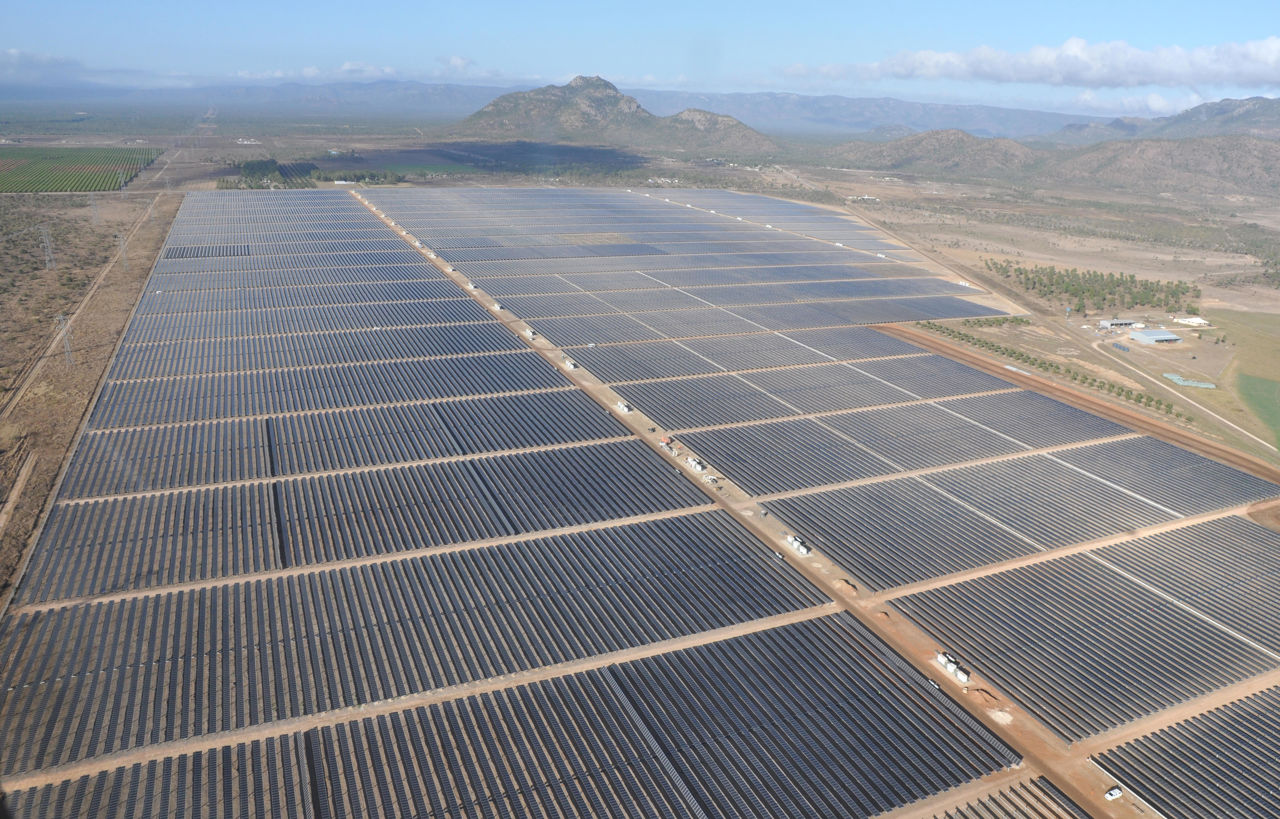 Case study
Ross River Solar Farm
captures high solar irradiance
From mango farm to clean energy producer
The Ross River Solar Farm, built on the site of a disused mango farm south-west of Townsville, has a 116 MW capacity and generates enough energy to power more than 54,000 homes. The solar farm covers more than 200 hectares with more than 400,000 solar panels using single axis tracking systems that allow them to rotate and capture the maximum amount of sunlight each day.
CEFC equity stake in a solar farm
Customers rightly expect access to reliable, affordable and cleaner supplies of energy, and as an owner of big coal‐fired power plants, EnergyAustralia has a responsibility to lead change. That's why we're proud to support development of the Ross River Solar Farm as a great example of the projects that will underpin the future of energy supply in Australia.

Catherine Tanna

Managing Director, EnergyAustralia
Our investment
The $20 million investment was the first time the CEFC had taken an equity stake in a solar farm. Ross River Solar Farm was developed by ESCO Pacific and specialist infrastructure manager Palisade Investment Partners. The site for the $225 million project was selected because of the high solar irradiance in the region and its average of 320 days of sunshine annually. The site was also close to a grid connection point.
our impact
The CEFC investment sent an important signal to institutional investors about the commercial potential of greenfield clean energy developments. By investing equity in the early stages of projects, the CEFC was looking to unlock much needed capital to support an accelerated growth path, so projects could be built more quickly and begin generating to the grid sooner. It was also a way the CEFC could help create investment opportunities for Australian institutional investors, such as superannuation funds, seeking sustainable investments.
The project secured a 13-year power purchase agreement (PPA) with EnergyAustralia in 2017, which was understood to be the largest single solar PPA in Australia at that time. Ross River Solar Farm is expected to operate for up to 40 years.