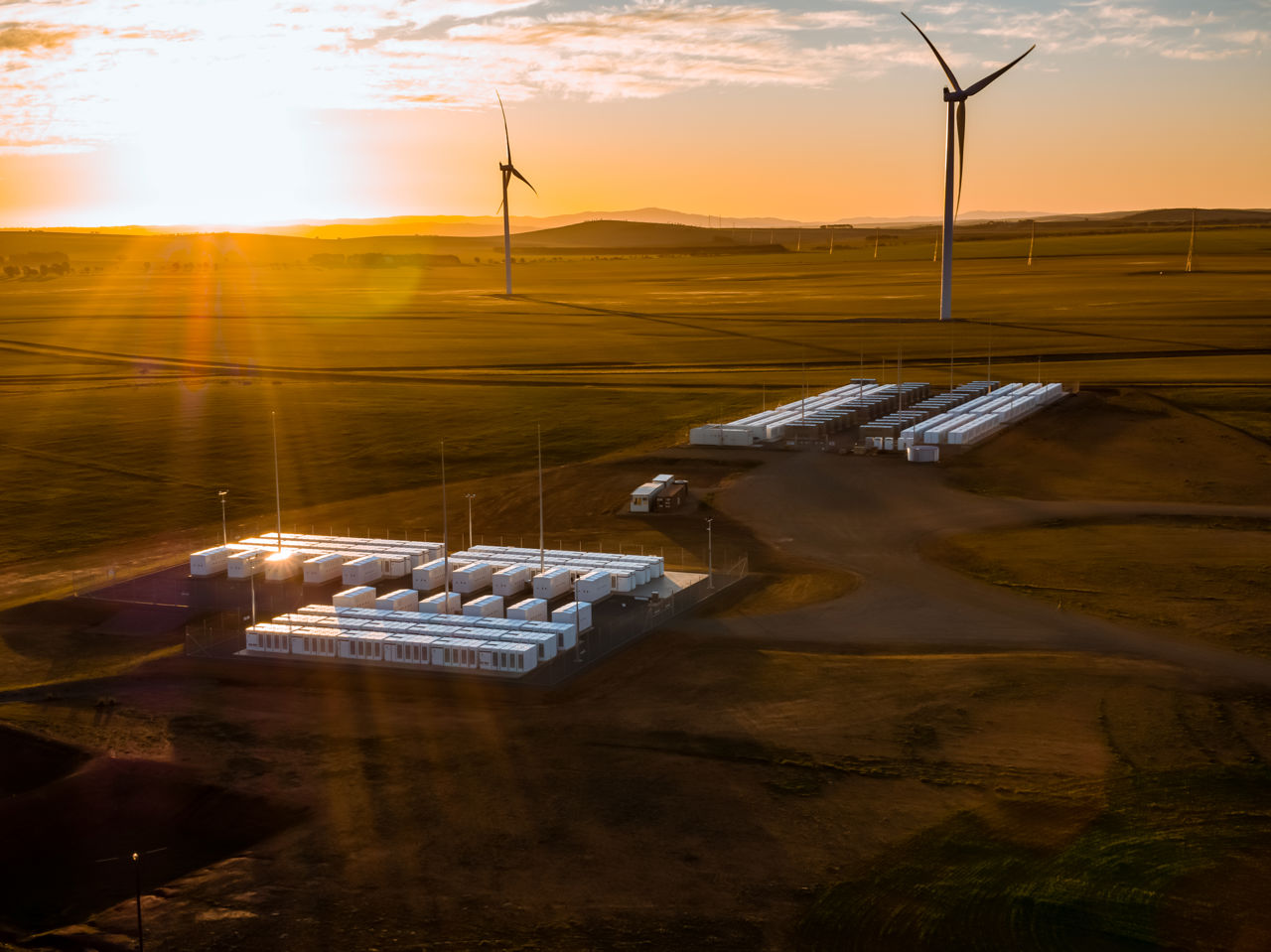 Case study
SA big battery
a game changer
Adding renewable energy capacity to the grid
South Australia's Hornsdale Power Reserve, the world's first 'big battery', is providing essential grid-support services to enable increasing amounts of low cost renewable energy to flow into the grid. The battery features 150 MW/194 MWh of installed capacity, as well as grid inertia support services. The battery saved electricity consumers more than $150 million in its first two years, confirming the considerable value of grid-scale batteries to the National Electricity Market.
We are extremely proud of this expansion and the innovations it brings. It illustrates Neoen's ability to build on an existing asset and make it smarter while providing its counterparts with savings and new services. This new investment also demonstrates Neoen's capacity to act as a long-term partner for South Australia Government, towards a common goal: delivering sustainable, reliable and competitive energy.

Xavier Barbaro

Chairman and CEO, Neoen
Our investment
In our first investment in a standalone grid-scale battery, the CEFC committed up to $50 million to enable the expansion of the Hornsdale Power Reserve from its initial 100 MW capacity to 150 MW. Leading French renewable energy provider Neoen owns and operates the Hornsdale Power Reserve, which also attracted investment from ARENA and the South Australian Government.
The Hornsdale Power Reserve began operating at 100 MW capacity in November 2017, demonstrating it could respond faster than other energy storage or generation technologies to maintain grid stability. The 50 MW additional capacity was installed in September 2020, further enhancing the capacity of the battery to stabilise the grid, avoid price volatility and reduce the risk of power blackouts.
our impact
The Hornsdale Power Reserve (HPR) has provided a model for other investors and developers considering investment in grid-related technologies which can be delivered in a relatively tight timeframe. These technologies are critical to integrating increasing flows of low cost, low emissions renewable energy into the electricity grid, enabling Australia to accelerate the transition to net zero emissions.
As a 'demonstration' project, HPR delivered substantial benefits to the electricity grid in its first two years, with evidence it is now spearheading a rapid increase in the installation of large-scale battery technology in Australia.
Independent analysis for Neoen indicates the battery delivered more than $150 million in savings to the market in its first two years of operation. Aurecon estimated construction supported 158 jobs and generated more than $300 million in economic value to South Australia. The project's Community Benefit Fund is forecast to provide more than $1 million in additional community social and economic benefits in coming years.
Unplanned grid events such as high demand, extreme weather, natural disasters, generator and transmission outages can impact grid stability. Large-scale battery storage can store and release energy over short periods of time, with the flexibility to respond to these grid events in fractions of a second contributing to grid stability.
The HPR advanced power inverters are the first instance of a large-scale battery to be fitted with Tesla Virtual Machine Mode technology. The SA Government has reserved some 70 MW of HPR capacity for use in emergency situations, enabling it to provide a burst of power to prevent load-shedding blackouts and deliver system security services to the grid.
Neoen is one of the world's leading and fastest growing producers of exclusively renewable energy. IJGlobal named the HPR expansion the Asia Pacific Energy Storage Deal of the Year. The CEFC has subsequently committed up to $160 million to finance the design, construction and operation of the 300 MW capacity Victorian Big Battery, also being developed by Neoen.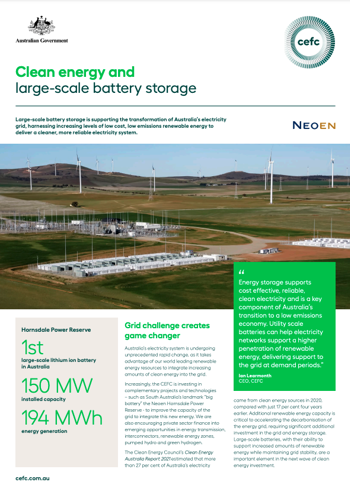 read our insight
Clean energy and large-scale battery storage
Large-scale battery storage is supporting the transformation of Australia's electricity grid, harnessing increasing levels of low cost, low emissions renewable energy to deliver a cleaner, more reliable electricity system.
Read more