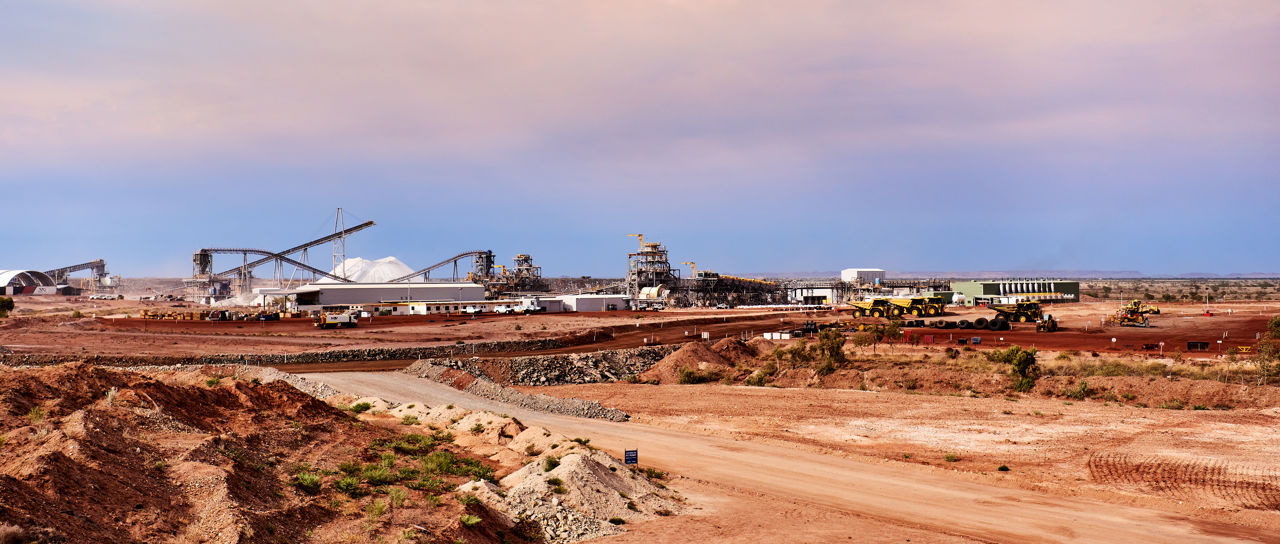 Case study
WA mine sees greener
future with lithium ore
Batteries underpin Pilgangoora operation
Pilbara Minerals is a leading ASX-listed pure-play lithium company, with 100 per cent ownership of the world-class Pilgangoora Project, the largest independent hard-rock lithium operation in the world. With investment from the CEFC, the company is aiming to play a leading role in developing the renewable energy supply chain, which is critical to our clean energy future.
hard-rock lithium operation
The increasing uptake of electric vehicles that use lithium ion batteries, and the growth in energy storage solutions requiring lithium supplies, is driving worldwide growth in demand for lithium. Lithium is also an important component of Australia's future energy mix. Residential and commercial scale battery storage systems are helping increase the penetration of renewable energy, while electric vehicles will be critical to the decarbonisation of our transport sector.

Rob Wilson

Head of Resources, CEFC
Our investment
The CEFC committed some $50 million to Pilbara Minerals to support the development of the Pilgangoora Project, which includes two processing plants. Pilgangoora, located 120 kilometres from Port Hedland in Western Australia's resource-rich Pilbara region, boasts one of the largest hard rock lithium deposits in the world and is considered strategically important within the global lithium supply chain.
The CEFC finance was repaid in March 2023.
Having two processing plants provides Pilbara Minerals with speed to market by enabling it to rapidly increase production to satisfy rising lithium market demand as well as the flexibility to blend products to meet customer needs. The Pilgan and Ngungaju processing plants were named by the traditional owners, the Namal People, in recognition of their connection to country, which includes the land of the Pilgangoora project, which is also covered by pastoral leases.
I would like to take this opportunity to express our gratitude to the Clean Energy Finance Corporation for their support in the initial financing of the Pilgangoora Project and subsequent support in the years that followed. Pilbara Minerals is now an established, major participant in the lithium-ion battery materials industry – a position that we would not have achieved without their support, particularly through the market downturn of 2019-2020.

Dale Henderson

Managing Director and CEO, Pilbara Minerals
our impact
Global demand for lithium is accelerating, reflecting the increased use of electric vehicles and the growth in battery-powered energy storage solutions. The Pilbara Minerals investment is the first CEFC direct investment into the renewable supply chain, a key part of Australia's transition to a low carbon economy. In supporting the company's growth, the CEFC finance also aims to demonstrate the maturity of the renewable supply chain market to encourage institutional investors to participate in Australia's lithium sector.
As part of the CEFC investment, Pilbara Minerals will also implement additional sustainability targets at Pilgangoora to set important new low emissions benchmarks in the mining sector. These include installing renewable energy, implementing emissions measurement, and monitoring to better manage carbon impacts and developing planning to achieve net zero emissions in its operations over time. Pilbara Minerals will also adopt external reporting in line with the Task Force on Climate-related Financial Disclosures (TCFD). The TCFD is a voluntary climate-related financial risk disclosure mechanism for use by companies in providing information to investors, lenders, insurers, and other stakeholders.
Pilbara Minerals has attracted a group of high quality, experienced global offtake partners including Ganfeng Lithium, General Lithium, Great Wall Motor Company (SVOLT), POSCO and Yibin Tianyi. It is one of the only operating lithium assets with available offtake globally.