The CEFC has a strong focus on driving investment in smaller-scale clean energy projects
– and we're working with some of the nation's key financial institutions to help extend our finance across Australia.
Through our programs with banks, specialised lenders and funds, we are delivering the benefits of clean energy to energy users, whether on the farm, in households, on the road or in a factory.
Eligible projects range from small-scale rooftop solar and battery storage, to energy efficient manufacturing and farm equipment, as well as improved building insulation, heating and cooling, demand management systems and low emissions or electric light vehicles. The finance incentivises borrowers to preference best in class clean energy assets when considering new equipment purchases, property fit outs and vehicles. The finance can cover up to 100 per cent of the cost of equipment, with projects typically valued at up to $5 million.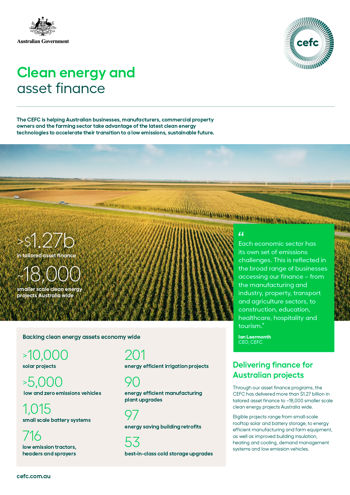 Read our insight
Clean energy and asset finance
The CEFC is helping Australian businesses, manufacturers, commercial property owners and the farming sector take advantage of the latest clean energy technologies to accelerate their transition to a low emissions, sustainable future.
Read more
Current programs
Our current open programs with banks and financiers are summarised below. If you'd like more information or to access this finance, please contact the financiers directly or visit the relevant website.
 

Small business finance

Consumer finance

Energy efficient technologies

Renewable energy technologies

Low emission vehicles

✔ 

 

✔ 

✔ 

✔ 

✔ 

 

✔ 

✔ 

✔ 

✔ 

 

 

 

✔ 

✔ 

✔ 

 

 

✔ 

 

✔ 

✔ 

✔ 

 

✔

 

 

 

✔

 

✔

✔

✔

✔

 

✔

 

✔

 

 
Where to act
Change your energy use
Rooftop and ground-mounted solar systems
Solar hot water and heat pumps
Demand management systems
Embedded electricity networks
Battery storage
Bioenergy and biofuels
Energy-from-waste
Cut your energy use
Variable speed drives
Lighting, heating, ventilation
and air-conditioning (HVAC)
Industrial and commercial refrigeration
Water efficiency and irrigation
Building management systems
Energy efficient plant and equipment
Lower your emissions
Low emissions and electric vehicles
Electricity generation
Transportation
Waste management
Waste utilisation
Co-generation