The transition to electric vehicles is a critical pathway to the decarbonisation of the Australia economy
– with transport producing 88 million tonnes of emissions in Australia each year, representing 17 per cent of national greenhouse gas emissions.
Cars and light commercial vehicles together represent more than half of these emissions, which are projected to increase as the population and economy also grow. Along with decarbonising the electricity sector, electrifying Australia's light vehicle fleet is an important step in meeting Australia's emissions reduction targets.
The CEFC is working across the economy to accelerate investment in measures to reduce transport-related emissions, including mode switching from road to rail, the electrification of urban transport, charging infrastructure and finance for fleet and residential electric vehicles. Through the Clean Energy Innovation Fund, we are also financing start-up companies targeting the transport emissions.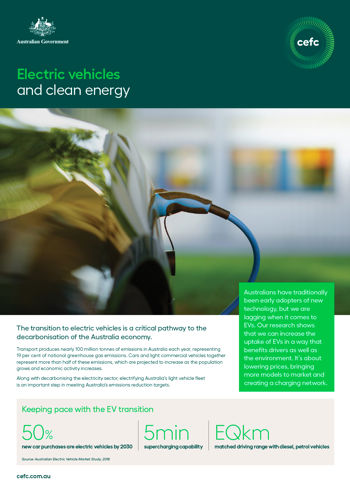 read our report
Electric vehicles and clean energy
Australians have traditionally been early adopters of new technology, but we are lagging when it comes to EVs. Our research shows that we can increase the uptake of EVs in a way that benefits drivers as well as the environment. It's about lowering prices, bringing more models to market and creating a charging network.
Read our report
Read our reports and insights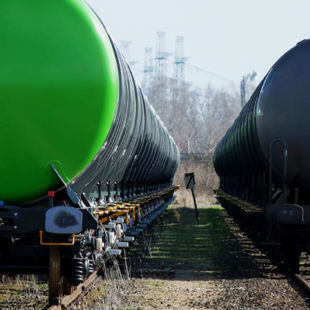 Biofuels and Transport: An Australian opportunity
Australia's existing experience in agriculture, forestry and engineering provides a solid foundation on which to build a thriving biofuels industry. And our heavy reliance on air travel, long-distance road freight and rail and marine freight, provide the potential demand for these lower emissions biofuels.   
Read our report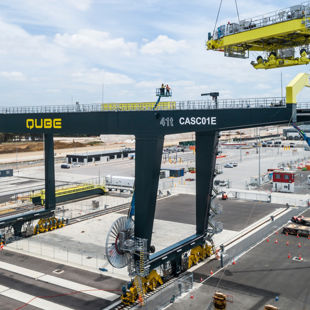 Clean energy and greener infrastructure
How can clean energy technologies deliver lower emissions and improved energy efficiency for Australia's freight and logistics infrastructure?
Read our insight