We are a specialist organisation with a deep sense of purpose:
to be at the forefront of Australia's successful transition to a low emissions economy, investing on behalf of the Australian government to deliver a positive return across our portfolio.
Our approach to our work is founded on our shared values: to make a positive impact; to collaborate with others to make a difference; to champion integrity by being open and honest; to embrace innovation by being open to new approaches and solutions.
Members of the CEFC team have broad commercial expertise, deep market knowledge and a commitment to deliver on our public purpose in investing on behalf of the Australian community.
We embrace diversity and inclusion across our organisation, supporting a diverse cultural profile and offering staff flexible work arrangements, paid parental leave and purchased leave, reflecting the diverse needs and preferences of our people.
The CEFC actively promotes and encourages individual professional development as a core contributor to our market impact, as well as broadening and deepening the skills of our people.
We introduced our first Reconciliation Action Plan in 2020. We appreciate that we are at the start of our reconciliation journey, and there is much more we can do: in understanding Aboriginal and Torres Strait Islander cultures, in using our expertise to benefit communities and in providing meaningful career opportunities for Aboriginal and Torres Strait Islander peoples.
We are also founding members of the Women in Sustainable Finance forum, which sees strong participation from leaders and participants across the sector. Events are open to everyone, and you can register your interest here.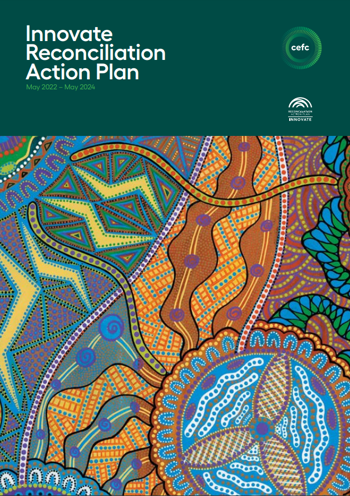 read our report
CEFC Innovate RAP
The CEFC is committed to our reconciliation journey through delivery of our Innovate RAP. Our RAP focuses on developing and strengthening relationships with Aboriginal and Torres Strait Islander peoples, engaging staff and stakeholders in reconciliation and developing and piloting innovative strategies to empower Aboriginal and Torres Strait Islander peoples. 
Read more