Green energy makeover to give Brisbane building a new lease on life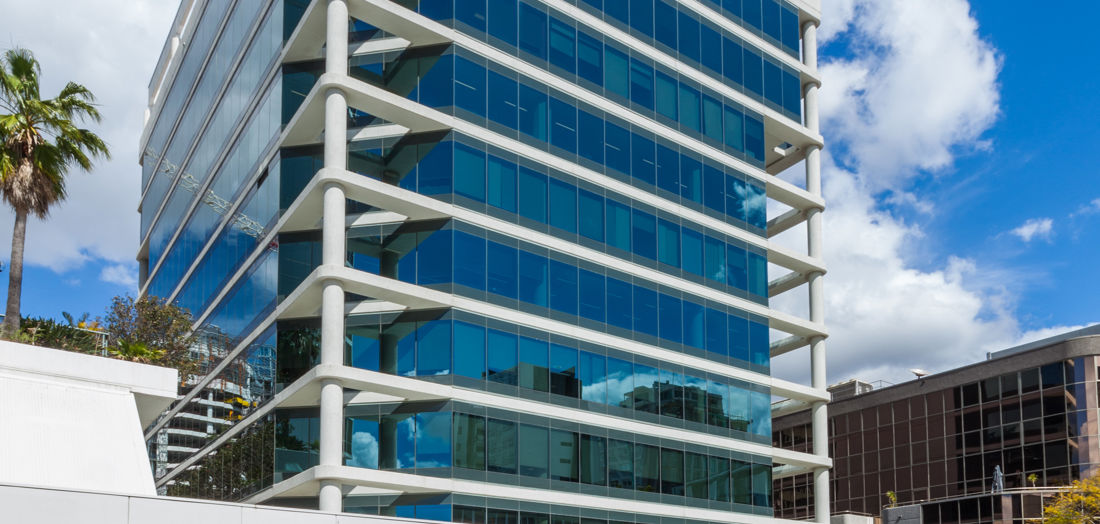 7 December 2021
A 25-year-old B-grade commercial office building in Brisbane's CBD will be refurbished to cut emissions by as much a 55 per cent, achieving higher energy standards than many new properties. In targeting a 5.5 Star rating under the National Australian Built Environment Rating System (NABERS), the refurbishment will showcase how improving the energy efficiency of existing buildings can drive down emissions and lift sustainability.
The CEFC, which invests on behalf of the Australian Government, is providing a $30 million senior secured debt facility to finance the energy performance improvements at the 200 Creek Street building.* Project manager Forza Capital has already delivered energy efficient upgrades to existing office buildings in South Brisbane and Melbourne.
The building will undergo equipment and building services upgrades, including a combination of energy efficiency, renewable energy and energy conservation technologies and practices. The work will lift the building to a NABERS 5.5 star rating, a performance achieved by just six per cent of commercial office buildings Australia-wide1.
Refurbishment upgrades to improve sustainability include installing energy efficient heating, ventilation and air conditioning, as well as solar panels and battery storage. Other improvements include lift and building management systems upgrades, façade thermal imaging improvement and a dedicated end of trip facility, enhancing the overall amenity of the building as well as its sustainability.
The improvements are expected to deliver a 55 per cent reduction in emissions, leading to the direct abatement of 415 tCO-2 annually and 7,128 tCO-2 over the lifetime of the building.
CEFC CEO Ian Learmonth said that the project was a market-leading opportunity to show what standards could be achieved across the sector. "Refurbishing existing commercial buildings will have a powerful impact on the emissions and livability of our cities. It will transform them into energy efficient performers that support Australia's transition to low emissions, while retaining their competitive edge.
"Refurbishing buildings is an innovative way to think about how we can achieve net zero emissions. It's reducing waste, cutting embodied carbon emissions and reducing ongoing operational emissions. We're looking forward to working with an experienced operator such as Forza to demonstrate the potential to make our cities and work places more sustainable and livable."
Forza Capital Director Adam Murchie said: "For over 10 years we have been diligently working in the background improving the sustainability of the commercial property assets we own. Mid-tier buildings need to transition to a lower carbon future and we are very excited to be working with the CEFC to show how this can be done at 200 Creek Street.
"The transition of mid-tier buildings to a lower carbon future is not particularly difficult or costly. More importantly, in our experience once such assets are transitioned we find they actually create additional financial returns through cost savings and valuation improvement." 
CEFC Joint Head of Property Michael Di Russo added: "This project provides an opportunity to inform the standards we look to drive across the sector and serves as a beacon for other asset owners in this space who are looking to reposition their assets to attract tenants.
"We want to push the envelope for sustainability benefits for refurbishment in the built environment and change preconceptions about the difficulty of the process. As demand for office space continues to change, building sustainability into office refurbishment is a valuable addition that makes economic sense in addition to helping push the continued decarbonisation in the built environment.
"Energy efficient buildings place less stress on the electricity network, lower electricity consumption and improve resilience outcomes for businesses. They are also increasingly attractive to tenants. Repositioning Australian office assets as energy efficient performers demonstrates the commercial potential that these technologies have in reducing emissions."
A significant portion of buildings anticipated to be standing in 2050 have already been built.2 Buildings are responsible for about a quarter of Australia's greenhouse gas emissions and represent one of the most cost-effective opportunities to cut emissions.
According to the Green Building Council of Australia, the mid-tier commercial office building sector has lagged behind in implementing energy retrofits and represents an energy productivity improvement opportunity3.  Improving the energy performance of buildings is widely regarded as one of the most cost-effective ways of delivering reductions in carbon emissions and lowering energy use4.
Through its Sustainable Cities Investment Program, the CEFC is bringing the benefits of low emissions technologies to Australia's largest cities, driving enterprise and economic growth, cutting greenhouse gas emissions and contributing to the development of more resilient and liveable cities.
1 NABERS research, 2021.
2 https://www.climateworksaustralia.org/project/built-environment/
3 GBCA, "Mid-tier commercial office buildings in Australia: A national pathway to improving energy productivity," November 2015.
4 GBCA, Green Star in focus: The business case, March 2020.
*The CEFC finance commitment was increased to $33 million in August 2022.
Media release, 2021