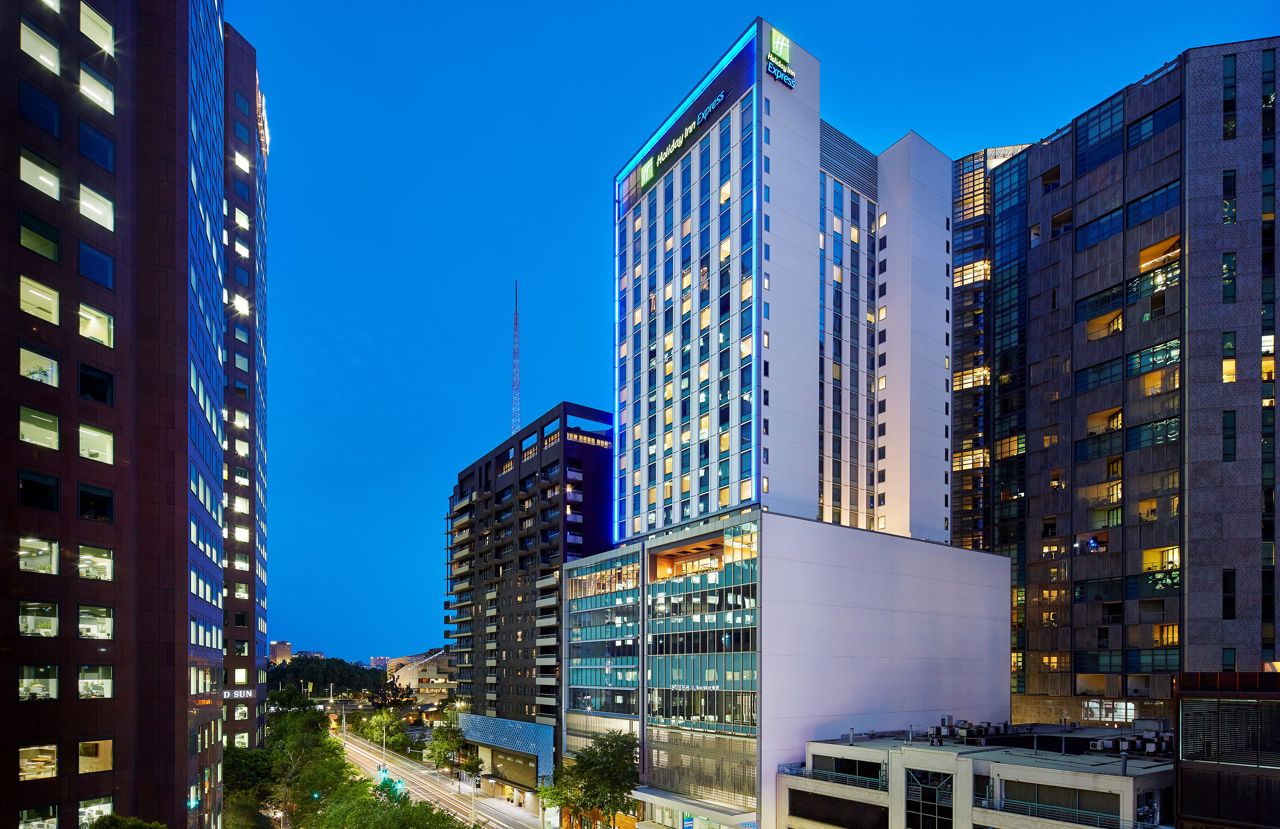 Case study
Greener hotel design for
sustainability savings
Holiday Inn Express Melbourne Southbank leads the way on green approach
The $125 million Holiday Inn Express Melbourne Southbank has been designed to significantly reduce energy consumption, with a range of initiatives to deliver ongoing benefits for owner/ operator Pro-Invest Group, hotel guests and the environment.
A 25 per cent reduction in energy use pays both environmental and economic dividends. It certainly requires greater investment, but in the long term we are very confident that measures will increase the overall value of the property.

Ronald Barrott

CEO, Pro-invest Group
Our investment
The CEFC provided $39 million in debt finance to the Pro-invest Group development of the Holiday Inn Express Melbourne Southbank hotel.
The hotel is a 22-storey mixed use development, with a 345-room hotel, retail and commercial office space and car parking.
Sustainability features helping drive hotel energy savings include high performance air-cooled chillers, integrated heat recovery, rooftop solar and demand-controlled ventilation with occupancy sensors.
Other notable features include the use of prefabricated modular bathrooms, carbon neutral modular carpets and the installation of eco-smart mini-bar fridges that are up to six times more efficient than standard models. CEFC finance was repaid in December 2020.
Australia boasts a $60 billion hotels sector according to the 2020 hotels investment review by Colliers International. The review noted that the sector had "not tackled sustainability in any meaningful way". The United Nations World Tourism Organisation has estimated that the hotel industry accounts for around one per cent of global emissions.
our impact
Hotels are high energy, high emissions operations with considerable demands for around-the-clock air conditioning, lighting and domestic hot water services.
Pro-invest Group has shown that by designing and developing assets more sustainably, there is the potential to make significant energy savings.
Pro-invest Group estimates it spent an additional $860,000 on Holiday Inn Express Melbourne Southbank to meet a 5 Star NABERS standard. It is expecting annual savings of approximately $80,000. The development has achieved a 5.5 Star National Australian Built Environment Rating System (NABERS) Energy rating, noting the use of 28.6 per cent GreenPower.
Based on data supplied by sustainability consultants Cundall, the hotel's emissions intensity is forecast to be 64 per cent lower than the industry average, delivering annual abatement of some 530tCO2-e.
The Holiday Inn Express Melbourne Southbank has achieved recognition for its sustainability initiatives, being named a 2021 finalist in The Urban Developer Excellence in Sustainability award. It was also a 2021 finalist in the Property Council of Australia/Rider Levett Bucknall Innovation and Excellence Awards for Sustainable Development – Existing Buildings.
The experience gained through constructing Holiday Inn Express Melbourne Southbank has resulted in Pro-invest Group implementing higher sustainability standards more broadly across its hotel portfolio.
In October 2019, Pro-invest Group launched its Australian Hospitality Opportunity Fund II, which is targeting a 5 Star NABERS Energy rating standard across up to 15 new hotels it is developing, operating and managing. The CEFC has made an equity investment of $50 million in Fund II.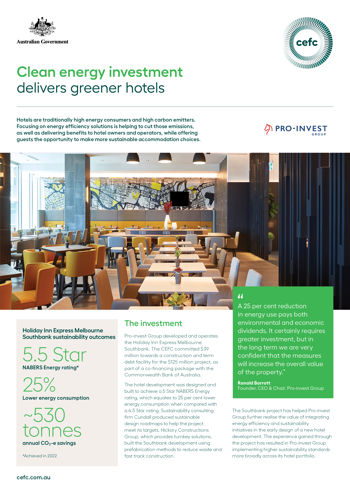 read our insight
Clean energy investment delivers greener hotels
Hotels are traditionally high energy consumers and high carbon emitters. Focusing on energy efficiency solutions is helping to cut those emissions, as well as delivering benefits to hotel owners and operators, while offering guests the opportunity to make more sustainable accommodation choices.
Read more