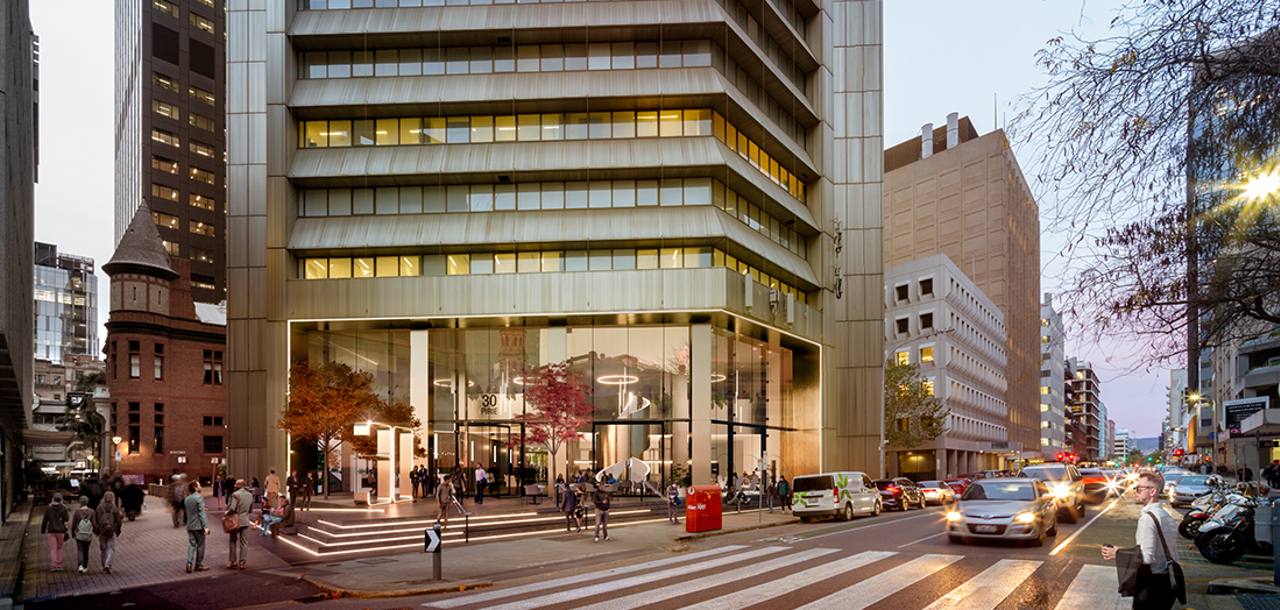 Case study
MaxCap Group retrofits
commercial buildings
with net zero strategy
Delivering value with green real estate finance strategy
Leading Australian commercial real estate investment manager MaxCap Group is leveraging institutional capital as it targets ambitious sustainability goals across Australia's commercial property sector.
cut to operational emissions
We are delighted to be appointed as fund manager and to invest via our flagship Investment Trust with the CEFC who continue to demonstrate tremendous leadership as we strive for a net zero emissions future.

Wayne Lasky

Group Executive Chairman, MaxCap Group
Our investment
The CEFC has committed up to $75 million to a green real estate finance strategy by leading Australian commercial real estate investment manager MaxCap Group.
The strategy will finance sustainable building upgrades to existing commercial offices, hotels and retail assets to decarbonise a substantial part of the property sector.  
The first investment paves the way for a greener Adelaide CBD, with a $35 million commitment to refurbish a 26-storey office tower at 30 Pirie Street, with MaxCap co-investing $35 million via its MaxCap Investment Trust (MIT).
Building owner Quintessential is targeting a 5 star NABERS Base Building Energy Rating, via upgraded building management systems and controls, the installation of solar panels and energy monitoring systems, a comprehensive tuning program, and upgrades of lighting to LED. The refurbishment will bring the building back to prime A-grade standard.
our impact
Retrofitting for net zero
Renovating existing building stock has been recognised as a key priority for achieving global decarbonisation targets. The International Energy Agency notes that retrofitting 20 per cent of existing building stock by 2030 to net zero levels will require an annual deep renovation rate of more than two per cent to 2030 and beyond.  
Buildings account for around half of Australia's electricity use. However, many of our existing secondary commercial buildings have never undergone energy efficiency upgrades. This represents a significant opportunity for energy efficiency improvements.
Leveraging private sector capital
The CEFC, through its investment mandate with MaxCap Group, is leveraging the power of private sector capital to finance sustainable building upgrades.  
MaxCap will originate, execute and manage a portfolio of real estate loans, aiming to attract further institutional capital to invest in the sustainable refurbishment of commercial buildings. 
The investment mandate will demonstrate that relatively straightforward energy efficiency and renewable energy initiatives can deliver value for building owners and tenants alike and achieve broader scale change that can help meet ambitious sustainability goals across Australia's commercial property sector. 
It is essential that we make our commercial properties fit for a net zero emissions future in the race to decarbonise. Commercial buildings in urban centres, suburbs and regional towns across Australia account for around half of the nation's building stock and many have never undergone energy efficiency upgrades.

Michael Di Russo

Head of Property, CEFC
Quintessential track record
The CEFC previously committed $68 million in debt finance for the Quintessential development of the landmark 1 Malop Street in Geelong. The $150 million commercial building merged an original Dalgety & Co building with high performance office space.
It was the first multi-storey Victorian commercial office building outside of the Melbourne CBD to achieve a 5.5 star NABERS Energy rating (excluding Green Power). It was also the first in Victoria to achieve a Platinum Core and Shell WELL Building Standard rating at the time of its development and only the second project in the world to achieve these WELL credentials. The certification recognises that better designed buildings can lead to better health and wellness outcomes for their occupants.