Case study
Geelong icon showcases
sustainable office design
A healthy outcome for energy efficiency excellence
The Geelong headquarters of WorkSafe Victoria has set new standards in commercial office sustainability, health and wellness.
Platinum Core and Shell certifications
We always strive to develop and regenerate buildings to achieve exceptional environmental, engineering and technical standards. As proud advocates for healthy and sustainable buildings, we are thrilled to have achieved our NABERS rating goal for 1 Malop Street and Geelong's healthiest office building.

Russell Bullen

CEO, Quintessential
Our investment
The CEFC provided $68 million in debt finance to diversified property group Quintessential to develop 1 Malop Street in Geelong as an exemplar of energy efficient design. The CEFC finance helped position the building to achieve its a 5.5 Star NABERS Energy rating, up from 5 stars, which results in an additional 25 per cent reduction in the building's energy consumption. The CEFC loan was repaid in March 2020.
our impact
Quintessential worked with Architect peckvonhartel, ESD consultants Aurecon and head contractor Built Construction on the new Geelong landmark.
Quintessential delivered the 14-storey A-Grade office building on time and on budget in 2017. It was the first multi-storey Victorian commercial office building outside of the Melbourne CBD to achieve a 5.5 Star NABERS Energy rating (excluding Green Power). The building was also the first in Victoria to achieve a Platinum Core and Shell WELL Building Standard rating at the time of its development and only the second project in the world to achieve these WELL credentials. The certification recognises that better designed buildings can lead to better health and wellness outcomes for their occupants.
In February 2021, the work to position the building at the forefront of sustainability was recognised with "Excellent" ratings from the National Australian Built Environment Rating System (NABERS). The $150 million commercial building, which merges an original Dalgety & Co building with landmark office space, achieved a 5.5-star NABERS Base Building Energy rating, a 5.5-star Tenancy Energy rating and a 5 Star Base Building Water rating. The property has also achieved a 6-star Green Star rating for office design, which is the highest rating from the Green Building Council of Australia. Since 1 Malop Street's completion, Quintessential  has worked closely with major tenant WorkSafe Victoria to ensure the building's environmental impact was continually improving, with the health and wellbeing of staff remaining paramount. Quintessential Equity rebranded as Quintessential in August 2023.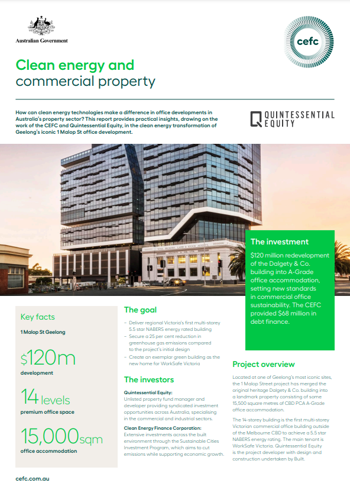 Read our insight
Clean energy and commercial property
How can clean energy technologies make a difference in office developments in Australia's property sector? This report provides practical insights, drawing on the work of the CEFC and Quintessential, in the clean energy transformation of Geelong's iconic 1 Malop St office development.
Read more