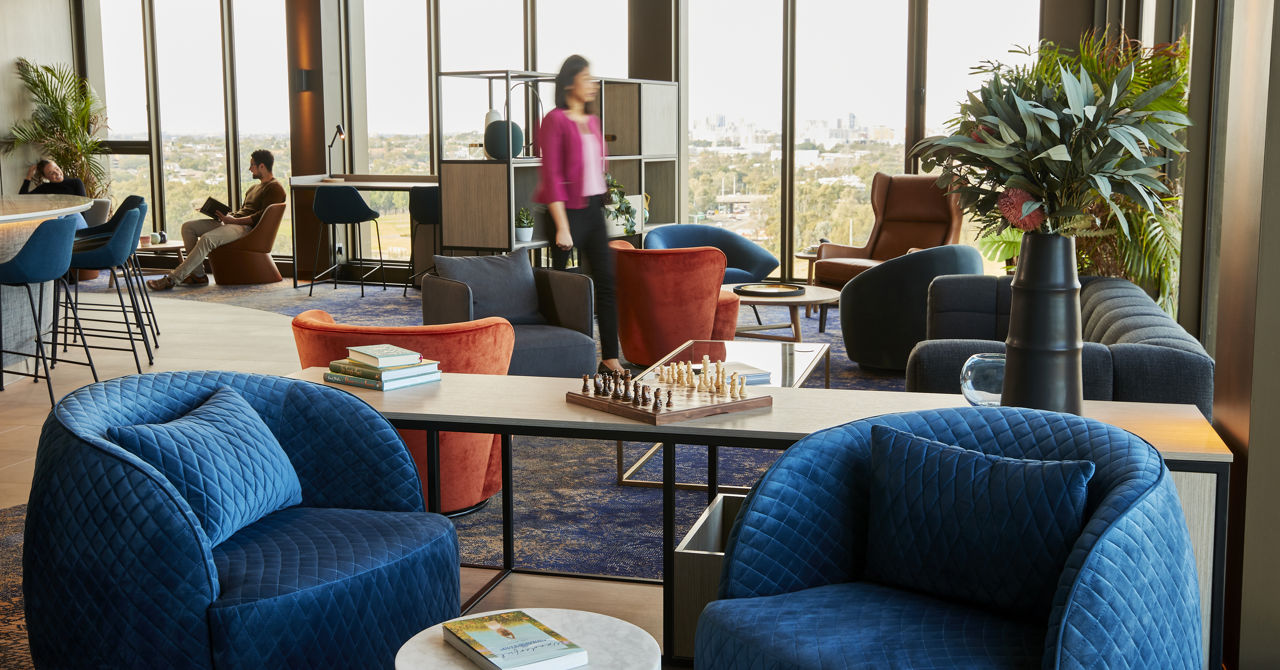 Case study
Mirvac brings
clean energy benefits
to rental market
Sustainability benefits for owners and tenants
The first institutional build-to-rent investment platform in Australia – the Mirvac Australian Build-to-Rent Club – is bringing the benefits of clean energy and energy efficiency to families and tenants in the home rental market.
reduction in energy and emissions
Mirvac is proud to work with the CEFC as we deliver against our bold target to be net positive in energy and water by 2030 and provide technology in our homes which helps people towards zero bills living.

Sarah Clarke

Group General Manager, Sustainability, Mirvac
Our investment
The CEFC invested $63 million in the Mirvac Australian Build-to-Rent Club (ABTRC) which targeted a portfolio of five to six projects, mainly in Sydney and Melbourne.
The first residential community in New South Wales designed and built exclusively for renters – the ABTRC LIV Indigo project at Sydney Olympic Park –officially opened in August 2020.
The CEFC exited ABTRC and invested up to $75 million in the Mirvac Build to Rent Venture announced in June 2023, which incorporated assets and pipeline projects from ABTRC.
our impact
LIV Indigo, the first of the ABTRC communities, has been designed to reduce greenhouse gas emissions by more than 40 per cent compared to the compliance standards of the National Construction Code. Its energy and water-saving measures include:
Upgraded glazing to improve thermal performance
LED lighting throughout
Energy efficient appliances
Rooftop solar
Water efficient taps, toilets, showers and washing machines
Resident access to electric vehicle charging stations
Connection to the Sydney Olympic Park recycled water network.
Australia's emerging build-to-rent market provides the opportunity for developers and owners to develop properties with a whole of lifecycle approach. This is an opportunity for clean energy and energy efficiency initiatives to be incorporated from the planning stage, driving energy savings for owners and tenants over the life of the asset.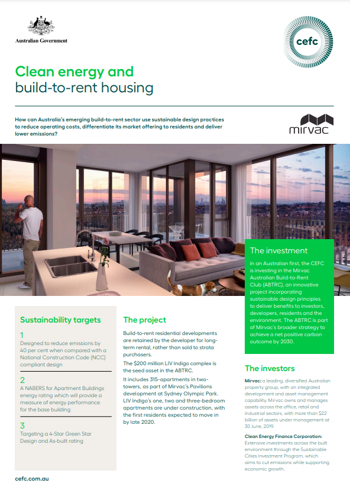 Read our insight
Clean energy and build-to-rent housing
How can Australia's emerging build-to-rent sector use sustainable design practices to reduce operating costs, differentiate its market offering to residents and deliver lower emissions?
Read more