Insights
Australian infrastructure
in the race to
net zero
A low emissions future for infrastructure
As a specialist investor, the CEFC works with some of Australia's largest infrastructure funds to influence the emissions profiles of their significant portfolios.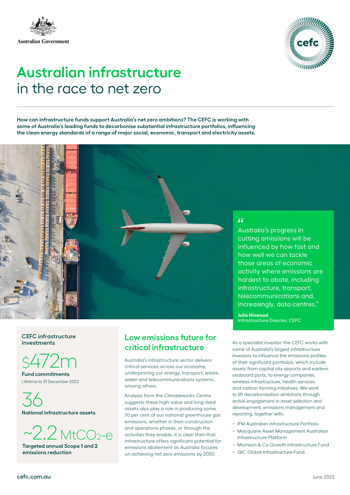 Read our Insight
Australian infrastructure in the race to net zero
June 2023
How can infrastructure funds support Australia's net zero ambitions? The CEFC is working with some of Australia's leading funds to decarbonise substantial infrastructure portfolios, influencing the clean energy standards of a range of major social, economic, transport and electricity infrastructure assets. 
Read more
Our investment
The CEFC has made equity commitments totalling $472 million to four leading infrastructure funds and platforms – IFM Australian Infrastructure Portfolio, Macquarie Asset Management Australian Infrastructure Platform, Morrison & Co Growth Infrastructure Fund and QIC Global Infrastructure Fund. 
These four funds and platforms influence major Australian assets including capital city airports and eastern seaboard ports, energy companies, wireless infrastructure, health services and carbon farming initiatives.  
Some 36 national infrastructure assets were being influenced by CEFC investment at December 2022. 
Australia's progress in cutting emissions will be influenced by how fast and how well we can tackle those areas of economic activity where emissions are hardest to abate, including infrastructure, transport, telecommunications and, increasingly, data centres.

Julia Hinwood

Infrastructure Director, CEFC