Insights
CEFC Timber
Building Program
A low carbon approach for large-scale buildings
The CEFC is seeking to transform Australia's approach to medium and large-scale building construction, with a $300 million program to encourage mass timber construction across the property sector.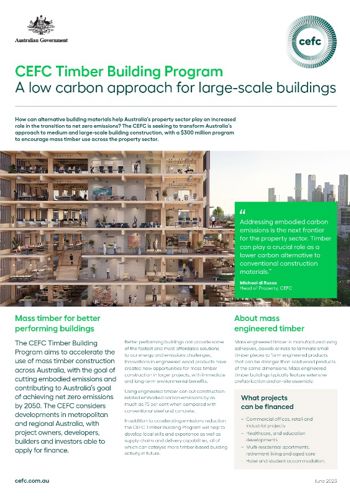 Read our Insight
CEFC Timber Building Program
June 2023
Using engineered timber can cut construction-related embodied carbon emissions by as much as 75 per cent when compared with conventional steel and concrete.
The CEFC Timber Building Program aims to accelerate the use of mass timber construction across Australia, to help cut emissions and contribute to Australia's goal of achieving net zero emissions by 2050. The program also aims to develop local skills and experience as well as supply chains and delivery capabilities, all of which can catalyse more timber-based building activity in the future.
Read more
Mass-timber construction is an important step in driving a sustainable future for the built environment we live and work in. Not only is timber a completely renewable resource, but timber offices are also biophilic in creating a more natural working environment for tenants and their staff.

Simon Nasa

Managing Director, Hines
about the industry
Buildings account for more than 50 per cent of electricity consumption in Australia and contribute up to 25 per cent of national greenhouse gas emissions.
Better performing buildings can provide some of the fastest and most affordable solutions to our energy and emissions challenges.
Innovations in engineered wood products have created new opportunities for mass timber construction in larger projects, with immediate and long-term environmental benefits.
Mass engineered timber is manufactured using adhesives, dowels or nails to laminate small timber pieces to form engineered products that can be stronger than solid wood products of the same dimensions.
Program HighLights
The CEFC is an active investor in the property sector, aiming to achieve long-term emissions reduction by backing opportunities across the investment lifecycle.
Through the Timber Building Program, the CEFC considers developments in metropolitan and regional Australia, with project owners, developers, builders and investors able to apply for finance.
A range of projects can be financed through the Timber Building Program including: 
Commercial offices, retail and industrial projects
Healthcare, and education developments    
Multi-residential apartments, retirement living and aged care
Hotel and student accommodation. 
Projects are required to:
Use low carbon engineered wood products in large-scale construction
Use appropriately sourced and accredited timber materials
Target sound embodied carbon outcomes 
Provide a commercially sound proposition.