Insights
Solving our recycling
dilemmas
Australians and recycling:
attitudes, behaviours and outlook
Cleanaway, Australia's largest waste management company, is committed to reducing emissions across its business. In addition, it is educating Australians about how we can improve recycling levels and reduce landfill waste and emissions. Its online education platform, Greenius, is backed by the findings of its 2021 and 2022 Recycling Behaviours Reports, which explore Australia's changing attitudes and behaviours around recycling.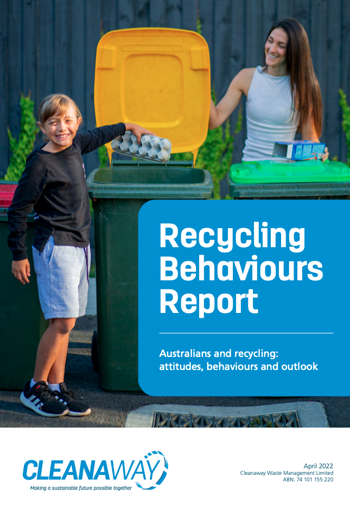 About this report
Greenius and the Recycling Behaviours Reports
The CEFC has worked with Cleanaway since 2017 to finance technologies and solutions to reduce the amount of waste going to landfill, a critical element of our transition to a net zero emissions economy by 2050. We are pleased to have contributed to the development of these important materials to help us become better at recycling.
about the industry
Waste management market solutions
An efficient and robust recycling system that supports a circular economy is based on consumer trust and cooperation, efficient recycling infrastructure and the reuse of materials in product design and manufacture.
Increasing education and improving understanding about the state of recycling in Australia can help us lower emissions by taking action to positively change consumer behaviour.
report findings
Market insights
Recycling Behaviours Report 2022
Report shows pandemic gave Australians time to rethink recycling
During the pandemic, 41 per cent of Australians have become more concerned about the environment, with 42 per cent more conscious of their household waste
While 34 per cent of Australians still find recycling confusing, 22 per cent are now familiar with the idea of a circular economy, 29 per cent are correctly disposing of soft plastics via specialised recycling, and 53 per cent seek items with minimal packaging when shopping in store
Recycling Behaviours Report 2021
Australians are keen on a more sustainable future, but they remain confused about fundamental recycling practices
While 89 per cent of Australians believe recycling is important, only 25 per cent are doing it correctly
As much as 35 per cent of valuable material is going to landfill due to inaccurate recycling practices
Learning about the small everyday actions with lasting benefits
Greenius, Cleanaway's e-learning platform, was developed to make recycling easy for households and everyday consumers and to strengthen understanding about Australia's recycling system
The e-learning platform takes users on a recycling journey through gamification, videos, animations and quizzes, and is easily accessed via mobile device or desktop