Sustainability Matters: Reaching the stars through CEFC retrofit finance
From Sustainability Matters, February/March 2014 edition
The Clean Energy Finance Corporation (CEFC) has plans to accelerate finance opportunities to help Australia's built environment reach the stars this year.
A 1970s office block with an enviable 5-star NABERS Energy Base Building Rating is just one of the success stories created through the Clean Energy Finance Corporation's push to accelerate improvements in Australia's built environment.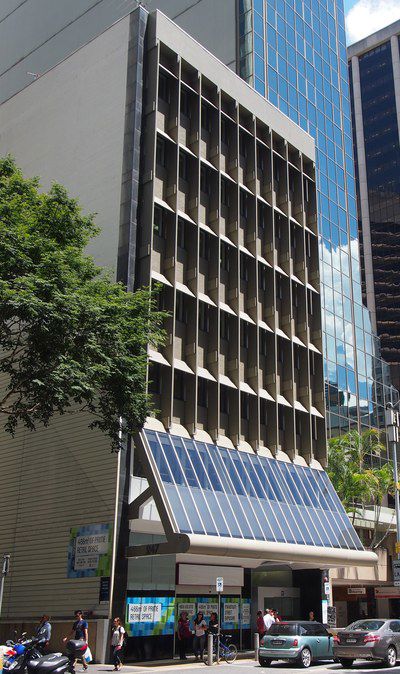 247 Adelaide Street
Like so much of Australia's ageing building stock, less than two years ago the seven-storey CBD building at 247 Adelaide Street, Brisbane, was a 0-star property with staggeringly inefficient power consumption.
But, using CEFC finance, the property's manager, Trans Action Property Services, has nearly halved the base building electricity use by installing technologies including new high-efficiency chillers, a building management system, LED lighting, solar thermal heating, ventilation and air-conditioning units.
CEFC CEO Oliver Yates says that despite the opportunities like this for ongoing operational cost savings through retrofitting, there has been substantial underinvestment in Australia.
"Even when there is a positive business case for retrofitting, sourcing large amounts of upfront capital can be too high a hurdle. Payback periods can be greater than typical corporate funding finance terms. The projects themselves often require detailed preparation which can take years to plan and execute, and owners are sometimes reluctant to invest in what are perceived as 'non-core' business activities," he said.
As ClimateWorks reported in June 2013, the energy intensity of existing commercial buildings has improved by only 2% over 10 years, driven by a small number of market leaders and capture of 'low-hanging fruit'. Other than in large offices, activity has been patchy and fragmented, and often linked to government incentives and white certificate schemes.
"The buildings sector knows that high-rated NABERS buildings consistently outperform low-rated ones, with strong capital growth and high-rated assets driving investment returns. But there's no point just admiring those stars from a distance, we're aiming to help buildings reach them," Yates said.
To date, the CEFC has provided various forms of finance for building upgrades that improve energy efficiency, reduce operating costs and carbon emissions, and boost the value of properties.
"We're looking to do more work with the property sector to 'crowd in' investment for upgrades and we have plans to further accelerate opportunities this year," Yates said.
He says the CEFC is working with co-finance partners including ANZ, NAB and Commonwealth Bank, utilities and all levels of government to address the impediments that currently inhibit projects.
It is looking to scale up its commitment to the commercial property sector through expanding its finance for Environmental Upgrade Agreements (EUAs) and on-bill finance while continuing to co-finance leasing agreements. It is also in discussions with financiers about developing new products and has its sights set on catalysing more than $1 billion of investment in energy efficiency for buildings, manufacturing and other commercial sectors.
Since their Australian debut in 2011, EUAs have gained steady traction. Designed to allow for longer payback periods, the EUA structure involves tying finance to a commercial property rather than its owner. Payments are made through council rate notices.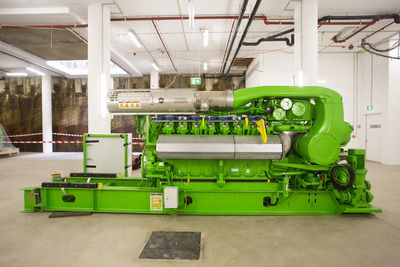 Generator at Central Park.
The most significant Australian EUA financing deal to date accessed EUA finance through ANZ and the CEFC to install a $26.5 million trigeneration plant at the ground-breaking residential and commercial Central Park development in Sydney's inner west. The highly efficient source of low-emissions thermal energy, heating and cooling will reduce greenhouse gas emissions by 190,000 tonnes over its 25-year design life.
EUA financing also helped a Parramatta, NSW, office block cut its lighting energy bills by about 70%, by covering the upfront cost of an upgrade. Building energy cost reductions of around 50% are expected at two other recent EUA financed projects - a $7 million upgrade to a Swanston Street, Melbourne, office block and a $1.9 million upgrade to a boutique commercial retail and office building in Sydney's CBD.
Legislation enables EUAs to be utilised through City of Melbourne in Victoria, and in NSW. The City of Sydney, North Sydney, Parramatta, Lake Macquarie and Newcastle councils have implemented the concept and provision of EUAs is in planning for Penrith and Wollongong. The Victorian State Government's Plan Melbourne Metropolitan Planning Strategy acknowledges the intention to roll out EUAs across Victoria while the South Australian government is working to develop the business model and case for establishing EUAs in that state. The Brisbane City Master Plan 2013 has proposed investigation of the use of EUAs to achieve energy-efficiency upgrades of Brisbane CBD's existing building stock.
The CEFC's EUA finance involving participating councils, Eureka Funds Management and either NAB or ANZ has been used for improvements as varied as lighting upgrades and improvements to air-conditioning systems to the installation of on-site power generation and elevator upgrades.
Building owners and property managers don't have to undertake complex projects to make inroads on their operational costs and there are financing options available that also suit projects focusing on one or two technologies.
The CEFC has also partnered with Commonwealth Bank to finance an Energy Efficient Loan program that tailors finance for upgrades and installation of state-of-the-art, cost-efficient, energy-saving assets.
In another program designed to facilitate efficiency upgrades, the CEFC is working with Origin to enable business owners to harness energy-efficiency savings through streamlined on-bill finance. The finance covers upfront costs of a project. Dollar savings gained through reduced energy costs can be used to wholly or partially offset paying the finance back through regular energy utility bills. At the end of the repayment period, the customer owns the equipment and continues to benefit from lower energy use.
Lighting upgrades financed this way have achieved lighting energy cost reductions of 50% and higher, depending on the age and style of lighting system being replaced.
For example, on-bill finance covered the upfront cost of a $138,000 lighting upgrade for the 40-year-old manufacturing plant of Sydney's Joyce Foam Products that reduced lighting bills by more than 50%.
At a glance:
CEFC investment of $536 million has catalysed over $2.2 billion of investment into clean energy, energy efficiency and low emissions projects.
Its existing investments will abate nearly 4 million tonnes of carbon emissions a year at a return to the government of $2.40 a tonne.
The CEFC's offerings to the building sector include finance through Environmental Upgrade Agreements, Energy Efficient Loans, on-bill finance and leasing finance.
The CEFC is addressing market barriers while investing responsibly and commercially to position the Australian economy and industry for a carbon-constrained world.
In the news, 2014