Australian made, low carbon and delicious: the All G Foods recipe for alternative proteins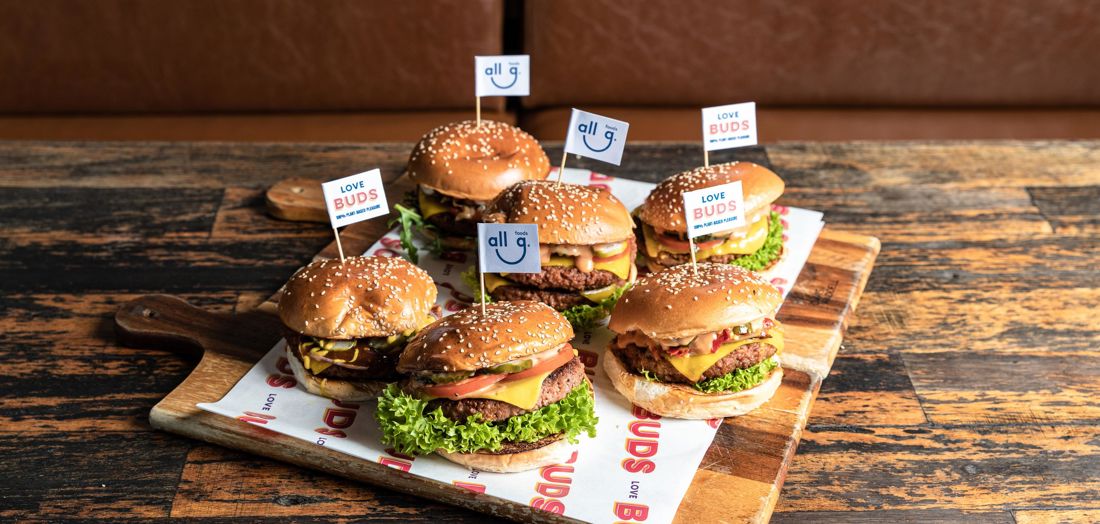 6 September 2021 
A new Australian company set to build further demand for plant-based and alternative proteins has closed a $16 million seed capital raise, backed by $5 million from the CEFC.  
The CEFC commitment, through the Clean Energy Innovation Fund on behalf of the Australian Government, is made alongside several prominent angel investors. 
Sydney based All G Foods' first product – Love BUDS™ Burgers – will be on the shelves of IGA supermarkets and in burger venues around Australia from September 2021. An extensive range of additional alternative protein products is already under development, including plant-based mince, sausages, as well as chicken and bacon alternatives. 
All G Foods is also using precision fermentation technology to develop dairy proteins that can be included in milk and other "cow-free" dairy products as part of its longer-term ambition to provide more sustainable protein options for both Australian and global consumers.  
The agricultural sector accounts for 14 per cent of Australia's national emissions,1 with livestock responsible for about 77 per cent of that amount.  
Growing awareness about the health and environmental impacts of meat consumption has led one in three Australians to introduce meat alternatives into their diet.2 At the same time, growing appetite for animal proteins from an increasingly affluent global population is putting further resource demands on agriculture.3 
CEFC CEO Ian Learmonth said: "Alternative proteins are an important way to reduce food-related emissions because they have a relatively small carbon footprint. With plant-based proteins and proteins from technology like precision fermentation, we can help feed a growing local and global population while putting less pressure on our environment.  
"All G Foods is an exciting example of the new and innovative opportunities that will develop as our economy transitions to lower emissions. It's great to see this Australian company at the forefront of the growing sustainable food production solutions of the future." 
All G Foods Founder and CEO Jan Pacas says the Love BUDS™ Burgers are uniquely positioned in the Australian market because of their quality and taste characteristics. 
"Our ambition is to make products that are indistinguishable from animal proteins in both taste and nutrition, by giving consumers food they will love, while making a positive difference for our planet," he said.  
"We have put together a science and technology team that is the best Australia and the world has to offer to ensure consumers get what they really want: a delicious, low-carbon and inclusive alternative to animal protein. We know our science combined with delicious recipes will change the trajectory of the alternative protein movement in Australia and around the world." 
An independent consumer survey found that Love BUDS™ Burgers were preferred for texture and taste compared with the leading global plant-based protein product available in the Australian market.4  
Clean Energy Innovation Fund Director Kristin Vaughan added: "We're very excited to support a great home-grown Australian business like All G Foods. Carbon-conscious consumers are increasingly considering alternatives to animal-based protein as a practical way to cut their own carbon footprint.  
"We are particularly impressed with the team that All G Foods has built and are confident that they have the kind of high-quality product that Australian consumers demand. Products like these have the potential to supercharge sector growth and lead the way for Australia to become competitive in the global alternative protein market."  
The All G Foods science and technology team is working closely with University of Sydney researchers led by Centre of Advanced Food Engineering Professor Roman Buckow, an internationally renowned food engineer and alternative-protein expert. All G Foods' Chief Technology Officer for Dairy, Dr Jared Raynes, is leading the development of alternative dairy proteins through precision fermentation to be included in a non-dairy milk that replicates the structure, taste and nutritional elements of cow's milk.  
The Australian market for alternative protein sources is expected to reach $4.1 billion by 2030, with a potential export market reach of $2.5 billion.5  
The Clean Energy Innovation Fund is the largest dedicated cleantech investor in Australia and was created to invest $200 million in early-stage innovative businesses whose activities can lower Australia's emissions.  
1
Global responses to climate change: Opportunities for Australian agricultural producers,
 Department of Agriculture, 

Water

 and the Environment. https://daff.ent.sirsidynix.net.au/client/en_AU/search/asset/1031063/1
2
The economic contribution of

 

plant based

 meat - Food Frontier 2020 State of the Industry
 March 2021
3
 Food in the Anthropocene: The EAT-Lancet Commission on healthy diets from sustainable food systems, 
The Lancet, 16 January 2019.  https://www.thelancet.com/action/showPdf?pii=S0140-6736%2818%2931788-4
4
Independent consumer survey

 of Buds Burgers vs Beyond Meat Burgers. Sample size NB: 125 consumers 

conducted by Sensory Solutions, March 2021. 
5
 https://research.csiro.au/foodag/sustainable-solutions/alternative-protein-sources/
Media release, 2021