CEFC and Metro shoot for the stars with new greener homes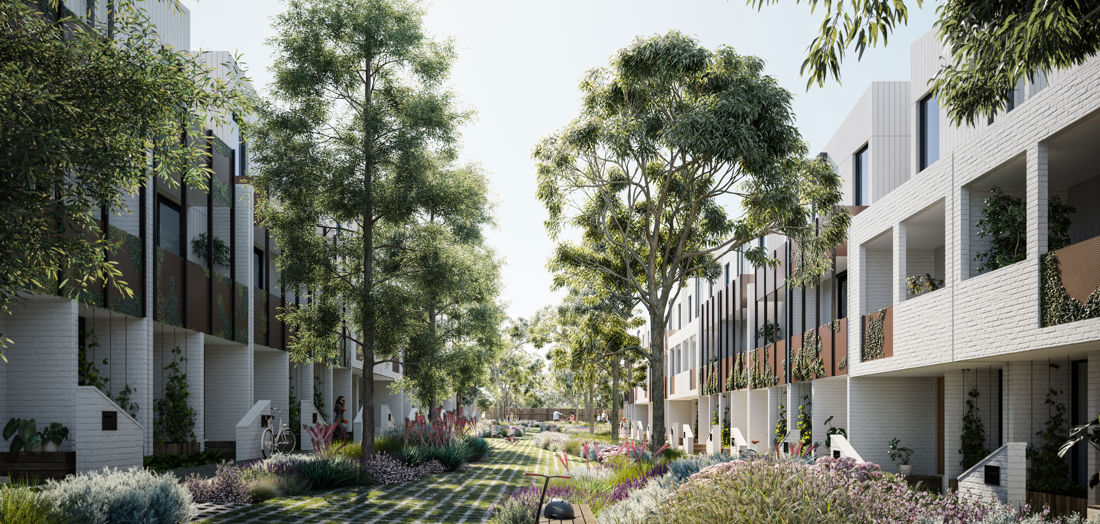 6 September 2021
A new 8 star housing development featuring the latest clean energy technologies – including low carbon concrete – is leading the way in showing how green design can help home buyers embrace the benefits of energy efficient living.  
Melbourne's Northcote Place project developed by Metro features sustainable townhouses that will help reduce homeowners' individual carbon footprints.  
The CEFC, investing on behalf of the Australian Government, has committed up to $54 million in debt finance to the project as part of its goal to lift sustainability outcomes across the built environment. 
Northcote Place has an impressive average 8 star rating under the Nationwide House Energy Rating Scheme (NatHERS), a rating achieved by less than two per cent of new homes built in Australia in 2020.1 It is the first CEFC finance for a residential housing project aiming to achieve the 8 star rating. 
The homes include a range of features, such as all-electric induction cooking, heat pump hot water, rooftop solar systems with the option to add battery storage, wiring to be electric-vehicle ready, and rainwater tanks connected to both toilets and laundries.  
The homes also feature Holcim ECOPact – a low carbon concrete that reduces embodied carbon by 30-60 per cent2. Concrete is a major contributor to embodied carbon, due to emissions associated with the manufacturing and construction processes. Measures to transition to low carbon materials, are priorities in the Australian Government Technology Investment Roadmap.3  
The average home will use an estimated 50 per cent less energy than a new home built to minimum building code requirements, allowing residents to benefit from lower utility costs, more comfortable and stable indoor climates and better acoustic privacy from energy efficient triple glazed windows. All homes will also include a minimum 3 kW rooftop solar panel system, saving as much as $2004 in energy costs per billing cycle.  
CEFC CEO Ian Learmonth said the development would set a new benchmark in delivering premium quality homes with a lighter carbon footprint.  
"Northcote Place demonstrates that by incorporating clean energy technologies and thoughtfully considered design at the beginning of a project, we can deliver homes that are more comfortable and energy efficient, with lower energy costs and reduced carbon emissions," Mr Learmonth said. 
"Australia's residential sector has an important role to play in decarbonising our economy. Northcote Place demonstrates that a high standard of housing development is readily achievable and with advances in technology we now have even more opportunities to make our homes greener. 
"This project marks the first financing by the CEFC for a housing development featuring this type of low carbon concrete. By working with developers such as Metro, we hope to see these features become standard practice in new home development, to accelerate Australia's transition to a low carbon economy."  
Metro Managing Director Luke Hartman said: "We are proud to be delivering high quality homes that deliver higher standards of livability, connection and value to owners and residents. Energy efficient housing is attracting a growing number of owner occupiers who place value on more comfortable housing, lower energy bills and a reduced environmental impact. Developing homes like Northcote Place also supports Australia's transition to a low carbon future. Interest in environmentally conscious housing is growing and we have seen strong demand for these homes. We expect to see appetite for homes that have similar emissions reducing features increase in the future." 
Metro Victoria's General Manager David Steele said "Metro is committed to environmental sustainability. As part of our agreement with the CEFC, through our Victorian development operations we are aiming to be the first private residential developer to achieve Carbon Neutral Certification under the Climate Active Carbon Neutral Standard."  
The Green Building Council of Australia (GBCA) has identified cuts to embodied carbon levels – which are the emissions associated with manufacturing and construction processes through the whole of building lifecycle – as critical to the decarbonisation of the property sector. 
The built environment accounts for about a quarter of Australia's greenhouse gas emissions5 and buildings account for more than 50 per cent of Australia's electricity use. With more than half of the buildings projected to be standing in 2050 yet to be built,6 building design and construction offers an important pathway toward decarbonisation.  
The CEFC has a strong track record of investing in a diverse range of cleaner, greener residential options, including finance for green home loans, community housing, build-to-rent and masterplanned communities, seniors living and student accommodation. 
1 https://ahd.csiro.au/dashboards/energy-rating/energy-rating-national-overview/ 
2 https://www.holcim.com.au/ecopact 
3 https://www.industry.gov.au/data-and-publications/technology-investment-roadmap-first-low-emissions-technology-statement-2020 
4 https://www.northcoteplace.com.au/ 
5 https://www.climateworksaustralia.org/project/built-environment/ 
6 https://www.climateworksaustralia.org/project/built-environment/ 
Media release, 2021