CEFC backs 300 MW Victorian Big Battery to strengthen grid and support more renewable energy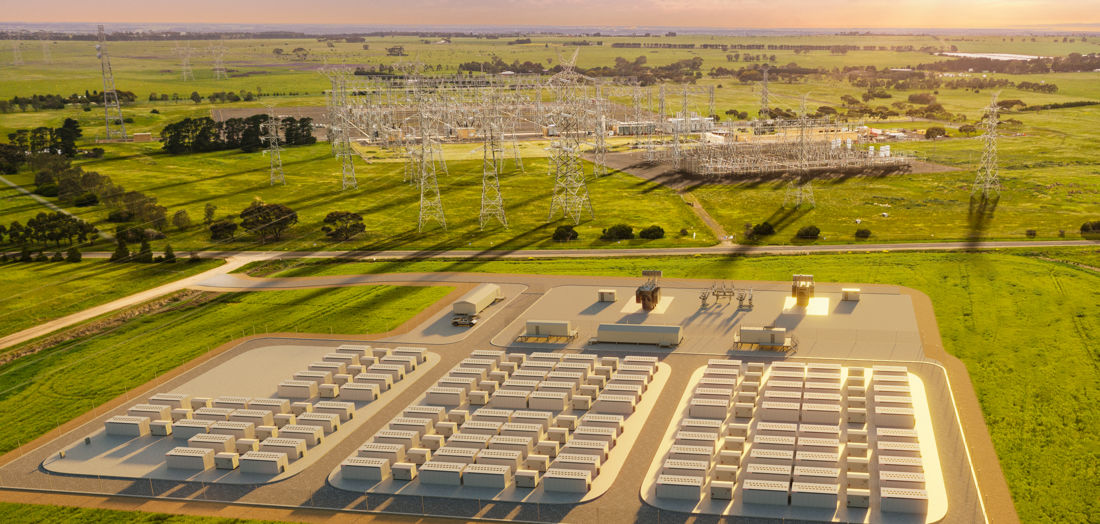 25 February 2021
The CEFC on behalf of the Australian Government has invested $160 million to build the Neoen 300 MW Victorian Big Battery (VBB), providing a critical boost to the state's grid security while driving down power prices and supporting more renewable energy.
The CEFC senior debt facility will finance the design, construction and operation of the VBB, which will be one of the largest energy storage facilities in the world. It is expected to be operational for the 2021-22 summer.
The investment delivers on the CEFC strategic focus on energy storage as a priority technology under the Technology Investment Roadmap.
CEFC CEO Ian Learmonth said: "Energy storage supports cost effective, reliable, clean electricity and is a key component of Australia's transition to a low emissions economy. This project is a world-class example of how utility scale batteries can help electricity networks support a higher penetration of renewable energy.
"The VBB will improve grid security by providing extra capacity during the peak summer months. It will also contribute to the dispatchable resources needed to underpin the increasing share of renewable energy that will make up Australia's future energy mix."
Neoen, one of the world's leading independent producers of exclusively renewable energy, will own and operate the VBB, which will be powered by Tesla Megapack batteries.
Under the System Integrity Protection Scheme (SIPS) contract Neoen has signed with AEMO, the VBB will unlock up to an additional 250 MW of peak capacity on the existing Victoria to New South Wales Interconnector. The extra power flowing between the States during the peak summer season will deliver support to the grid at critical times.
Independent analysis by PWC1 found that the SIPS process could deliver total benefits of more than $220 million to Victorian consumers in the next 11 years, including savings on power bills. If gross savings and AEMO costs for the battery are passed on to consumers, the Portland aluminium smelter stands to save about $1 million a year on its electricity bills, while the average industrial Victorian electricity consumer could save about $280,000 a year.
Neoen estimates that the project will create more than 80 jobs during construction and six full time ongoing positions. Local suppliers are also expected to benefit from the significant economic boost to the region. 
The CEFC previously worked alongside Neoen and Tesla to deliver the 50 per cent expansion of the Hornsdale Power Reserve (HPR) in South Australia. The $50 million CEFC senior debt commitment was the first project financing of a stand-alone grid connected battery in the Australian market.
Additional analysis from Aurecon found that HPR demonstrated the ability of large storage schemes to be successfully integrated into the electricity network and markets, delivering more than $150 million in electricity cost savings in its first two years of operation.2
Neoen Australia Managing Director Louis de Sambucy said: "We are delighted to announce that the Victorian Big Battery has reached this important financial milestone. I would like to thank the CEFC for their renewed trust and commitment towards supporting innovative storage solutions. With the help and hard work of our partners, Tesla and AusNet Services, we are on track to deliver this project before the next Australian summer and are looking forward to playing our part in helping Victoria reach its ambitious target of 50% renewable energy by 2030."
Neoen Chairman and CEO Xavier Barbaro added: "We are thrilled to be building our second big battery in Australia. The Victorian Big Battery once again demonstrates the value of innovative solutions that Neoen is proud to be pioneering. At 300 MW, it will be one of the largest batteries in the world, taking our total capacity in operation or under construction in Australia to over 1.8 GW, and bringing us one step closer to our global target of 5 GW by the end of 2021."
According to the AEMO Integrated System Plan, distributed energy will provide as much as 22 per cent of the nation's underlying annual energy consumption by 2040, with more than 26 gigawatts of additional renewable energy required to replace coal-fired generation. This will require up to an additional 19 gigawatts of new dispatchable resources, including utility scale battery storage.
About Neoen
Neoen is one of the world's leading and fastest growing independent producers of exclusively renewable energy. With a capacity of more than 3.6 GW in operation or under construction, Neoen is a high-growth company. Neoen is notably active in Argentina, Australia, El Salvador, Finland, France, Ireland, Jamaica, Mexico, Mozambique, Portugal and Zambia. In particular, Neoen operates France's most powerful solar farm (300 MWp) in Cestas, and the world's first big battery (150 MW storage capacity) in Hornsdale, Australia. Neoen is targeting at least 5 GW capacity in operation or under construction by end of 2021. Neoen (ISIN Code: FR0011675362, ticker: NEOEN) is listed in Compartment A of the regulated market of Euronext Paris.
1 SIPS 2020 Validation business case for Victorian SIPS service by PWC, November 2020
2 https://www.aurecongroup.com/projects/energy/hornsdale-power-reserve
Media release, 2021