CEFC backs cattle and sheep farmers with technology to lift productivity and boost soil carbon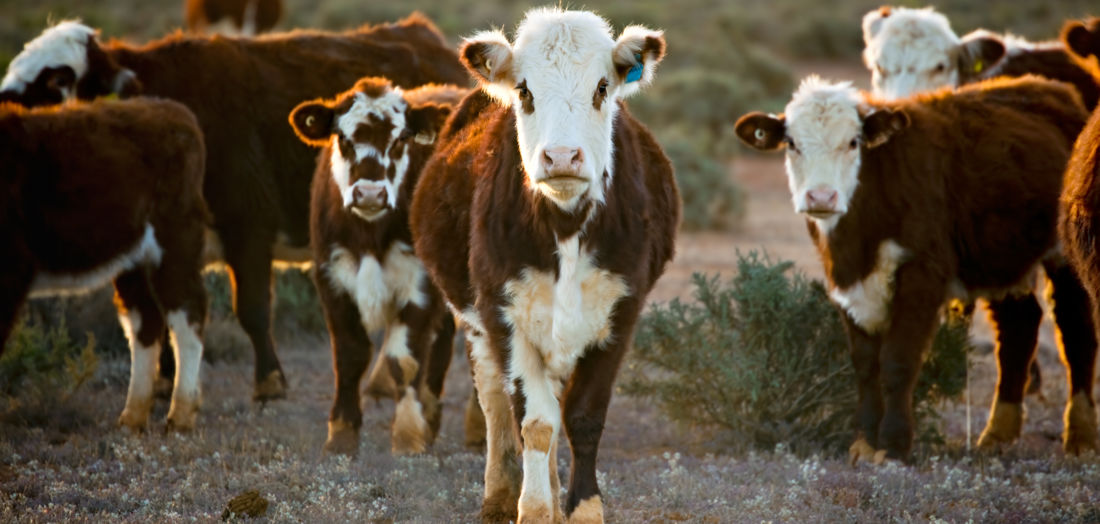 19 January 2021
Innovative Australian software designed to improve farm productivity and sustainability has secured a $5 million commitment from the CEFC, on behalf of the Australian Government, to capitalise on its potential to drive down emissions from the agriculture sector.
AgriWebb is an Australian-based agtech start-up that has built a world leading livestock management platform. It supports sustainable cattle and sheep grazing, automating data collection from around the farm to help farmers manage resources more efficiently and produce livestock at its ideal weight.
The CEFC Clean Energy Innovation Fund investment will enable AgriWebb to develop tools that track methane emissions from livestock and the carbon sequestration of paddocks.
CEFC CEO Ian Learmonth said: "AgriWebb allows farmers to take advantage of the digitisation that has made life easier across many other industries, minimising paperwork after a long day in the field.
"It collects data from gates, weigh stations, electronic tag readers and feed and water troughs, and captures in-field decisions in real time. This information gives farmers a more detailed picture of the health of the herd and pastures, allowing them to allocate resources more efficiently and to reduce carbon emissions."
AgriWebb manages more than 14 million head of livestock across 60 million acres around the globe, including Australia and the UK. In Australia more than 15% of cattle and sheep stock are managed on the AgriWebb platform.
According to AgriWebb, customers using the platform in Australia and the UK reported a 7.5 per cent improvement in productivity, as well as healthier pastures. Farmers said the platform improved communications between station managers and farmhands, helped avoid overgrazing, directed underweight animals to higher feed paddocks, lowered diesel emissions, reduced herbicide and pesticide use and resulted in fewer animal deaths.
Executive Chairman and AgriWebb co-founder Justin Webb said: "AgriWebb is already making farming more efficient and we believe it can also drive better measurement and management of emissions. 
The CEFC brings deep experience in decarbonisation and sustainable agriculture and joining forces with the Innovation Fund team will help AgriWebb improve its focus on sustainable farming.
The CEFC investment aligns with the Technology Investment Roadmap Low Emission Technology Statement, which lists soil carbon as a priority technology. It is the second Innovation Fund investment in soil carbon technology, following the $1.7 million commitment to Loam Bio*. in 2020 to develop microbial seed coating which can increase soil carbon.
The CEFC is also working with Australia's substantial cropping sector to introduce the innovative FarmPrint technology platform to help producers cut emissions while lifting productivity. FarmPrint is the product of the Energy, Emissions and Efficiency Advisory Committee – 3EAC – a unique collaboration combining the scientific expertise of the CSIRO with the operational experience of Macquarie Group's MIRA, one of Australia's largest agricultural investment managers, and the specialist low carbon investment focus of the CEFC.
Mr Learmonth added: "Technology is playing an increasingly important role in sophisticated farm management. Information provided by the AgriWebb platform will help farmers manage their farm more sustainably and shift livestock between paddocks to avoid overgrazing.
"The data also provides a digital paper trail that will make it easier to target value-adding certifications such as carbon-neutral beef and to participate in carbon sequestration schemes.
"More efficient farm production is a win for farmers and the environment. Increasing soil carbon levels can help reduce atmospheric carbon, offering another pathway to decarbonise the agricultural sector.
"Agriculture accounts for about 12 per cent of Australia's greenhouse gas emissions, and red meat production contributes significantly through digestive gases and the reduction in soil carbon from overgrazing," Mr Learmonth said.
The CEFC AgriWebb investment is part of a A$30 million capital raising led by TELUS Ventures, the venture capital arm of Canadian telco TELUS.
*Formerly Soil Carbon Co. In October 2021, the CEFC extended its commitment to Loam Bio to $5.8 million.
About AgriWebb
AgriWebb is a digital livestock management platform, founded by Justin Webb, Kevin Baum and John Fargher in 2014. Its mission is to improve the lives of farmers through technology that allows them to transform their operations in order to be more efficient, sustainable and productive.AgriWebb does this by allowing farmers to leverage their data more effectively to increase on-farm productivity, traceability and sustainability — this ultimately delivers vast improvements in food production. Currently, AgriWebb is used by over 5,000 farmers around the world with over 14 million animals supported by a team of 55 in office hubs in Sydney, London and Denver and "boots on ground" in South Africa, Brazil and Ireland.
Media release, 2021