CEFC finance powers Australia's first electric bus fleet to drive down noise and emissions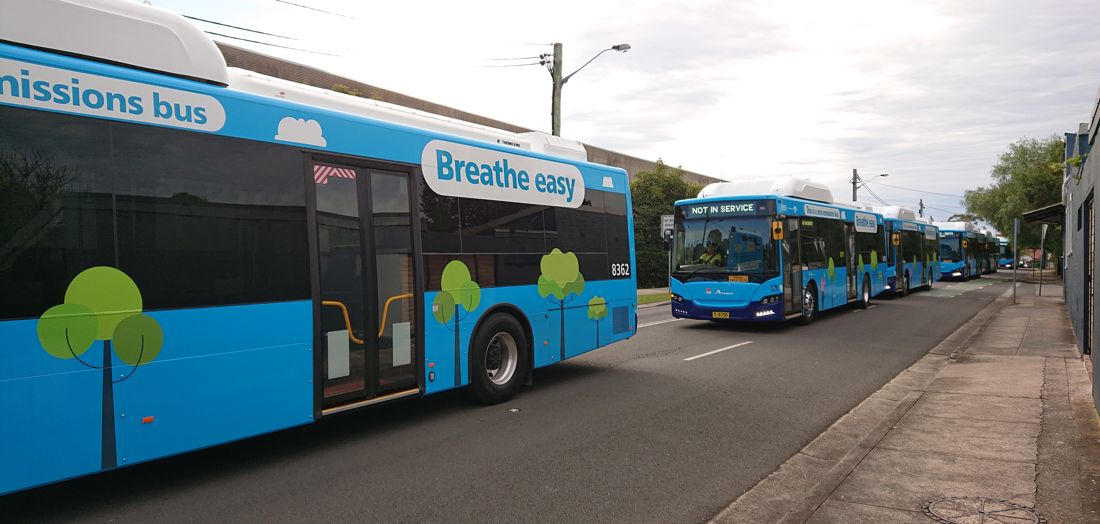 21 October 2021
The CEFC is helping finance Australia's first electrified bus fleet, with a $24.5 million investment commitment that will support the replacement of 40 internal combustion engine buses in NSW with clean, green vehicles.
The commitment is part of a $36 million landmark project to install a suite of electric vehicle (EV) infrastructure at a single site, combining charging equipment, battery storage, renewable energy and grid support services. It will establish the Leichhardt bus depot in Sydney as Australia's first fully integrated EV bus depot.
The 40 new electric buses will be supported by 368 kWh and 422 kWh battery packs, fast charging infrastructure, 2.5 MW/4.9 MWh of stationary battery energy storage and 388 kWp of rooftop solar. Innovative software, including onboard telematics that provides critical vehicle data, will help manage the chargers, batteries, solar and grid input.
The CEFC debt finance, on behalf of the Australian Government, supports delivery of the NSW Government pledge to transition its 8,000-strong passenger bus fleet to electric by 2030.
Electrifying the NSW bus fleet will drive down noise and pollution on Sydney's busy road network. It is expected to abate two thirds of carbon emitted for every kilometre travelled, saving 2,600 tCO2e annually and up to 39,000 tCO2e over the expected lifetime of the equipment.
The first 12 of the 40 new electric buses will begin to enter service this month, with the rest of the fleet arriving over the next four months.
CEFC CEO Ian Learmonth said: "This investment will start to transform the NSW bus service from one that is noisy and polluting, powered by fossil fuel, to a public transport system that relies on renewable energy and is fit for the 21st century.
"It will demonstrate that electrification of transport is possible on a large scale, and further show that increased EV uptake improves our environment, our health and the liveability of our cities. We also hope it will encourage more people to choose quiet, modern and energy efficient public transport as a practical way to cut their own transport emissions."
The transport sector was responsible for 17.5 per cent of Australia's emissions in the year to March 2021.1 This was down 13 per cent on the previous year, reflecting the impact of the COVID-19 pandemic on travel and economic activity. But emissions are increasing again: they rose 5 per cent in the March quarter and are projected to rebound in 2022, peaking at 101 Mt CO2-e in 2026.2
Mr Learmonth added: "Transport continues to contribute significantly to Australia's carbon footprint. Yet our uptake of electrical vehicles has stalled: last year, EVs made up less than one per cent of total car sales in Australia3, compared to 10.7 per cent in the UK and 75 per cent in Norway.
"Improving these figures is critical to the ongoing decarbonisation of the economy. And with vehicle makers confirming they will stop producing pure internal combustion engines in coming years, now is the time to accelerate our transition. There is enormous opportunity to electrify substantial elements of our transport sector, including cars, buses and heavy vehicles."
Zenobe co-founder and Director Steven Meersman said: "This project has produced an industry leading collaboration between private enterprise and the public sector, spanning across the energy and transport sectors.
"It has been fantastic working with the team at the CEFC and it hallmarks a new way to make an environmentally sustainable solution for our public transport fleets, which is financially sustainable as well."
Transgrid Acting CEO Brian Salter said: "Electrification of transport is an essential feature of the modern energy system and this initiative is a welcome addition to the grid-scale batteries and multipurpose energy hubs that Transgrid's commercial arm, Lumea, is developing throughout Australia. We are delighted to be bringing Zenobe's global experience and capability to Australia through this project."
The CEFC finance will enable project counterparties Zenobe and Transgrid to own, operate and lease the electric buses and infrastructure to Transit Systems and Transport NSW. The project is also being supported by a $5 million grant from ARENA and $6.5 million in equity from Transgrid and Zenobe.
1 Quarterly update of Australia's Greenhouse Gas Inventory: March 2021, Department of Industry, Science, Energy and Resources
2 Australia's emissions projections 2020, December 2020, Department of Industry, Science, Energy and Resources p29
3 State of Electric Vehicles August 2021, Electric Vehicle Council
Media release, 2021