CEFC finances Capital Battery to support ACT net zero ambitions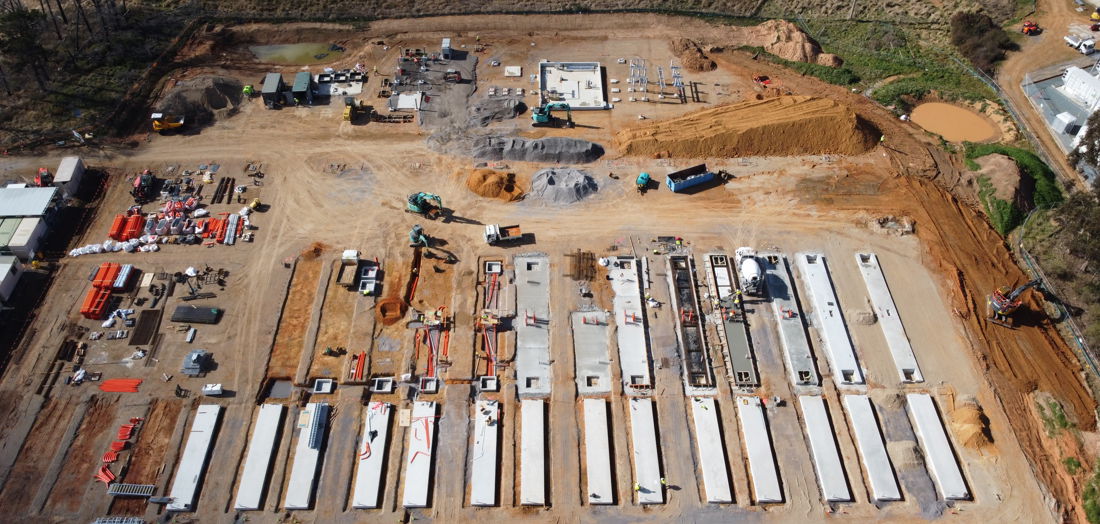 5 October 2022  
The CEFC has made its third large scale battery storage investment, committing $35.5 million in project finance to the 100 MW Capital Battery. The battery will provide critical network support, enabling it to accommodate more clean energy and support the ACT's ambitions to reach net zero emissions by 2045.
In a further demonstration of its role as a market leader in helping develop emerging industries, the transaction marks the first time the CEFC has introduced a co-lender to a battery project, with specialist infrastructure fund manager Infradebt committing $35.5 million.
Neoen, one of the world's leading producers of renewable energy, has contributed equity and will own and operate the battery. It has 576 MW of battery storage in operation or under construction in Australia.
The battery will help modernise and stabilise the grid, performing multiple roles including firming renewable energy, supporting the transmission network, and providing frequency services. It is under construction in the ACT and on track to be operational in the first half of 2023.
CEFC CEO Ian Learmonth said: "As Australia raises its ambitions to reach net zero emissions with new targets, we must heighten our focus on developing the enabling technologies that will be critical to our success. Battery storage is key to our ability to decarbonise the energy sector.
"Our commitment to the Capital Battery adds to our previous work with Neoen on the Victorian Big Battery and Hornsdale Power Reserve in helping demonstrate the economic and grid stability case for large-scale batteries.
"These projects require substantial, tailored investment solutions, reflecting their high start-up capital costs and emerging and untested revenue models, alongside the ongoing development of the market for the risk mitigation services that batteries can provide. By encouraging the participation of co-investor Infradebt, the CEFC has crowded in capital to further build confidence in the sector."
Neoen committed to building the battery as part of its winning bid in the ACT's 2020 renewable energy auction, where it won a 100 MW power purchase agreement for Goyder South Stage 1 Wind Farm in South Australia.
It is underpinned by a 70 MW virtual battery contract for seven years with AGL Energy. The virtual battery is an innovative solution designed by Neoen to allow a large electricity user or retailer to mimic a grid-scale battery, without having to build or own one.
Neoen Australia's Managing Director Louis de Sambucy said: "We are delighted to announce that the Capital Battery has reached this important financial milestone. I would like to thank the CEFC and Infradebt for their trust and their commitment to supporting battery storage solutions. In particular I would like to acknowledge the CEFC for this third investment in a Neoen big battery. With the hard work and commitment of our partners Doosan, we are on track to deliver this project in 2023 and looking forward to making a contribution to the region's energy transition."
Neoen will launch a Community Co-investment Scheme, providing residents of the ACT and Capital region with an opportunity to become financial stakeholders in the project. 
Alexander Austin, Infradebt CEO said: "Under the AEMO Integrated System Plan, more than 80 per cent of electricity generation in the Australian National Electricity Market is expected to come from variable renewable energy by 2030.  Grid scale storage is key to making this work.  We are extremely pleased to be providing an innovative debt financing package that will support Neoen in its market leading rollout of grid scale storage."
Under its "mostly likely" scenario, AEMO forecasts a nine-fold increase in grid-scale solar and wind to 141 GW required by 2050. At the same time, storage capacity would need to increase by a factor of 30, to 61 GW by 2050, through a combination of utility-scale batteries, hydro storage and virtual power plants.
The CEFC commitment to the Capital Battery adds further depth to its battery storage portfolio and expertise as a market leading financier. CEFC finance helped deliver Australia's two largest batteries, the Victorian Big Battery and the Hornsdale Power Reserve in South Australia. Accelerated development models at both projects have produced positive early results in terms of investment returns and grid stability, including proving-up new grid services such as synthetic inertia.
Media release, 2022