Landmark T3 Collingwood kickstarts CEFC Timber Building Program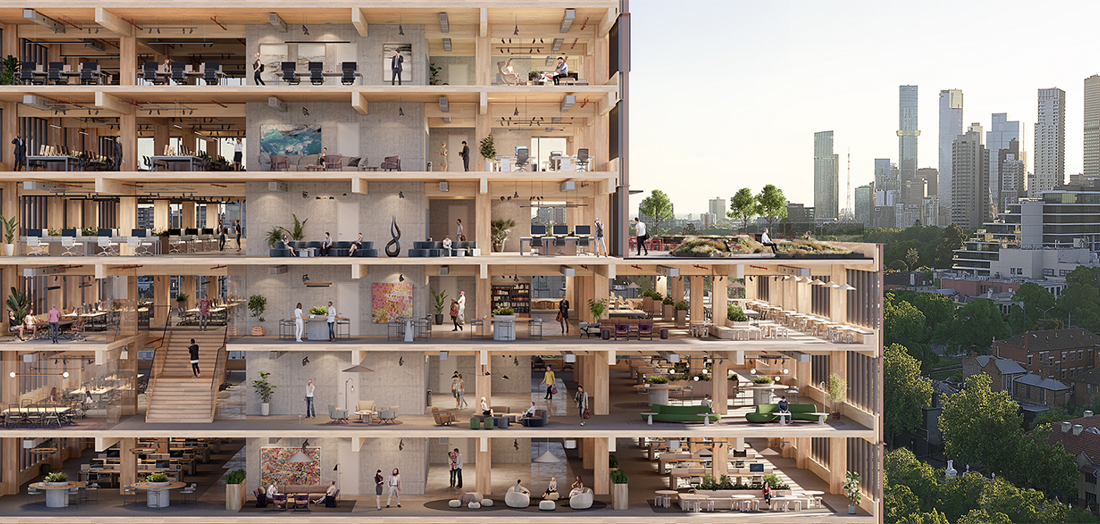 28 November 2022 
Australia's latest environmentally-friendly timber high rise building is on track for construction, with new investment from the Clean Energy Finance Corporation (CEFC). The landmark Melbourne project, developed and led by specialist global real estate group Hines, has also attracted finance from the Madigan Active Debt Fund, backed by the Victorian Funds Management Corporation. 
The CEFC commitment of up to $70 million in debt finance for the Melbourne T3 Collingwood development is the first project to be financed through the specialist CEFC Timber Building Program. The CEFC has nominally allocated $300 million to the Timber Building Program, to help kick start mass timber construction in Australia, which has the potential to substantially reduce embodied carbon.  
The 15-storey prime-grade office tower, located at 36 Wellington St Collingwood, will be one of Melbourne's tallest hybrid mass timber buildings. It will deliver a dual emissions reduction impact – cutting embodied carbon levels by as much as 40 per cent1 during the construction phase and, once operational, target market leading net zero emissions.  
CEFC CEO Ian Learmonth said: "We are very pleased to announce T3 Collingwood as our first investment under the innovative CEFC Timber Building Program, which aims to encourage the use of mass timber in the construction sector. Mass timber can play an important role in decarbonising the buildings that make up our cities and this investment showcases how timber can be used to change the way we approach commercial scale buildings.  
"The commercial property sector has been making significant progress to reduce operational carbon, and we are pleased to now be accelerating the focus on embodied carbon. Timber has a vital role to play in addressing embodied carbon and represents the next frontier for the property industry. This project encourages owners, developers, architects, engineers and builders to use mass timber as an alternative to conventional construction materials such as concrete and steel for their projects." 
Hines Australia Managing Director Simon Nasa said: "Mass-timber construction is an important step in driving a sustainable future for the built environment we live and work in. Not only is timber a completely renewable resource, but timber offices are also biophilic in creating a more natural working environment for tenants and their staff. This results in increased productivity and better mental health outcomes, helping to create the people-friendly live-work-play communities that Hines is known for." 
Madigan Capital Founder and CEO Michael Wood commented: "As one of Australia's leading institutional non-bank lenders in the real estate market, we believe we have a responsibility to invest in projects that are working towards using sustainably sourced construction methods and materials to reduce operational and embodied carbon. We were keen to work with the CEFC on this development. The use of leading environmentally sustainable construction techniques strongly aligns with Madigan Capital's investment strategy."  
T3 Collingwood will be the first Australian addition to the Hines T3 global portfolio, a timber, transit and technology-orientated development methodology which supports the delivery of credible decarbonisation pathways. The T3 construction replaces traditional structural systems such as concrete and steel with prefabricated solid wood systems, to create best-in-class projects in a fast, clean, sustainable and aesthetically pleasing manner.2 
The hybrid construction approach will feature a glue laminated timber (GLT) structure with cross-laminated timber (CLT) flooring on top of five reinforced concrete podium levels. Significantly, the timber will be sustainably sourced from two specialist Victorian mass timber manufacturers, XLam Australia and Australian Sustainable Hardwoods. 
T3 Collingwood will use about 4,000 cubic metres of wood for the structural frame, fixing in place about 3,000 tons of carbon. Including biogenic carbon storage, embodied carbon emitted during construction – in processes such as raw material procurement, manufacturing, construction and demolition – is equal to an emissions reduction of approximately 40 per cent compared with the equivalent use of reinforced concrete. 
CEFC Joint Head of Property Ryan Rathborne added: "T3 Collingwood is an exciting project that signals the very real potential to create a greener, more sustainable built environment. It demonstrates the critical role of timber in the construction phase, and how this can complement ongoing commitments to net zero emissions in operations.   
"This project is also a great vote of confidence in a new sustainable timber industry for Australia. We are encouraged that Hines will be working with Australian businesses to supply aspects of the build, delivering positive impacts for domestic industries and supply chains. 
"The time is right for the development of more timber buildings across the property sector. By locking in mass timber construction in new projects, we can also help develop local skills and experience, supply chains and delivery capabilities, all of which can catalyse more timber-based building activity into the future." 
The CEFC Timber Building Program is an ambitious platform to reduce upfront embodied carbon in the property construction sector by using mass timber products. In its Australian buildings and infrastructure: Opportunities for cutting embodied carbon report, the CEFC found that the use of mass timber construction methods can cut up to 75 per cent of embodied carbon emissions compared with conventional steel and concrete designs. 
While mass timber is less carbon-intensive than traditional construction materials such as concrete and steel, timber's ability to also sequester carbon as it grows provides it with a negative carbon footprint.3  
Cutting embodied carbon emissions associated with Australia's $65 billion dollar construction sector can play a critical role in our transition to a net zero economy. Traditional steel, aluminium and cement production have been widely considered difficult to abate materials. 
About Hines 
Hines is a privately owned global real estate investment firm founded in 1957 with a presence in 255 cities in 27 countries. Hines oversees investment assets under management totalling approximately $83.6 billion¹. In addition, Hines provides third-party property-level services to more than 367 properties totalling 138.3 million square feet. Historically, Hines has developed, redeveloped or acquired approximately 1,486 properties, totalling over 492 million square feet. The firm currently has more than 171 developments underway around the world. With extensive experience in investments across the risk spectrum and all property types, and a foundational commitment to ESG, Hines is one of the largest and most-respected real estate organizations in the world. Visit www.hines.com for more information. ¹Includes both the global Hines organisation as well as RIA AUM as of June 30, 2021. 
About Madigan Capital 
Madigan Capital is a commercial real estate (CRE) debt manager specialised in servicing Australia's most sophisticated institutional investors. Focused on the origination, underwriting and management of institutional-grade debt investments, Madigan seeks to optimise risk-adjusted returns on behalf of its investors. Madigan manages over $1 billion worth of funds on behalf of major Australian superannuation and insurance institutions across a broad spectrum of the real estate market. Leveraging its collective experience over multiple investment cycles since the early 1980s, Madigan provides institutional investors access to attractive direct credit exposures, secured by high quality real estate and social infrastructure assets.   
Media release, 2022