There are compelling reasons to improve the energy profile of Australia's built environment
– energy efficient buildings using proven clean energy technologies reduce stress on the electricity network, lower electricity consumption and cut our national emissions.
Our property-related investment commitments include 'demonstration' projects with the ability to deliver best-in-class performance around energy efficiency, along with the effective integration of renewable energy into new and existing buildings. We are financing projects that extend the benefits of clean energy across the commercial, industrial and residential property sectors. Each of these properties has its own energy demands, requiring an approach that identifies and harnesses the available opportunities.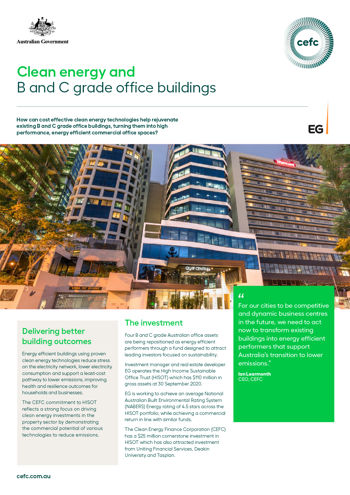 Read our report
Clean energy and B and C grade office buildings
How can cost effective clean energy technologies help rejuvenate existing B and C grade office buildings, turning them into high performance, energy efficient commercial office spaces?
Read more
Investing in a better built environment