CEFC investments in sustainable agriculture win global and regional accolades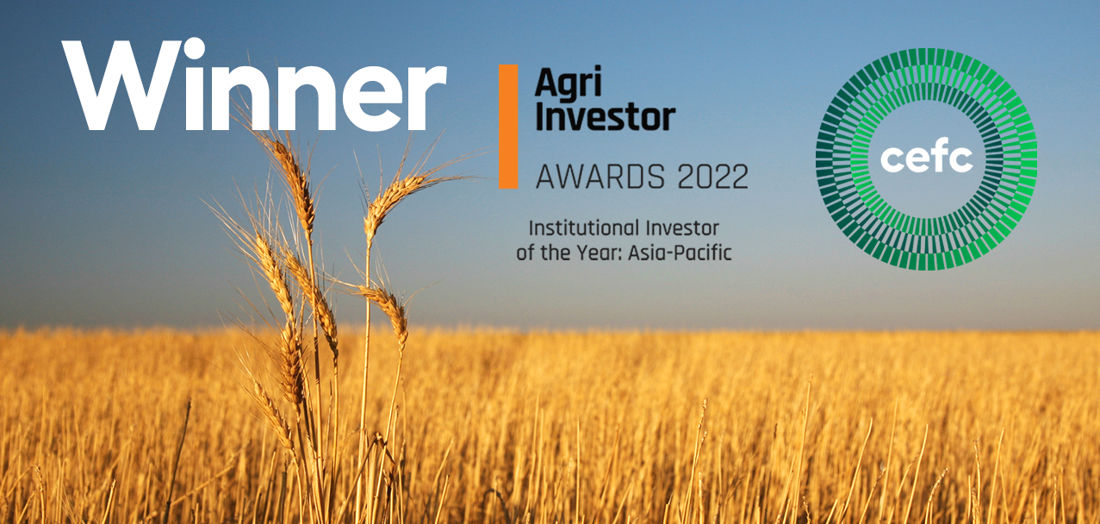 6 April 2023
CEFC investments in sustainable agriculture have received global and regional accolades in the latest Agri Investor Awards, welcome recognition of our role in bringing the power of institutional capital to the decarbonisation of Australia's critical agriculture sector.
The awards, announced by Agri Investor include:
Institutional Investor of the year (APAC) – First 

Institutional Investor of the year (Global) – Second 

Sustainable Investor of the year (Global) – Second 

Personality of the year category, Heechung Sung – Second
The CEFC received both the Global Sustainable Investor of Year and APAC Institutional Investor of the Year in the 2021 Agri Investor Awards. This is our first appearance in both the Global Institutional and Investor Personality of the Year categories.
The CEFC has been an active investor across the agriculture sector since it began investing, working closely with the sector to identify where clean energy technologies can have substantial benefits for on-farm production and energy storage activities. CEFC lifetime commitments of $270 million have included investments in large-scale specialised funds across the cropping and livestock sectors, alongside investment in innovative carbon reduction technology solutions.
CEFC Chief Investment Officer – Alternatives, Rory Lonergan said: "The recent IPCC report underscores the urgency of large-scale meaningful action across the economy to reduce emissions. Agriculture is no exception, especially with growing populations and dietary changes expected to lift agriculture emissions, which already represent 10-12 per cent of global emissions.  
"We are pleased to be working work with institutional investors in the Australian context, bringing the benefits of sustainability to a sector which has a well-earned reputation for quality produce and innovative production methods. We recognise that reducing emissions is critical to the long-term success of the agriculture sector, including in highly competitive global markets.
"We thank our co-investors and Agri Investor for this recognition."
CEFC investment commitments recognised in the Agri Investor Awards in 2022 included:
A landmark $75 million commitment to reduce methane intensity on farms

by at least 30 per cent by 2030, aligned with the Global Methane Pledge. The investment, in one of Australia's largest pastoral operators, Paraway Pastoral, showcases new technologies and practices to cut emissions across 28 Australian pastoral and cropping farms across more than 4.5 million hectares.

A $30 million commitment to the Wyuna Regenerative Agriculture

Investment Fund to support an innovative sustainable grazing model to generate high quality, land based Australian Carbon Credit Units (ACCUs) alongside sustainable red meat production and enhanced biodiversity protection. Primary producers are demonstrating growing interest in the potential of negative emissions activities, such as ACCUs, which give investors and businesses a pathway to deliver on their increasingly ambitious sustainability goals while delivering a revenue stream to farmers.

A $1.62 million investment in Downforce Technologies aims to cut the cost of measuring and monitoring soil health and carbon levels via an innovative and globally scalable platform. The unique Downforce methodology provides real-time data and critical insights for large agricultural landowners, financial institutions, food companies and policy makers to optimise decision making and efficiently measure benefits for natural capital assets.
Read more about the Agri Investor Awards.
Media release, 2023