Historic CEFC investment to kickstart nation building Project EnergyConnect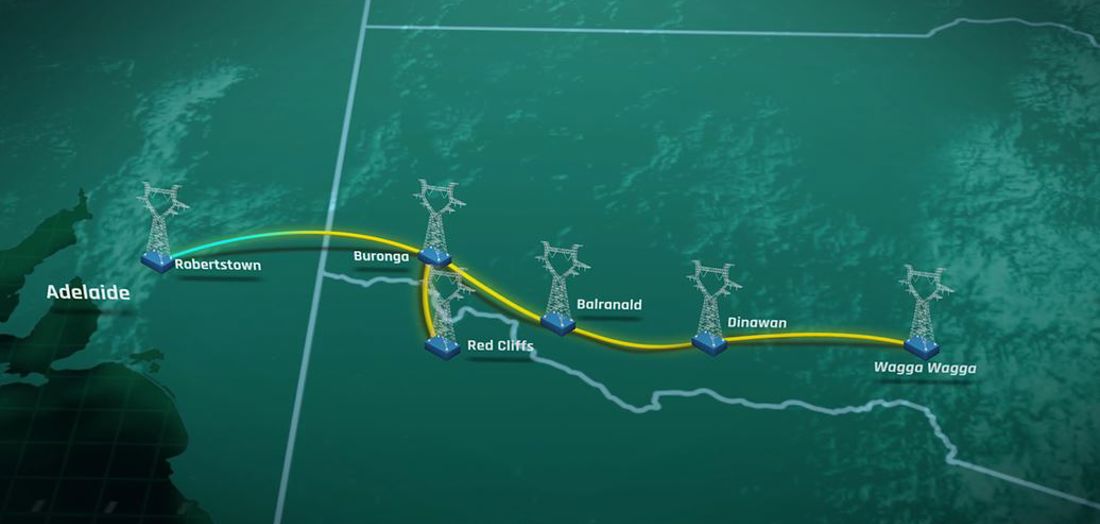 31 May 2021
The CEFC has announced its single largest investment, with up to $295 million in capital to play an instrumental role in developing essential grid infrastructure – which will unlock renewable energy projects across three states and accelerate the decarbonisation of the National Electricity Market. 
The CEFC investment, on behalf of the Australian Government has been made via an innovative subordinated note instrument which has contributed to the crowding in of further private sector debt to this critical project. The project will spur the generation of cleaner, cheaper and more reliable energy across South Australia, Victoria and New South Wales, leading to the creation of thousands of jobs in regional Australia.
The CEFC commitment is part of Project EnergyConnect (PEC), a vital piece of energy infrastructure spanning more than 900 kilometres. It is a significant first step in the delivery of the Australian Energy Market Operator (AEMO) 2020 Integrated System Plan (ISP).
PEC is the second CEFC investment in major electricity grid infrastructure in less than six months, following its $125 million investment backing of Snowy 2.0 grid needs.
The CEFC investment in PEC will see TransGrid build the NSW portion of the new 330 kV interconnector connecting the energy grids of NSW and SA, with an additional link to North West Victoria. ElectraNet is constructing the SA portion of PEC. 
It is significant that the largest single investment the CEFC has made since we began investing will help deliver more renewable energy to Australian consumers by adding a critical piece of infrastructure to our electricity grid. We are proud that CEFC finance is supporting this important investment in the grid.
"Project EnergyConnect reflects our strong focus on investing in essential grid augmentation as part of Australia's important renewable energy transition. We see exciting investment opportunities in energy transmission, interconnectors, renewable energy zones, pumped hydro, grid-scale battery storage and green hydrogen. These assets can all play a critical role in the accelerated decarbonisation of our electricity grid, delivering a cleaner and more reliable energy system which takes advantage of our world leading renewable energy resources. We are also pleased to see our finance playing such a key role in delivery of the ISP." Ian Learmonth, CEO, CEFC.
The agreement with the CEFC has been essential to the Board's final investment decision today and we are thankful to the CEFC for working with us to progress this important project.
AEMO forecasts that PEC will unlock as much as 1,800 MW of renewable energy generation across Renewable Energy Zones, including approximately 800 MW in SA, 400 MW in NSW and 600 MW in Victoria. According to PEC, the development of this additional renewable energy capacity will lead to the creation of some 950 jobs across the region. In addition, up to 1,700 jobs will be created during construction.
Importantly for energy consumers, PEC is expected to deliver estimated annual energy savings of about $100 to SA households and $60 to NSW householders. Businesses can also expect higher savings, proportional to their energy use. [1]
The enhanced grid is expected to drive competition in the wholesale electricity market by connecting more, low-cost generation to the grid. Its location near identified renewable energy zones will support grid connection for future renewable energy projects as well as enable SA to increase the export of its renewable energy production into the national market.[2]
By creating a second point of connection between SA and the NEM, the PEC will significantly reduce the risk of the SA grid being "islanded" or disconnected from the NEM. Victoria's Alcoa Portland aluminium smelter will also indirectly benefit from PEC, with an alternate interconnector from SA to the rest of the NEM enabling critical maintenance to be performed at the nearby Heywood interconnector. 
Spark Infrastructure Managing Director Rick Francis said: "We are delighted with the support received from the Australian Government's CEFC to get this important project across the line. Without it TransGrid's credit metrics would have been materially and negatively impacted such that EnergyConnect would have been unable to proceed."
Mr Learmonth added: "With this investment in Project EnergyConnect, the CEFC has committed $420 million to nation building grid infrastructure, including our landmark $125 million investment in grid infrastructure which is critical to the delivery of the Snowy 2.0 pumped hydro project.
"A project of the scale and complexity of PEC presents unique financing challenges to the investors. Our team has worked closely with TransGrid on these challenges and developed an innovative financing solution critical to enabling the project to proceed."
About Transgrid
TransGrid operates and manages the high voltage electricity transmission network in NSW and the ACT, connecting generators, distributors and major end users. The Transgrid network is the backbone of the National Energy Market, enabling energy trading between Australia's three largest states along the east coast and supporting the competitive wholesale electricity market. This allows energy consumers to gain access to the lowest cost generation available.
Media release, 2021