Prepared for take off: Australian ingenuity to cut aviation emissions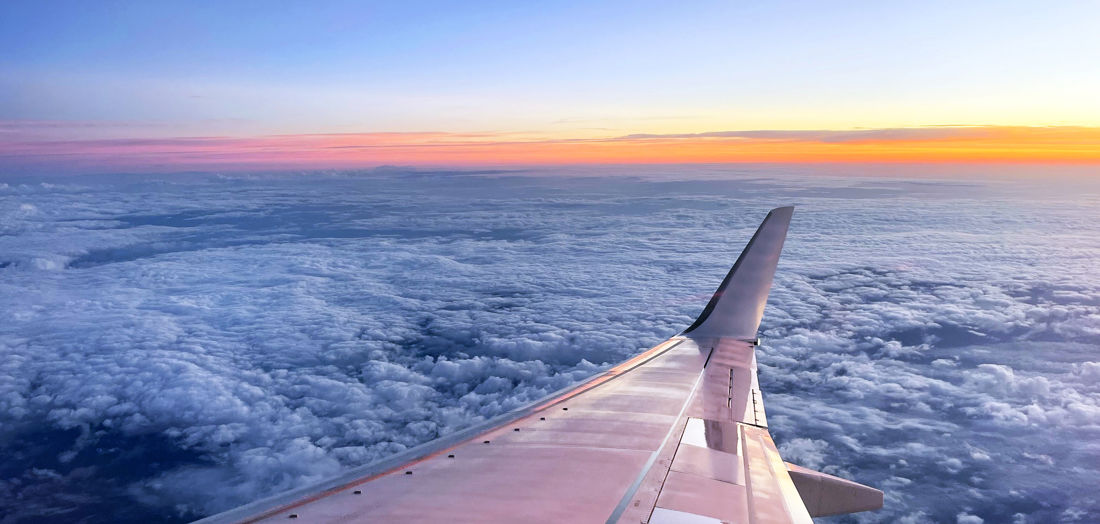 14 June 2022
An Australian advanced manufacturing company bringing an innovative solution to aviation emissions – modelled on shark skin – has received a $2 million* investment boost from the CEFC, alongside strategic investors including venture capitalist Bill Tai and Amanda Terry of ACTAI Ventures.
MicroTau has created a lightweight film product that can be applied to the surface of aircraft, reducing drag, improving fuel efficiency and cutting emissions.
MicroTau has spent six years developing 'Nature's 3D printer' – its proprietary Direct Contactless Microfabrication technology to replicate microscopic functional patterns found in plants and animals.
The Sydney-based company has created a film coating product inspired by shark skin to reduce drag on aircraft, leading to lower energy consumption. The film, which can be applied during scheduled aircraft maintenance, has the potential to save commercial aviation and shipping more than US$34 billion in fuel costs, delivering as much as 225 million tonnes in CO2 abatement annually.
The CEFC investment, made through its specialist Clean Energy Innovation Fund is part of a $5.6 million seed round which will allow the company to further develop the product.
The MicroTau product has been shown to deliver efficiency improvements in flight testing and has significant advantages over alternative technologies, including being able to rapidly iterate designs for improved performance. The company is now aiming to improve fuel efficiency by as much as 10 per cent.
CEFC CEO Ian Learmonth said: "This is an exciting development from an Australian company that is leading the market in its innovation. The MicroTau technology has the potential to be a cost effective, scalable solution that can be retrofitted to existing transport to help minimise the carbon footprint of major transport industries.
"MicroTau's unique technology offers a potential competitive advantage due to its light weight and ease of application. This is a genuine breakthrough solution to a longstanding technical challenge in aviation. With application across aviation and shipping, the technology has the potential to play a practical role in addressing the major challenges in mass transport in a globalized world.
"MicroTau has developed its innovative product and business to an impressive standard, with a research and development program that has strong momentum. Bringing both technical capability and key commercial experience, the company has outlined how higher efficiency gains for air travel can be achieved in the future."
MicroTau CEO and founder Henry Bilinsky said: "Aviation and shipping have a burning fuel problem that's only getting worse. Over millions of years nature has developed solutions to improve efficiency, and now – with the backing of the CEFC – MicroTau will put shark skin inspired film on planes to help fight climate change."
With limited immediate options for converting existing aero fleets to zero carbon fuels, MicroTau initially focused on the aviation industry to minimise fuel costs and emissions. The technology also has scope to be applied across a range of industries spanning aviation, shipping and wind turbines.
Some of the largest aviation manufacturers and operators in the world have shown interest in the technology, including the United States Air Force.
Fuel represents one of the largest cost components in airline operations: before the Covid-19 pandemic disrupted air travel, approximately $260 billion was spent on commercial aviation fuel annually.
There is strong commercial demand for solutions to reduce fuel consumption due to cost and emissions. The International Air Transport Association has set a 2050 net zero emissions target and a reduction in net aviation CO2 emissions by fifty percent by 2050, relative to 2005 levels.
Australia is an active participant in the international development of measures developed by the International Civil Aviation Organisation, including the medium-term goal of improving fuel efficiency by two per cent annually.1
The CEFC investment in MicroTau is made through its specialist Clean Energy Innovation Fund, now managed by specialist fund manager Virescent Ventures which is co-owned by the CEFC.
*The CEFC increased its investment in MicroTau to $3 million in September 2023.
1 https://www.infrastructure.gov.au/infrastructure-transport-vehicles/aviation/aviation-safety/aviation-emissions
Media release, 2022