Relectrify launches uniquely affordable 120kWh - 2MWh commercial and industrial second-life battery product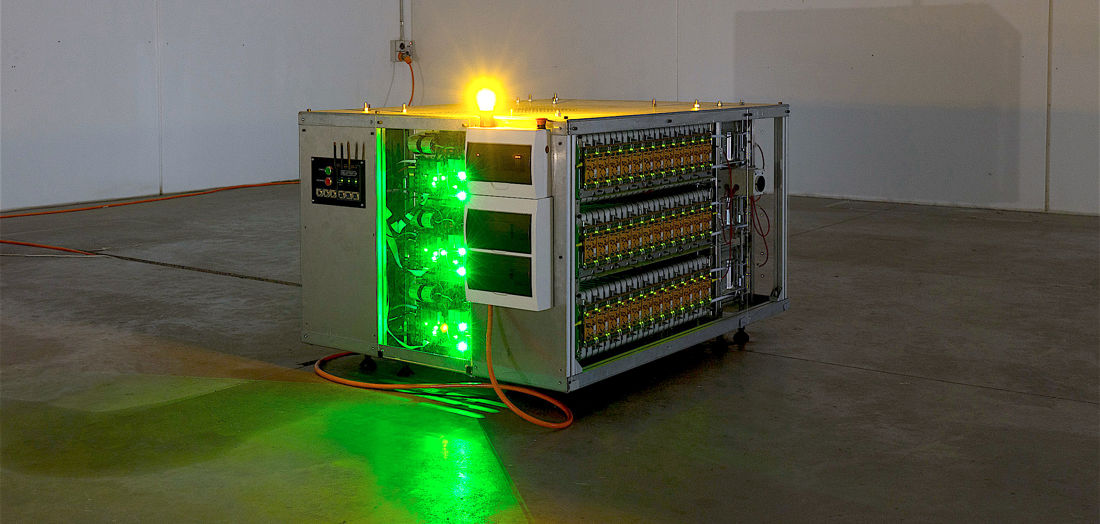 Relectrify media release
25 February 2021
Relectrify today announced the release of its commercial & industrial (C&I) storage product, a modular 120kWh system made from second-life EV batteries (cells that have been retired after use in electric vehicles). Released in response to wide customer demand for sustainable storage products integrating Relectrify's life-extending BMS+Inverter technology, the product is designed for installations in the 120kWh to 2MWh range. The initial product rollout is being supported by the Australian Renewable Energy Agency (ARENA). The ReVolve™ product is now available for purchase by select customers in Australia and New Zealand.
Since its founding in 2015, Relectrify has developed breakthrough technology in battery control, which results in up to 30% increased battery lifetime at 30% lower cost of electronics. It does so through utilising a cell-level battery management system (BMS) to generate a high-efficiency AC output directly from the battery pack, avoiding the need for costly standalone inverters. This BMS+Inverter solution, announced in January 2020, has been demonstrated in numerous industrial and grid customer installations around the world, including with major US utility American Electric Power and Nissan North America.
Product Overview
The ReVolve™ results from growing interest in economic and environmental solutions to our growing energy needs. By repurposing batteries from electric vehicles into a second-life in stationary storage as a key circular economy approach, Relectrify's BMS+Inverter technology powers a truly competitive price point for the ReVolve™. The solution comes in 30% to 50% lower than comparable products on the market, while offering an expected lifetime of 3000 cycles. "The storage market needs affordable battery storage, and we are thrilled to achieve this market-leading competitiveness with this product from the get-go", said Valentin Muenzel, Relectrify's CEO and co-founder. "With Relectrify's cell-level technology seeing increasingly widespread use, we look forward to working with industry leaders to co-develop future products using second-life or new batteries, including for residential, commercial, industrial and grid applications."
Each ReVolve™ 3-phase unit provides grid-compliant 400-480V AC output, with 120kWh capacity and 36kVA continuous power. Units can operate in both grid-connected and off-grid (grid forming) applications. At a roundtrip AC-to-AC efficiency of close to 90%, the ReVolve™ compares strongly against new industrial storage systems. ReVolve™ builds on the multiple 120kWh units the company has previously deployed with its collaborators, the latest being in collaboration with New Zealand electricity distributor Counties Power, and makes products powered by Relectrify technology available to a broad range of customers.
Market Overview
While residential and grid-support storage systems are increasingly prevalent, the C&I market remains underserved, with very few offerings on the market to meet growing customer demand. "In some ways, we didn't want to develop this product, but the market really pulled it out of us", said Muenzel. "Our pre-sales interest in the product has been very wide, from community battery storage applications, utilities looking for backup and outage support for weak rural networks, and peak shaving for EV charge installs, to construction and mining services firms interested in stand-alone power supply and genset diesel fuel reduction. Given our uniquely competitive price-point, some customers are running the numbers and seeing absolutely phenomenal payback periods with our product."
This initial 2.4MWh rollout will be the biggest second-life battery installation in the Asia-Pacific region to date, outside of China, and will give a second-life to 180 Nissan Leaf batteries. This further confirms the viability of a circular economy within the energy sector; maximising the useful life of EV batteries to meet our world's increasing needs for energy storage offers a highly affordable and sustainable alternative to producing more lithium-ion batteries. 
Further, this deployment will be the largest commercial roll-out of cell-level based BMS and inverter technology, firmly cementing Relectrify as leaders in this novel technology. 
ReVolve™ is the result of Relectrify's ongoing collaboration with key industry players over many years, including automotive OEMs, battery manufacturers, and battery integrators. While this is an important milestone in Relectrify's journey, the validation of a high performing second-life system at a strongly competitive price-point is the much larger milestone for the C&I and second-life segment. The future is bright as Relectrify continues its efforts in collaboration with key industry players to deliver to market the longest lasting, lowest cost energy storage solutions.
For more information about the ReVolve™, download the product datasheet. For more information about using Relectrify's technology in your products, contact info@relectrify.com.
The ReVolve™ announcement was covered in media publications including Bloomberg, PV Magazine, and The Age.
About Arena
The Australian Renewable Energy Agency invests in projects to accelerate Australia's shift to affordable reliable renewable energy. The government agency funds projects and shares knowledge that drives innovation and commercialisation of renewable energy technologies.
About Relectrify
Relectrify is a developer of advanced battery control solutions. Founded in Melbourne, Australia in 2015, Relectrify's technologies demonstrably increase the lifetime and decrease the cost of battery storage systems in homes, industry, the power grid, and beyond.
Note: In 2017 the CEFC made a $750,000 equity investment in Relectrify through the Clean Energy Innovation Fund, increasing its stake by investing a further $2.5 million in 2020 to lead the company's Series A equity raising.
Media release, 2021