Solar's sunny future as technology adoption accelerates: CEFC
CEFC CEO Oliver Yates discusses the benefits of solar
Article published in Solar Progress, May 2015
Solar is positioned to play a significant role in Australia's energy future, with the rollout of further utility scale projects and the commercial sector's increasing uptake of solar PV.
Clean Energy Finance Corporation (CEFC) CEO Oliver Yates said a trend towards lower costs of large-scale projects internationally, the prospect of agreement on a revised Renewable Energy Target (RET), and some of the world's most affordable solar PV in the residential and commercial sector, were key factors influencing Australia's accelerating adoption of solar.
Independent analyst Bloomberg New Energy Finance estimates that up to 40 per cent of the RET could be met by solar over the next five years, even with the proposed reduced target. It forecasts that substantial reductions in the economics of large-scale solar by 2020 will enable the commissioning of as much as 2-3GW of solar capacity under the Large-scale Renewable Energy Target (LRET).
The Clean Energy Council (CEC) estimates the revised RET, when passed by the Australian Parliament, has the potential to unlock more than $40 billion in investment in the renewable energy sector.  It has projected that meeting the target will likely support hundreds of medium-scale solar projects from commercial and industrial businesses, looking to manage their ongoing electricity costs.
The CEC has flagged positive large-scale solar developments such as Solar Choice's $1 billion solar farm on Queensland's Darling Downs, WestGen's solar farm on the outskirts of Perth, FRV's 150MW solar power plant at Clare in Far North Queensland and Conergy's 35MW of large-scale solar.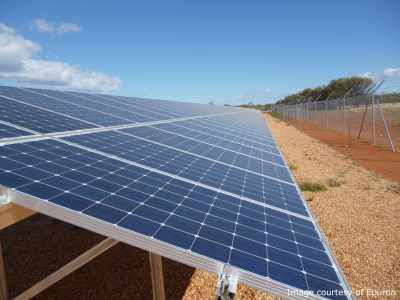 These projects are in addition to a number of large scale projects currently under construction, including Broken Hill Solar and Nyngan Solar in NSW and Kogan Creek in Queensland.  The CEFC's investment in utility scale solar is helping accelerating the development of the Moree Solar farm in NSW and the expansion of the Uterne solar farm in the Northern Territory.
Mr Yates said that while commercially-viable, proven, utility-scale projects could be well placed to get access to private sector finance, the CEFC will continue to play a complementary role, alongside private sector co-financiers, including investing in technologies that have not been widely deployed at the utility scale to date. 
"We'll also be working to bridge the financing gap for projects using proven technologies that are unable to secure long-term power-purchase agreements."
Mr Yates acknowledged that the rollout of solar related technologies would create challenges and opportunities for grid operators, retailers and energy users alike. 
To assist in diversifying the range of options in the market to grow the commercial and residential uptake of solar, the CEFC is supporting financing programs which help the rollout of Power Purchase Agreements (PPAs) and leasing programs that remove the barriers of upfront costs and technology and maintenance issues.
While the payback period for a small-scale solar plus storage system is currently around 20 years, this is expected to halve in the next five years.
"Ahead, the development of affordable battery technology will give solar users greater flexibility and control over their grid energy use and costs. Solar with storage also has major implications for remote area use, where it can provide greater stability to energy supplies and reduce the reliance on diesel-fired generators," Mr Yates said.
"We see many opportunities opening up for large commercial installations (100kWh+) for warehouses, office buildings, shopping centres, retail outlets as well as utility scale solar in remote locations, mine sites and fringe of grid applications."
The CEFC is also supporting investment through green bonds that increase the amount of private sector capital available for renewables.
"Green bonds provide investors with a unique opportunity to invest in renewable energy and energy efficiency through a low-risk, high quality (rated AA-) fixed-income product. At the same time, green bonds support long term investment in important low carbon infrastructure projects which can benefit the broader economy," Mr Yates said.
"Looking ahead, we're continuing to advance finance for further utility-scale solar PV and solar thermal projects as well as remote area off-grid solar plus storage projects. We see a bright future for solar in Australia, and we're looking to continue unlocking opportunities that will further accelerate its uptake."
The CEFC operates under the Clean Energy Finance Corporation Act 2012. Learn more about its activities at www.cefc.com.au.
In the news, 2015