Australian Cleantech Barometer - investors and innovators signal robust growth ambitions
20 March 2019
Specialist cleantech investors are expressing strong confidence in Australia's innovative clean energy sector, with 82 per cent expecting to increase investment levels over the next five years, according to new analysis from the Clean Energy Innovation Fund.
The positive investor sentiment is matched by robust expectations of business growth from the cleantech innovators, who are considering increasingly diverse economy-wide applications for clean energy technologies.
With access to $200 million in CEFC finance, the Innovation Fund invests in technologies and businesses that are ready for early-stage seed or growth capital, with the assistance of ARENA.
In the lead up to its first Cleantech Showcase, the Innovation Fund conducted its first Australian Cleantech Barometer.  The Barometer tested investor and innovator sentiment about the current and future state of Australia's emerging cleantech sector, across a tightly targeted group of active investors and innovation companies.
Innovation Fund Executive Director Ben Gust said the responses highlight the strength and diversity of Australia's cleantech investment opportunities.
"We see increasing awareness of the role innovative companies can play in the economy-wide transition to lower carbon emissions, both from investors and the innovators themselves.  It's about developing novel solutions to new and difficult challenges, as well as creating businesses with long-term investment, employment and economic potential," Mr Gust said.  
"We found that 71 per cent of investors are confident about the overall growth potential of the sector in the next five years, and more than 80 per cent expect to increase their investment levels over that period.  
"But while almost two out of three cleantech investors are motivated by the positive environmental impact of cleantech innovation, they are also sending a clear message to innovators about the importance of business fundamentals. Innovators need to demonstrate the strength of management capability and build confidence in the commercial potential of their technologies to capitalise on this investor interest."
Since it began investing in December 2016, the Innovation Fund has committed $56 million to nine businesses offering diverse cleantech solutions – from second life batteries to smart meters; state-of-the-art energy monitoring to the internet of things.  
Mr Gust has led the Innovation Fund since February 2018, building on a long career in venture capital in Australia's well-established life sciences sector, with board roles in a number of successful start-up companies in Australia and the US.
He said it was encouraging to see early-stage cleantech innovators considering a wide range of applications for their technologies.  Almost half of the innovators identified vehicles as an area of focus, with emerging interest in biofuels and bioenergy, energy efficiency and manufacturing.
Despite the positive growth expectations for cleantech, the majority of innovators (84 per cent) expressed concern about both the level of capital available to support cleantech growth in Australia, and the level of investor awareness and understanding about the cleantech sector (89 per cent).
Mr Gust added: "Like start-ups in all sectors, one of the biggest issues for new cleantech businesses is attracting capital from committed and informed investors. We see it as critical that cleantech innovators and investors work together to build deep understanding about business growth potential, capital requirements and long-term investment horizons.
"While the current lack of depth in Australian cleantech venture capital provides a unique opportunity for the Innovation Fund, the healthy growth of the sector needs greater diversity in sources of capital. Given the tailwinds behind cleantech innovation we look forward with confidence to the emergence of additional investors in the coming years.
"Through the Innovation Showcase we are pleased to provide around 80 investors and industry leaders with an opportunity to hear about cleantech trends and opportunities from seven promising early-stage cleantech companies. We are also pleased to be supporting these innovative companies in promoting their business objectives with specialists in the cleantech sector."
The Cleantech Showcase takes place in Melbourne on 20 March 2019.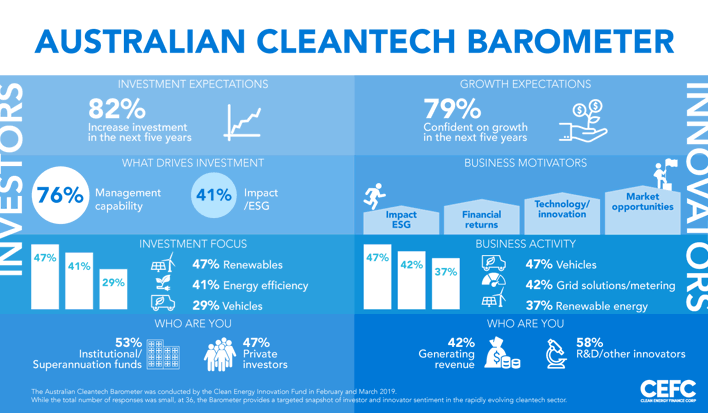 ABOUT THE CLEAN ENERGY INNOVATION FUND
The Clean Energy Innovation Fund is the largest dedicated Australian investor of its kind. With access to $200 million and a specialist investment team via the CEFC, the Innovation Fund invests in technologies and businesses that are ready for early-stage seed or growth capital, with the assistance of the Australian Renewable Energy Agency (ARENA).
Media release, 2019