CEFC achieves $150m milestone in energy efficiency finance for 1000 small business projects
4 April 2017
The Clean Energy Finance Corporation has financed more than 1,000 specialist energy efficiency projects undertaken by a broad range of small businesses, topping $150 million in CEFC investment. The projects are reducing business energy consumption, with the added benefit of lowering overall emissions.
CEFC Head of Portfolio Management Paul Greenop said that in four years, the CEFC's specialist finance had been used by a wide variety of businesses to tackle energy consumption through installing energy efficient equipment and technologies.
Overall, the CEFC has committed $500 million to these specialised asset financing programs, including with Westpac, NAB and Commonwealth Bank. The programs target small businesses, manufacturers and agribusinesses, as well as small-scale commercial property, to support investment in energy efficiency projects.
The Australian National Energy Productivity Plan (NEPP) is targeting a 40 per cent improvement in Australia's energy productivity by 2030, with energy efficiency helping to deliver at least one quarter of the emission reductions needed to meet Australia's international commitments to 2030.
"By working with major banks, we're broadening our reach across the Australian economy and making it easier for small businesses to tap into the benefits of energy efficiency, whether they are seeking loans of $10,000 or $5 million or anywhere in between," Mr Greenop said.
"The programs mean businesses can go to their regular financial provider to get access to the discounted finance for eligible energy efficient equipment.
"It's a win-win for businesses. They're investing in equipment that will improve their day-to-day operations and reducing their energy consumption, and they're financing this equipment at lower rates than they would otherwise have been offered for general asset finance."
Mr Greenop said the average loan size from businesses looking to borrow through CEFC-backed programs was around $150,000, with some 1,000 projects securing $150 million in finance so far.
"Clean energy asset finance can make a big impact on the operations of businesses which have made the switch to more productive and energy efficient equipment and processes, typically reducing energy costs by 10 to 20 per cent," Mr Greenop said.
"When organisations look at cutting energy costs, they tend to initially think about lighting upgrades, and upgrades to air conditioning, but the possibilities are far greater. We're also seeing major investment to upgrade energy intensive manufacturing and agricultural equipment, as well as solid investment in more efficient light vehicles and rooftop solar PV."
Among the 1,000 projects already financed through the CEFC energy efficiency programs:
Cane farmers who switched from winch irrigation to lateral irrigation have realised electricity savings of more than 50 per cent and have been able to lift productivity by being able to irrigate areas they couldn't previously manage.
Farmers financing self-propelled sprayers that have wider booms and increase productivity have reduced the time taken to cover their fields. One farmer reported the new sprayer had halved fuel costs.
A road-base supplier bought stone crushers and excavators that are saving around 35 per cent on fuel, and are less prone to productivity-sapping breakdowns and blockages.
A manufacturer installed new beam lines to cut, drill and weld steel, increasing job turnaround while using far less energy.
A flower producer used biomass to replace diesel and reduce overall energy costs.
Mr Greenop said businesses looking for ways of financing energy efficient equipment, rooftop solar, low-emissions vehicles and even energy-from-waste technologies had several CEFC options available to them including:
Commonwealth Bank

Energy Efficient Equipment Finance Program
Westpac Energy Efficient Financing Program
NAB Energy Efficient Bonus Program
Mr Greenop is chairing a panel discussion about finance for energy efficiency at 2xEP's Energy Productivity Summit 2017 in Sydney on 4 April. He will be joined by representatives from NAB and Westpac. Learn more at www.2xep.org.au/summer-overview.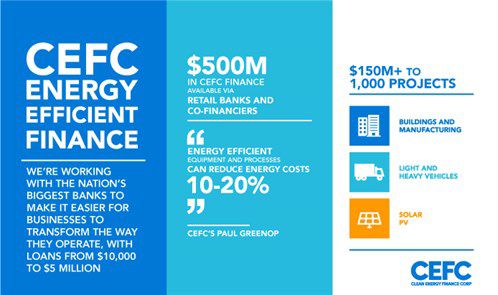 Media release, 2017