CEFC backs hybrid sustainable grazing model to cut emissions, deliver carbon credits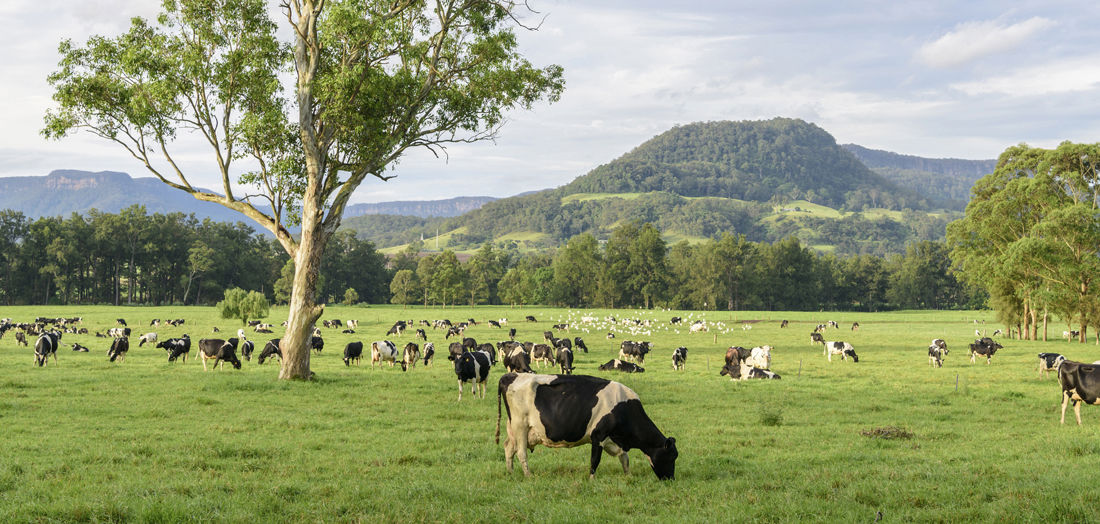 12 October 2022
The CEFC has committed up to $30 million to a hybrid sustainable grazing model, with the goal of delivering carbon credits alongside enhanced biodiversity protection and sustainable red meat production.  
The Wyuna Regenerative Agriculture Investment Fund (the Fund) has also secured a $30 million commitment from global industrial property company Goodman Group, and $5 million from the Wyuna Founders.  
Asset manager Wyuna Regenerative Agriculture (the Manager), co-founded by GreenPoint and Steve Green, undertakes large-scale regeneration with a focus on carbon sequestration, sustainable food production and improved biodiversity. As part of the Fund's strategy, the Manager will seek to generate high-quality land-based Australian Carbon Credit Units (ACCUs), by changing, reducing or removing factors that suppress vegetation growth, including from land clearing and over grazing. 
Carbon sequestration has a central role to play in Australia's transition to net zero emissions by 2050. Analysis from the Climateworks Centre1 indicates Australia could need to sequester an estimated 96 to 344 million tonnes of carbon annually by 2050. Almost half Australia's land mass is used for grazing on native vegetation and modified pastures2, pointing to substantial opportunities for carbon abatement.  
CEFC Investment Director Michael Di Russo said: "We are pleased to be working with Wyuna, GreenPoint and the Goodman Group in demonstrating the potential of negative emissions activities. The Fund will show how primary producers can tap into the growing demand for carbon credits as investors and businesses pursue increasingly ambitious sustainability goals.  
"Co-locating sustainable livestock production with high integrity carbon projects creates operational and environmental synergies. The creation of an ACCU revenue stream can strengthen on-farm financial resilience while also delivering broader biodiversity and sustainability co-benefits for farming communities." 
Wyuna co-founder and CEO Steve Green said: "The Fund represents an incredible opportunity to support land regeneration, sustainable food production, and land-based solutions to remove carbon from the atmosphere by bringing together a dedicated team of farmers, investors and sustainability experts." 
The Manager is seeking to expand the Fund's existing 100,000-acre landholding to 500,000 acres. Its sustainable land management strategies will include 'responsive grazing' strategies, satellite monitoring of ground cover and feed availability, state-of-the-art imaging technology to monitor vegetation and biodiversity improvements, and a focus on improving soil carbon across rangeland areas of Australia.  
Goodman Group Executive Aaron Morgan said: "As global industrial property specialists, we recognise the impact the built environment has on the planet and the communities we operate in. Our strategic investment in the Fund, alongside the CEFC is part of our wider sustainability strategy, enabling us to make a tangible difference by supporting regenerative agricultural solutions to combat climate change." 
Agriculture represents about 12 per cent of Australian greenhouse gas emissions. The $17.6 billion Australian red meat and livestock industry3 is aiming to be carbon neutral by 2030 and according to the CSIRO, the sector's contributions to national emissions more than halved between 2005 and 2019. 4  
The CEFC has backed efforts by the Paraway Pastoral Company, one of Australia's largest pastoral operators, to cut livestock-related emissions. Paraway will trial altered herd management and genetics selection, changes to feed additive and farm practices, vegetation management and enhanced emissions measurement. 
About Goodman  
Goodman Group is an integrated property group with operations throughout Australia, New Zealand, Asia, Europe, the United Kingdom, and the Americas. Goodman Group, comprised of the stapled entities Goodman Limited, Goodman Industrial Trust and Goodman Logistics (HK) Limited, is the largest industrial property group listed on the Australian Securities Exchange and one of the largest listed specialist investment managers of industrial property and business space globally. Goodman's global property expertise, integrated own+develop+manage customer service offering and significant investment management platform helps create innovative property solutions that meet the individual requirements of its customers, while seeking to deliver long-term returns for investors. For more information visit: www.goodman.com 
About GreenPoint 
GreenPoint is an alternatives investment firm that invests at the intersection of real assets, technology and sustainability. Founded in 2019 by Chris Green and headquartered in New York, the firm is deploying complementary strategies across technology investing and private equity to integrate the disparate worlds of real assets and technology. Green has 25 years of real assets experience, including 16 years at Macquarie Capital where he was the global head of real estate. The firm's activities are supported by a team of investors and operating partners who bring decades of experience in technology, real estate investing and operations at top firms. GreenPoint's investors include strategic real asset operators, pension funds, family offices and industry senior executives who collectively own/manage over $500 billion in global real assets with an additional $125 billion development pipeline. By combining tech venture capital investing real estate private equity, and sustainability solutions, GreenPoint can deliver unique and transformative insights into a rapidly changing industry.  
About Wyuna 
Wyuna undertakes large-scale regeneration with a focus on carbon sequestration, sustainable food production and improved biodiversity. Our approach combines the latest technology, on-the-ground know-how and a deep commitment to supporting regional communities, protecting our precious biodiversity and ecosystems and sustainable grazing systems. www.wyuna.com.au 
1 Climateworks, Decarbonisation Futures, March 2020, p115. 
2 Australian Government, State of the Environment Report, 2020-21.
3 Meat and Livestock Australia, State of the Industry Report 2020. 
4 Greenhouse Gas Footprint of the Australian Red Meat Production and Processing Sectors 2019 https://www.mla.com.au/contentassets/34fa6fd009ee43ef85c17b4adf60c556/b.cch.1016-final-report_6-june-2022.pdf 
Media release, 2022