CEFC large scale solar program commits over $370M to 10 projects with more than 400MW solar capacity
8 May, 2017
The Clean Energy Finance Corporation has today announced finance for its 10th project through its Large-Scale Solar Program, bringing its total program investment commitments to more than $370 million, accelerating projects with a total estimated project value of $900 million and a total generating capacity of more than 400MW (AC).
Large-Scale Solar Program Lead Gloria Chan said the CEFC's Large-Scale Solar Program represents the single largest debt financing commitment to the solar sector to date.
"Since our program's launch in September 2015, the large-scale solar sector has transformed. Solar has become a progressively cost-competitive energy source and we are now at the tipping point of seeing Australian utility-scale solar projects becoming commercially viable without grant funding," Ms Chan said.
"Our finance has played a significant role in this transformation, given that in 2012 there was only 18MW of installed capacity and it's estimated by Bloomberg New Energy Finance that there will be around 1,000MW installed by the end of 2018."
"There's been a strong influx of developers into the sector and an increasing investment appetite from a widening base of institutional investors, which has helped fuel the growth in solar capacity. Our debt finance has helped developers secure the backing they need and has helped investors find the right level of comfort to invest, so that projects can be constructed sooner."
Ms Chan listed its Large Scale Solar Program highlights as:
A finance commitment to Victoria's first solar farm at Gannawarra
Finance for three major projects that will create a "solar belt" in regional NSW
The repurposing of the Collinsville Power Station site in Queensland as a solar farm
Finance for Kidston Solar Farm in Queensland, that will help support the development of a pumped hydro project
Working with both Australian and international commercial banks to provide long term debt financing for projects where certainty of financing is crucial to equity investors.
"Going forward, the CEFC remains committed to financing more large-scale solar projects where we are needed, and we're particularly keen to see projects that support grid stability. We're also looking at hybrid projects that combine solar with other technologies in a way that promotes more effective clean energy outcomes," Ms Chan said.
The CEFC's commitment of $60 million to RATCH-Australia Corporation, announced today, will help redevelop the disused coal-fired power station at Collinsville as a 42.5MW (AC) solar farm that is expected to generate enough energy to power 15,000 homes. The $100 million project is also receiving $9.5 million funding from the Australian Renewable Energy Agency (ARENA).
RATCH-Australia Corporation Executive General Manager Business Development Anthony Yeates said the Collinsville Solar Plant would bring new life to the site of the old power station that closed in December 2012.
"We have been working on redevelopment options for the site for a really long time and it is great to finally see one of these options come to life. The finance from the CEFC and ARENA's funding have helped us repurpose a disused site which receives optimal sunshine, and can take advantage of existing infrastructure to feed its solar output into the grid," Mr Yeates said.
Ms Chan added: "We are particularly excited about the potential for this project to showcase how old power station sites can be repurposed as new renewable energy bases, benefiting from existing infrastructure, while helping to transform Australia's energy mix."
Alinta has agreed to purchase up to 70 per cent of the plant's generated solar capacity.
"We expect construction to employ around 70 staff," Mr Yeates said.
"There will be around 180,000 ground-mounted solar PV panels that use a single-axis tracking system for maximum solar exposure. When operating, we're expecting the solar farm to abate nearly 90,000 tonnes of carbon emissions in its first year."
The CEFC's finance for the Collinsville Solar Plant is an example of the CEFC's focus on delivering clean energy solutions in the Great Barrier Reef Catchment Area, as part of its Reef Funding Program.
Separately, in another example of its focus on large-scale solar and its Reef Funding Program, the CEFC had previously announced its $20 million equity commitment, through Palisades Investment Partners, to the Ross River Solar Farm Project, which has now reached financial close and is about to begin construction.
The CEFC's Large-Scale Solar Program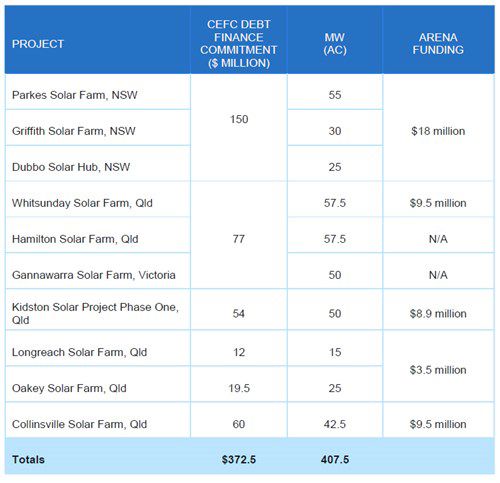 Media release, 2017